As many readers are aware, we cover REIT preferreds rather extensively in our newsletter and here on Seeking Alpha. As part of this coverage we keep track of new preferred stock issues in order to determine if they are attractive either outright or on swap.
We thought it might be helpful to show where recently issued preferred stocks are priced and how they compare to outstanding preferred stocks of the issuers.
The following five preferred stocks (the first listed in each group) have been issued since the end of April (the second in each group is an existing preferred by the issuer):

Click to enlarge
Some notes on the above issues:
DFTprC proceeds used to redeem DFTprA and some of DFTprB,
AMHprC has coupon steps and is convertible by holder to common with an HPA (housing price appreciation) adjustment if there is a change of control event,
LHOpJ currently trades as LSAHP
When looking at the above table, what immediately jumps out is how close the stripped yields are between the new and existing issues. The following chart expresses this graphically: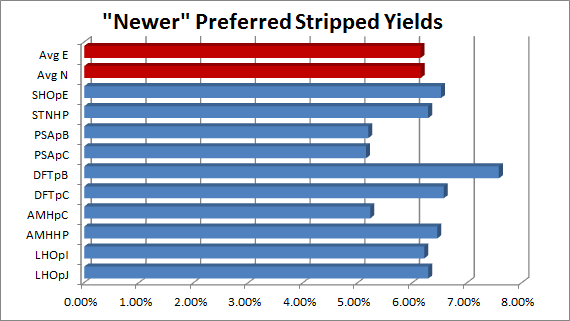 As the stripped yields are very close, is there any reason for existing preferred holders to swap into the new issues? The chart below shows the only reason an investor might consider a swap - price reduction. The following chart shows the price difference between the new and the existing preferred shares of the issuers: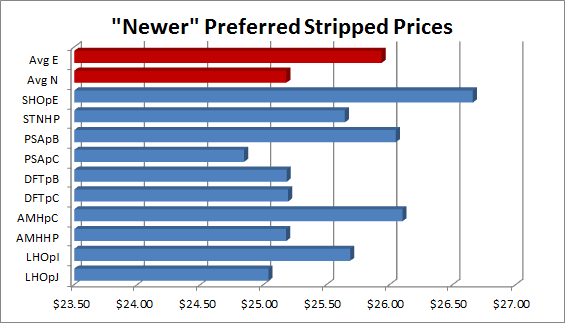 For those investors that are "par sensitive", a swap into the new shares could reduce the market price of the exposure. The problem with this is that the bid/ask spread between the sale and the buy could increase the yield difference between the new and existing preferreds. This would seem to eliminate the incentive to purchase the new shares on swap.
While this exercise may seem like it has been futile, investors should always be aware of where the market prices issues that trade at/near par in order to appreciate the spread between par issues and premium issues and opportunities that may arise between the two.
While we don't see much swap value in the new preferreds (or, more succinctly, believe the yield difference between the two, being small or negative, isn't worth it), the yield is average for REIT preferreds and may be worth considering due to the price point.
Follow me on Seeking Alpha HERE.
Author's Note: I'm a Wall Street writer, and that means that I am not always right with my predictions or recommendations. That also applies to my grammar. Please excuse any typos, and I assure you that I will do my best to correct any errors if they are overlooked.
Finally, this article is free, and my sole purpose for writing it is to assist with my research (I am the editor of a newsletter, Forbes Real Estate Investor) while also providing a forum for second-level thinking. If you have not followed me, please take five seconds and click my name above (top of the page).
The only guarantee that I will give you is that I will uncover each and every rock I can, in an effort to find satisfactory investments that "upon thorough analysis promises safety of principal and satisfactory return. Operations not meeting these requirements are speculative." (Ben Graham).
REITs mentioned: (NYSE:LHO), (NYSE:DFT), (NYSE:SHO), (NYSE:AMH), and (NYSE:PSA).
Disclosure: I am/we are long O, DLR, VTR, HTA , STAG, GPT, ROIC, HCN, OHI, LXP, KIM, WPC, DOC, EXR, MYCC, TCO, SKT, UBA, STWD, CONE, BRX, CLDT, HST, APTS, FPI, CORR, NHI, CCP, CTRE, WPG, KRG, SNR, LADR, HCP, PEB, BXMT, IRM.
I wrote this article myself, and it expresses my own opinions. I am not receiving compensation for it (other than from Seeking Alpha). I have no business relationship with any company whose stock is mentioned in this article.