Introduction
Just a month ago, I wrote a first article about Surge Energy (OTCPK:ZPTAF), wherein I approved the company's decision to cut the dividend (once again). I was also pleased to learn Surge was one of the very few (and perhaps the only one?) companies that explicitly said it would be looking at acquiring new assets during the era of a depressed oil price, and it takes some courage to publicly say so when you just cut your dividend. A company that knows what it wants, and that's exactly how I like them.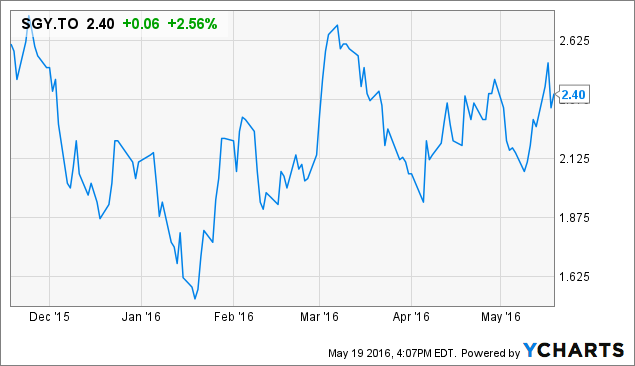 SGY data by YCharts
I initiated a position in Surge Energy at C$2.17, and it's great to see the share price already up by almost 20%. I'd recommend that you trade in Surge shares by using the company's most liquid listing, which would be on the Toronto Stock Exchange. The ticker symbol is SGY, and the average daily volume is almost 3.2 million shares for a daily dollar volume of in excess of $6 million. Surge reports in CAD, but all amounts in this article are in USD, unless indicated otherwise.
The Q1 production was much lower, as was the received price
In the first quarter of the current financial year, Surge Energy produced 13,400 barrels of oil equivalent per day, which is a 5% decrease compared to the total oil equivalent production rate in the final quarter of last year. The decrease is quite consistent, as both oil and gas production rates fell by 5% and 4%, respectively, and even though the 23% decrease in the production rate of natural gas liquids sounds terrifying, NGLs accounted for just 6% of the total oil equivalent production rate.
On top of the lower production rates, Surge also received a (much) lower price for its products, as it sold its oil at just US$22/barrel and its gas at just $1.1/mcf (you gotta love the Canadian discounts!), so it's not really a surprise to see the total revenue fall by almost 60% to US$23 million. But fortunately, the company was able to "cash in" on some of its hedges, which did boost the total revenue to approximately US$28 million.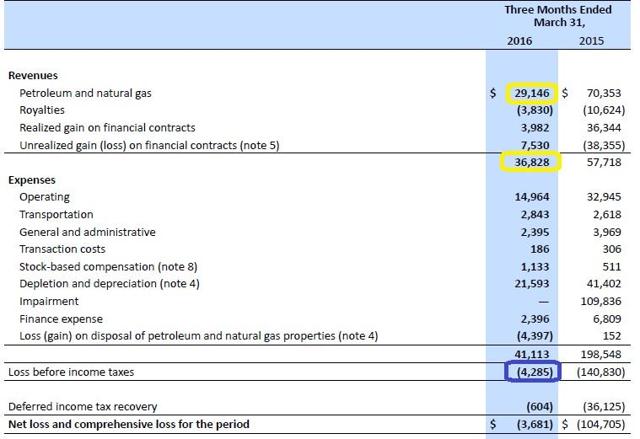 Click to enlarge
Source: Company financial statements
That's nice, but definitely not enough to cover all the ongoing expenses, which totalled approximately US$32 million in Q1 2016, resulting in a net loss of C$3.7 million (or approximately US$3 million). But you should most definitely never base your investment decisions in the oil & gas sector (and the mining sector) on just the net income, as that's practically completely useless. More than in other sectors, the cash flow statements here are much more important than the income statement, and Surge's picture looks completely different there.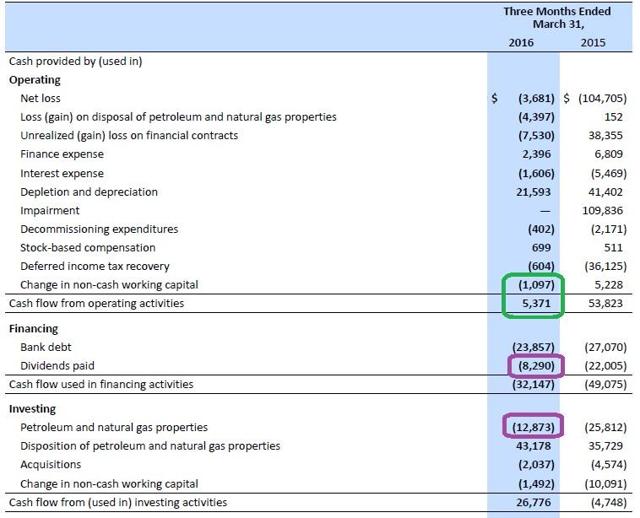 Click to enlarge
Source: Company financial statements
The operating cash flow of $5 million on an adjusted basis is pretty much what you could have expected, but it did bother me the company was spending $10 million on capital expenditures as well as +$6 million to pay the dividend. I'm totally fine with it when a company is temporarily paying more to fund the capex than it's generating in operating cash flow (especially in a quarter wherein the oil price was exceptionally low), but after seeing these results, I'm now completely confident Surge's decision to cut the dividend was the right move.
One bad quarter doesn't mean the end of the world
Keep in mind, the first quarter of the year probably will be the worst quarter on the oil market in quite a while, as the oil price immediately bounced back to levels above $30 and even $40 per barrel. The oil price is currently pretty stable between $45 and $50/barrel, and Surge Energy claims that the current strip pricing allows its capital plans to be self-funded.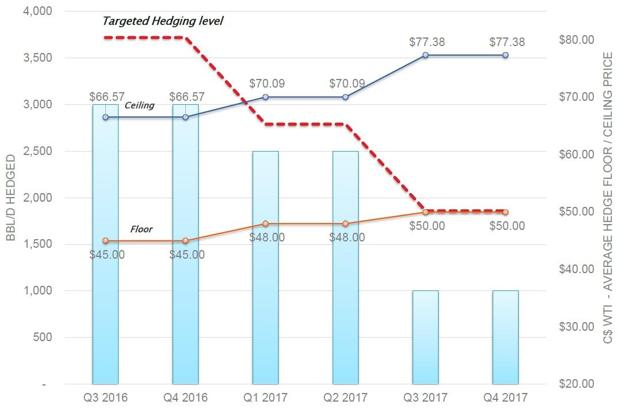 Click to enlarge
Source: Company presentation
This means that not only does Surge Energy have its sustaining capex covered, it will also be able to cover the dividend payments, which would be pretty good news for the company's shareholders, as the current 3% yield is "safe". The question now is whether or not Surge would be interested in locking in the strip prices by entering into hedging agreements, so it will be interesting to check the next quarterly report to find an update on its hedge positions.
In fact, the company sounds a little bit more optimistic than just being able to fund its sustaining capex, as Surge seems to be hinting at drilling more new wells if the oil price stays at the current level. No firm forecasts of predictions have been made, but the words "adding a meaningful production per share growth" don't leave much to the imagination.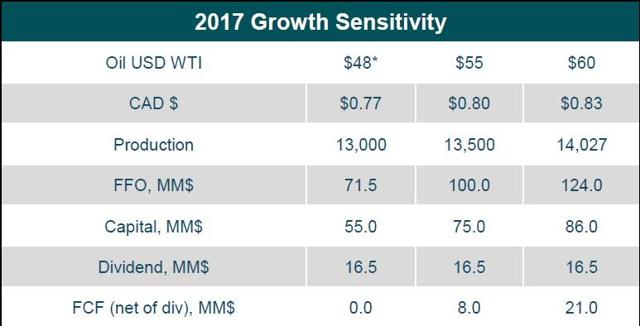 Click to enlarge
Source: Company presentation
There are two things working in Surge's favor. First of all, the company is still able to sell some of its assets (at a higher value than the book value, as Surge booked a gain on the sale), and it used the proceeds to reduce its net debt. Secondly, the company's leverage on oil price is enormous. Assuming an average increase of US$7/barrel of oil equivalent, the operating cash flow would increase by $7-8 million, and this does confirm Surge's claim that the company has reached the inflection point where it's able to finance its expenses using the operating cash flow.
Investment thesis
Surge Energy isn't out of the woods yet, but it definitely does look like the worst in the oil markets is behind us, and Q2 should be (and very likely will be) much better than the first quarter, as Surge was hit pretty hard by the turmoil in the oil markets. I definitely do expect the adjusted operating cash flow in Q2 to more than double (and perhaps even triple), which would make the company more appealing on a free cash flow basis.
The net debt has now decreased to just $100 million, and combined with the high reserve life and low decline rate (less than 20%), Surge seems to be getting its ducks in a row here. I initiated a position shortly after my original article was published, and even though I'm a little bit reluctant to buy more stock here, the company is definitely still on my radar.
Disclosure: I am/we are long ZPTAF.
I wrote this article myself, and it expresses my own opinions. I am not receiving compensation for it (other than from Seeking Alpha). I have no business relationship with any company whose stock is mentioned in this article.
Editor's Note: This article discusses one or more securities that do not trade on a major U.S. exchange. Please be aware of the risks associated with these stocks.