Walmart Crushes Expectations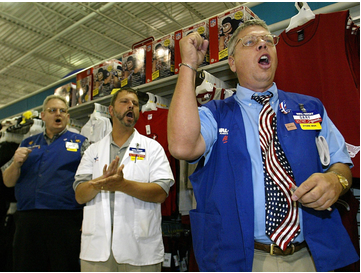 Walmart Sales Jump
Walmart (NYSE:WMT), crushes expectations in the midst of what is being called, a retail ice age. Sales increased with share values rising 9.58% today. The stock closed at 69.20, up 6.05 per share.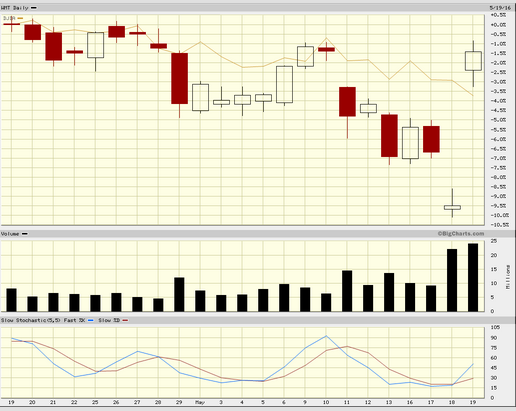 Courtesy of the Author
There was good new across the board.
EPS were 0.98.
Total revenue was $115.9 billion, a 4.0% increase.
Positive sales growth for 7 consecutive quarters with U.S. Sales exceeding guidance
Excluding currency, net sale were $31.6 billion, an increase of 4.3%.
Globally, constant currency and e-commerce sales increase 7.0%; GMV sales increased 7.5%.
Operating cash flow was $6.2 billion; free cash flow was $4.0 billion, both higher than last year.
Consolidated operating income declined 7.1% because of planned technological company investments, and currency rate fluctuations impacted final results. Excluding currency, operating income decreased 4.6%.
Guidance
Brett Briggs, Wal-Mart Stores executive vice president and CFO said,"we are proud of the overall results in the first quarter, and there is momentum in many parts of the business. Based on our views of the global operating environment, and assuming currency exchange rates remain at current levels, we expect second quarter fiscal 2017 earnings per share to range between $0.95 and $1.08."
He added, "we expect comp sales for Walmart U.S. to be about +1.0 percent, and Sam's Club, without fuel, to be slightly positive for the 13-week period ending July 29, 2016."
Year to Year Chart
Walmart shares were in decline from last June until early November of last year when they began a sustained up-trend. There was a notable decline in May of this year as the retail sector was crushed. Today's unexpected results indicate that as a retailer, Walmart is not suffering the woes of so many others.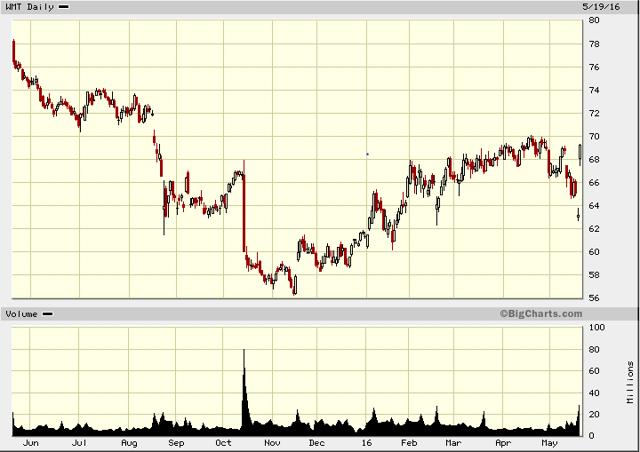 Click to enlarge
Courtesy of the Author
Innovations
Walmart has been busy expanding its online business operations to compete with Amazon (NASDAQ:AMZN).
Online Grocery Shopping
Online grocery shopping has been initiated in test markets. Customers using the Walmart website may daily add items to their shopping cart as they identify what they need. There is no fee for using the service. When the order is complete, the customer pays online and sets the pickup time. They drive to and park in a specially designated area and call a store number. A store associate delivers the purchases to their the car including fresh and frozen items previously stored in coolers and freezers prior to customer arrival.
Curbside Pickup
Click to enlarge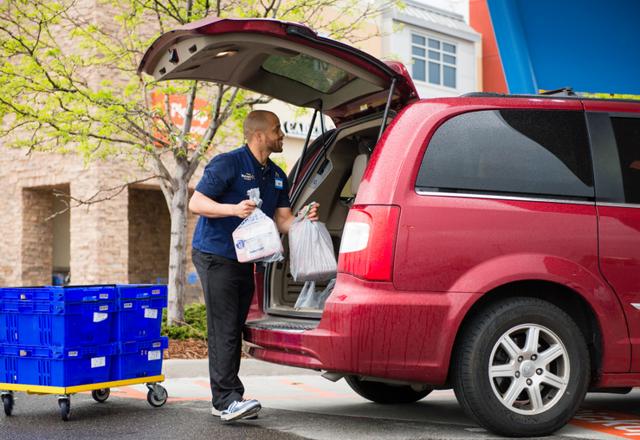 Click to enlarge
Courtesy of the Author
Since last fall, Walmart has been testing online grocery shopping with local pickup in 5 markets. It sees a competitive advantage having numerous sizable stores within a 5 mile radius of 70% of U.S. customers.
Hybrid E-Commerce
It's early days for online grocery shopping. Over time it will be possible to streamline and personalize the technology for each customer. But rest assured, this retailer is increasing headcount by hiring full-time "personal shoppers" to deal with "online customer orders." Demographics and changing shopping patterns both play into changing the grocery shopping experience.
New Less Expensive Shipping Service
Walmart has gone directly after Amazon Prime by testing a new unlimited online shipping service for $50 a year that competes with Amazon' $99 per year Prime service. This is a pronounced statement that the world's largest retailer is determined to accelerate the growth of its online business.
The two-day shipping service is being offered by invitation only at present and offers one million top selling items. The service will be built on customer feedback, but its evolution is not limited to other products Amazon now offers.
Walmart is the competition facing Amazon at this time. Both lead the retail pack.
Conclusion
Walmart has shown that you can take the following to the bank:
They have demonstrated for years that their brand means less expensive and they will continue to compete for the best prices offered.
They can and will compete successfully in multiple sectors of the retail world.
Their size, scope, adaptability, growth and a 3.03% dividend yield make them an excellent defensive stock to hold during the current uncertain economic climate.
Note: Thank you for reading and commenting. You can follow my articles on SA by going to the top page of the article and clicking the circle button directly after my name and preceding the word (follow).
Disclosure: I/we have no positions in any stocks mentioned, and no plans to initiate any positions within the next 72 hours.
I wrote this article myself, and it expresses my own opinions. I am not receiving compensation for it (other than from Seeking Alpha). I have no business relationship with any company whose stock is mentioned in this article.
Additional disclosure: The information and data that comprise the content of this article came from external sources that I consider reliable, but they have not been independently verified for accuracy. Although I reserve the right to express points of view, they are my reasoned opinions and not investment advise. I am not responsible for investment decisions you make.