Four consecutive earnings beats. Yes, they have an issue right now with mistakes in overstated miles per gallon, but General Motors (NYSE:GM) managed to take net income (applicable to common shares) from $2.8 billion in 2014 to $9.6 billion in 2015. I've been extremely critical of automakers, but that deserves some applause.
The reason I've been skeptical of auto stocks has likely been the exact same reason as many others. They totally went into cardiac arrest in 2008. Heck we lost Jeep to the Italians (Chrysler is now owned by Fiat)! Today, both Ford (NYSE:F) and General Motors are back. Both are hosting very nice dividends to shareholders. Unfortunately, the very fresh memory of their almost total demise will linger for some time. In turn, the stock prices have been very timid about climbing.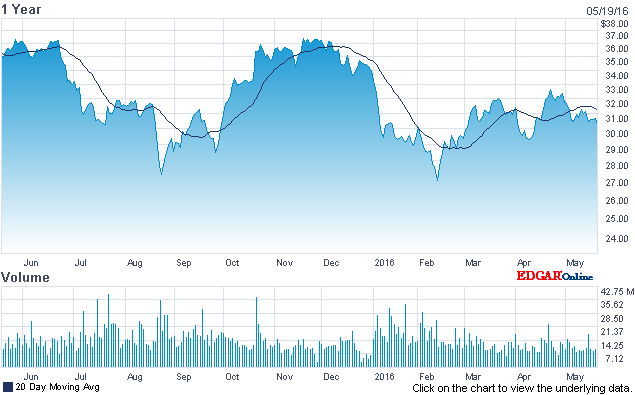 (Source: Nasdaq.com)
Been looking at it all wrong
The pending thought of General Motors having a bad quarter and cutting its dividend has always been a real threat in my mind. Perhaps after more than two years of nice dividends, I need to chill out. GM's Q1 topped out last year's big time in terms of earnings per share. The slow recovery in oil prices can also be viewed as a likely boost for car sales. If oil stays lower through the middle of 2016, sales of high-priced SUVs could be a catalyst. Nonetheless, I doubt that anything will push the stock's pricing up. As I've said with Ford, owning these stocks are almost entirely about the dividend.
Consider that the company's awesome first quarter had little positive effects on the share price. The stock is following the same "up and down" wave that it's been doing for quite some time.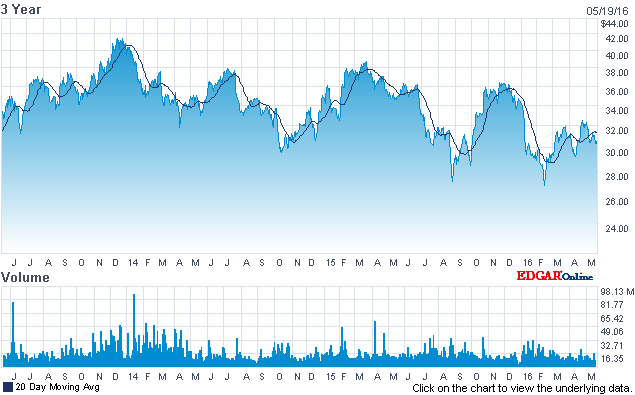 (Source: Nasdaq.com)
Take your 5%
GM doesn't seem like it'll be breaking out anytime soon, but there is some potential. With the halt in some 60,000 SUV sales over misleading miles per gallon information, we could see a little drop over headlines. This could be a good time to purchase a dividend stock. The lack of trust in autos has kept the stock cheap. The price to earnings on GM is a mere 4.5. Anyone who hopped in back in February at $28 has a 7% gain on top of the current 5% dividend. If this puppy goes back up to $35, it's a nice place to get out and do it all over again. Forget about anything climbing into the $40s. Buy for the dividend. Buying low is extra icing on the cake. This longer-term chart shows that price appreciation is not the big trend for General Motors. We're pretty much right where we were in 2011. Taking advantage of the stagnating ups and downs as GM trades between $30 and $40 is really the only gain you'll get outside the dividend.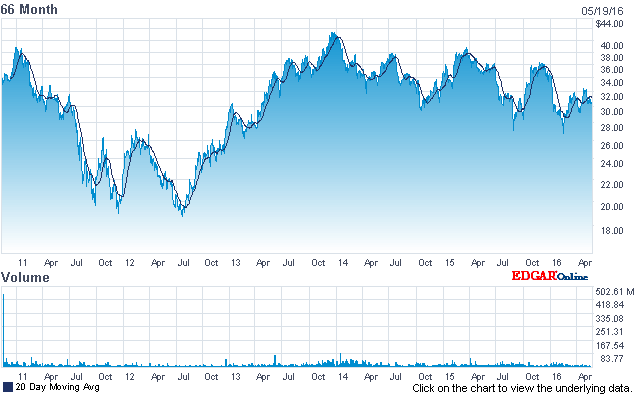 Disclosure: I/we have no positions in any stocks mentioned, and no plans to initiate any positions within the next 72 hours.
I wrote this article myself, and it expresses my own opinions. I am not receiving compensation for it (other than from Seeking Alpha). I have no business relationship with any company whose stock is mentioned in this article.