After doubling down in the STACK play through its $1.9 billion acquisition of Felix Energy's 80,000 net acre position in the area back in December 2015, Devon Energy Corporation (NYSE:DVN) offered up several bullish operational updates in its Q1 2016 earnings report. The first update worth taking a look at is Devon's staggered well lateral pilot program in the Meramec shale, which is one of America's emerging top tier liquids plays that supports drilling economics on par with the Eagle Ford and the Delaware Basin in the Permian.
Early bird gets the worm
The average breakeven (this is on an incremental well basis, so it should be used as a benchmark) oil price in the Meramec oil window is estimated to be in the low $30s/barrel, and that goes down closer to the low-$20s when targeting the core of the over-pressurized crude window. Those kinds of "breakeven" levels generate fairly economical wells when WTI is hovering in the mid-$40s.

Click to enlarge
Source: EnLink Presentation
A staggered well lateral spacing program tries to leverage the stimulation process of each horizontal well, to maximize the recovery of oil and gas as more hydrocarbons are unlocked if done properly. As there was little communication or interference between both wells, it seems Devon Energy has been able to adequately apply this synergy without the negative effects. If the wells are too close together, they can interfere with each other's production and ruin the economics for the upstream operator.
Another positive aspect of staggered well laterals is that it helps reduce the distance between each well, which is something I will get into further on.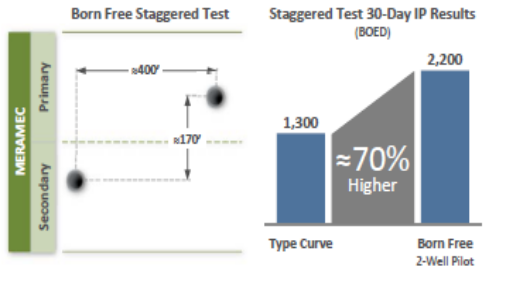 Source: Devon Energy Corporation Operations Report
The Born Free staggered lateral well test yielded two Meramec wells that produced an average 2,200 BOE/d 30-day IP rate, roughly 70% above its Meramec type-curve. As Devon Energy was basing its well models on expectations that the average Meramec well would generate a 30-day IP rate of 1,300 BOE/d, this development could lead to plenty of additional positives.
A higher 30-day IP rate implies that there is a good chance wells completed in this way, if the pilot program can be repeated again with similar results, will yield much higher EUR (estimated ultimate recovery) rates. A higher EUR rate means that Devon is producing more oil and gas from each well, which has been shown across America to materially enhance drilling economics.
During the first quarter of this year, Devon Energy brought an additional five operated wells online in the Meramec shale with an average 30-day IP rate of 1,500 BOE/d (not including the Born Free wells) with a solid oil cut of 63%. The high oil cut and strong well productivity point towards the Meramec play being very economical, economics that are aided by existing infrastructure in the area.
Management noted that there are currently two type-curves in the Meramec that the company is using. Play-wide, Devon sees the average Meramec well posting a 30-day IP rate of 1,300 BOE/d as I said above. In the over-pressurized oil window of the Meramec, that goes up to 1,500 BOE/d with a EUR rate of 1.4 million BOE. As it outperforms those results, expect both of those estimates to get revised upwards over the course of 2016.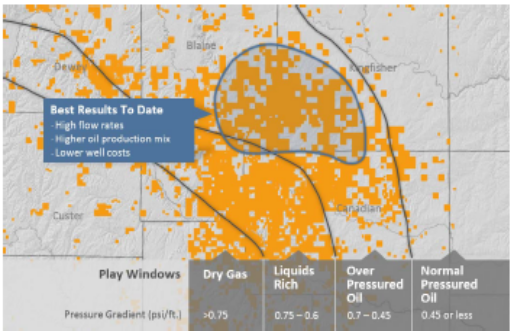 Source: Devon Energy Corporation Operations Report
One-third of Devon Energy's 2016 capex budget is allocated to the STACK play, more than any other, highlighting its importance to the company. If it turns out that the Meramec is the high return play initial results are making it out to be, then Devon Energy Corporation will be one of the upstream players that was able to acquire a large presence in the play. The company pumped out 91,000 BOE/d from the region in Q1 2016 (15.4% oil, 31.9% NGLs), up from 65,000 BOE/d in the same quarter last year (9.2% crude, 33.8% NGLs). As Devon targets the oil window of the Meramec, expect its STACK production mix to continue shifting towards a much heavier crude mix.
Regardless of how big of an acreage position an unconventional operator is able to build up, there is a finite amount of potential drilling locations to exploit. That's why downspacing pilot projects, which means moving well laterals closer together, are so crucial. Devon's success at the Born Free pilot program helps set the stage for another pilot project. The goal is to try and boost the number of wells the company completes per Upper and Lower Meramec section from three and one to eight and six, respectively. Here is another visual representation of that.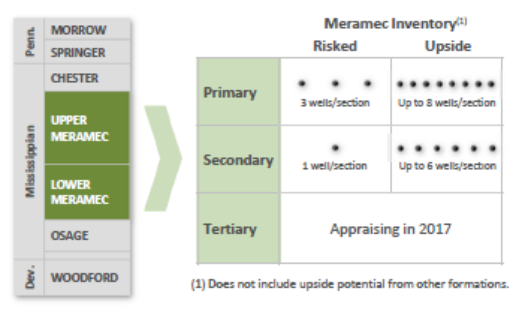 Source: Devon Energy Corporation Operations Report
Devon Energy has a 430,000 net acre position in the STACK, with 200,000 of those net acres prospective for the Meramec play. Under its current four well per section model, Devon has 1,600 gross risked well locations in the over-pressurized Meramec oil window. That would grow materially if its downspacing and staggered well pilot programs continue to go smoothly. Next year, the company plans on testing out the lower portions of the Lower Meramec horizon which could yield additional upside and will be interesting to see.
Devon Energy has additional locations outside of that window, but those are less economical in most cases.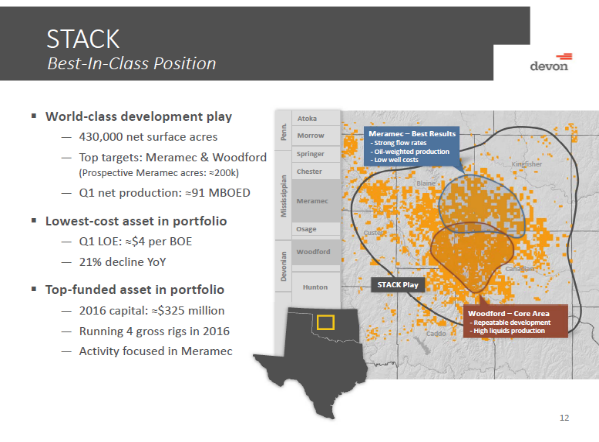 Source: Devon Energy Corporation Presentation
Final thoughts
So far the industry has completed around 140 wells in the emerging Meramec play and initial results show that it is commercially viable and very economical. Devon Energy Corporation has brought enough operated wells online to get a very strong understanding of what its Meramec economics might look like at certain prices, and there remains tons of room for additional operational gains. The STACK region in Oklahoma will continue to be an interesting unconventional oil/liquids-weighted play to pay attention to going forward, so expect to hear more good things from Devon Energy Corporation on this front.
Investors looking for more details on Devon Energy Corporation's $2.5 billion upstream STACK and Powder River Basin purchase back in December, along with the related midstream purchases through its EnLink (NYSE:ENLK) (NYSE:ENLC) midstream family, should check out this article. If you are looking for additional info on Devon Energy's other operations, take a look at its solid Eagle Ford economics and horizontal well restimulation operations in the Barnett shale.
Disclosure: I/we have no positions in any stocks mentioned, and no plans to initiate any positions within the next 72 hours.
I wrote this article myself, and it expresses my own opinions. I am not receiving compensation for it (other than from Seeking Alpha). I have no business relationship with any company whose stock is mentioned in this article.