What has been happening
Figure 1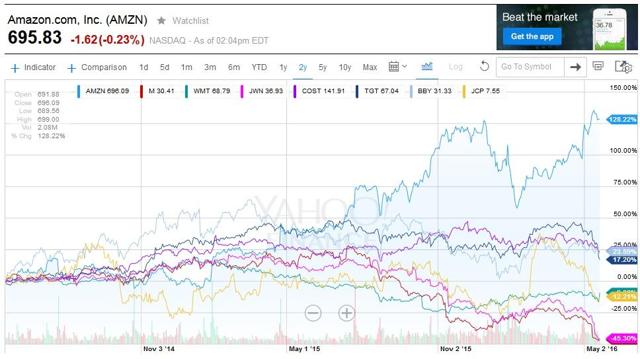 Source: Yahoo Finance
Stocks most seriously hurt by Amazon.com, Inc.'s (NASDAQ:AMZN) competitive use of the internet to display and deliver goods are the old-school department stores and discounters not able to adapt, like Macy's (NYSE:M), Nordstrom (NYSE:JWN), Wal-Mart (NYSE:WMT), and J.C. Penny (NYSE:JCP). This year while AMZN shuddered and moved ahead, other more able competitors Costco (NASDAQ:COST), Home Depot (NYSE:HD), Target (NYSE:TGT), and Best Buy (NYSE:BBY) simply were held back, proving that brick-and-mortar big-box stores can survive.
The Retailing sector is impressively diverse, including areas like grocery, drugstores, sporting goods, electronics, home furnishings, in addition to the ever-present apparel outlets. Still, by applying the price range forecasts derived from Market-Make hedging actions, comparison of the investment prospects for dozens of diverse stocks in this sector is not only possible, but enlightening. Here are the market actions and marketability considerations of some three dozen retailing securities of interest, ranked by market cap:
Figure 2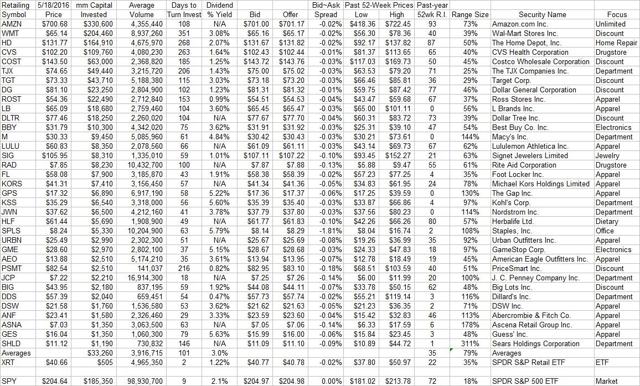 Source: Yahoo Finance
AMZN has clearly dominated the investment interest in this sector, but the diversity of interests that are being served leaves many niches. Some of these benefit from local, physical stores where fitting rooms or immediate product acquisition trump the convenience and geographic pervasiveness of the internet.
While typical issue trading volumes average 4 million shares a day, some huge market caps require hundreds of days for a complete capital turnover. Many of these tend to be buy & hold favorites, with 3% dividend yields common.
The past 52-week's market activity has not been kind to many, other than AMZN, Home Depot, and Dollar General. The group's average stock is at a past-year Range Index of 35, meaning that most stocks have come down almost twice as far from their highs as they are up from their lows. AMZN has 93% of the year's range beneath its present price, and Home Depot 87%. Many in the group are within 10% of their price range lows.
This is not a quiet group of stocks. Their average high prices are almost 80% above their lows. Given the low Range Indexes, that spells a lot of investor pain, and not much glee.
The Sector ETF, SPDR S&P Retail (NYSEARCA:XRT) has attracted little attention, with only a half-billion dollars of investment committed. Now it is only a quarter of the way up its 35% range.
So much for the past. What is expected now in months to come? With over $8 billion a day traded in these stocks, market-makers are kept busy helping institutional customers adjust their big-money fund portfolios. Only $3 billion of that trade value is in AMZN, so there is frequent need to hedge the capital they regularly must risk to provide market liquidity.
That hedging activity tells just how far these well-informed professionals think prices of the various stocks are likely to travel in coming weeks and months. We can compare their reward~risk prospects from those knowledgeable forecasts.
Figure 3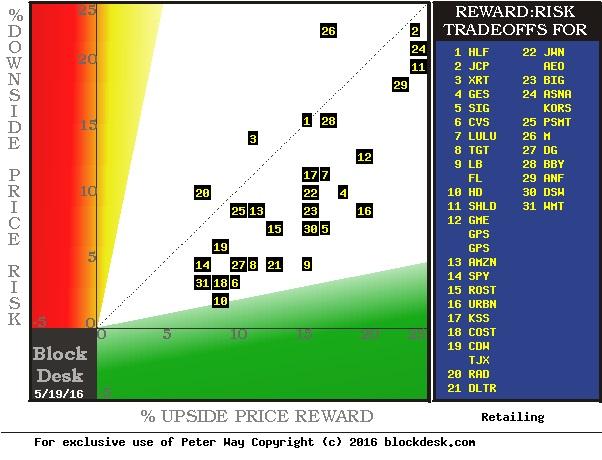 (used with permission)
This map uses the upside gain prospects between each stock's market quote and the top of its forecast price range as the "Reward" coordinate on the horizontal (green) scale. The stock's actual worst-case price drawdowns, following prior forecasts similar to today's, provide the "Risk" coordinate on the vertical red scale. The dotted diagonal marks where the two prospects are equal.
AMZN is at point [13], and as a market reference, SPY is at[14]. Those issues at points to the right of [13] have greater upside prospects than AMZN and those lower than [13] have had less risk than AMZN. That makes stocks like Dollar Tree (NASDAQ:DLTR) at [21], Footlocker (NYSE:FL) and L Brands, Inc (NYSE:LB), both at [9] of particular interest. Also having the appeal of greater gain potential are DSW Inc. (NYSE:DSW) at [30], Signet Jewelers (NYSE:SIG) at [5], and Urban Outfitters (NASDAQ:URBN) at [16].
While the Reward~Risk tradeoff is of prime investment interest, there are other aspects that may pose specific considerations of differing import among investors. Let's look at a more complete set of data for these stocks, with special attention to those that dominate AMZN's position at [13].
Figure 4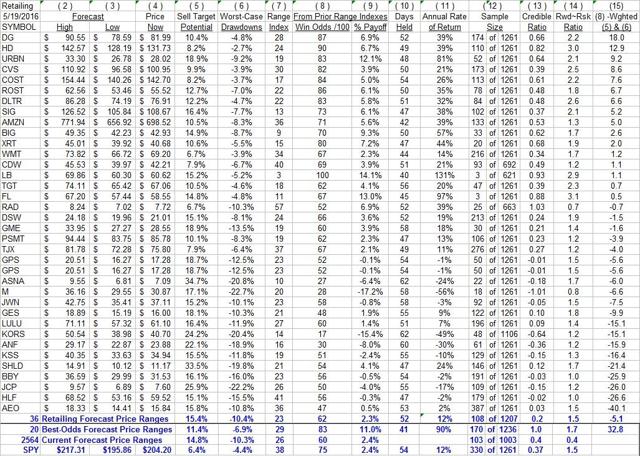 Source: blockdesk.com
Besides the Reward~Risk tradeoff data of Figure 3 from columns (5) and (6), other important considerations here are the credibility of the forecasts, and their reliability.
Credibility first: Column (5) calculates the percentage gain prospect between (2) and (4). Column (9) tells what gains prior forecasts like today's have actually delivered in a standard time-conserving, risk management portfolio discipline applied to all stocks and ETFs. Column (13) is a ratio of (9) divided by (5); outcomes of 0.9 or better are desired.
Reliability is implied by an adequate sample of prior forecasts. (12) tells how many prior forecasts out of the past 5 years market days have had upside to downside proportions like today's. Statistical significance is better with samples of 20 or more. When forecast Range Indexes are at extremes (below 10 is very cheap) limited sample size is often encountered.
A further dimension of reliability is in (8) where the proportions of prior forecasts that recover from omnipresent price drawdowns (in 6) provide a measure of the odds of any position taken being likely to show a profit. This is a major contributor to the size in (9), and thus to the credibility of (5).
To provide perspective for the Retailers' sector, at the bottom of Figure 4 we have in blue provided averages for the sector, along with data for the population of forecasts from which it was drawn today. The best-ranked wealth-building 20 stocks and ETFs in that population are also averaged, and comparable data for SPY as a market proxy is included.
Investors have a variety of criteria to be emphasized, which may include any or all of these considerations. Thus, the most appealing investment candidate will likely depend on the investor's preferences, so we try to provide as rich a description as is relevant for each available choice, rather than prescribe specific medications or dosages..
Recognize that time changes things
What has been laid out to here is where we are now, with clues as to what may be more likely to occur in the future. It is often reassuring to see how the passage of time has affected forecasters' expectations of what may be yet to come. Sequences many times are best communicated by pictures than tables, so we now include some pictorial histories of the evolving expectations for a number of the stocks just described, with AMZN first.
Figure 5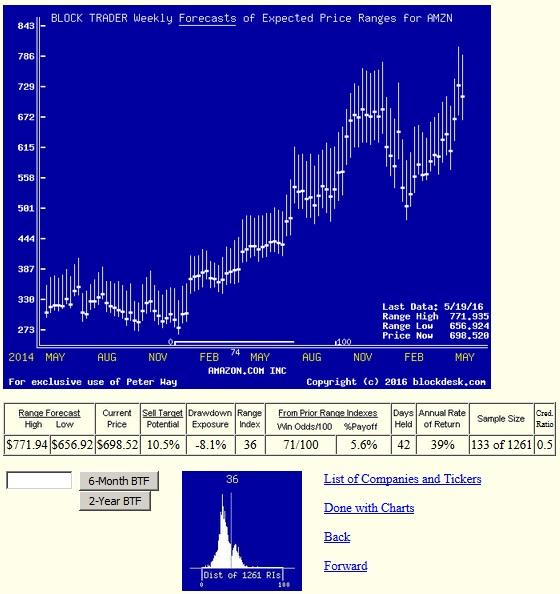 (used with permission)
Here the price range forecasts implied from Market-Maker hedging are represented by vertical lines, with upside and downside proportions defined by the heavy dot of the market quote at the time of the forecast. Each vertical is a once-a-week excerpt from similar daily Block Trader Forecast pictures. These cover two years, the daily ones only span the latest 6 months.
The data row in each BTF picture is taken from the table in Figure 4.
Figure 6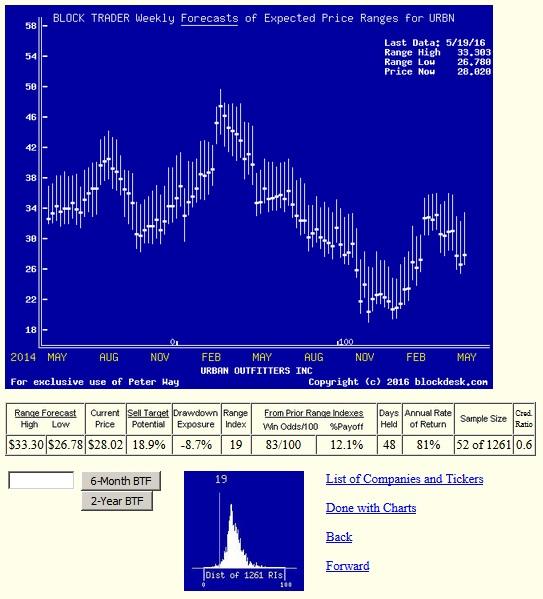 (used with permission)
Figure 7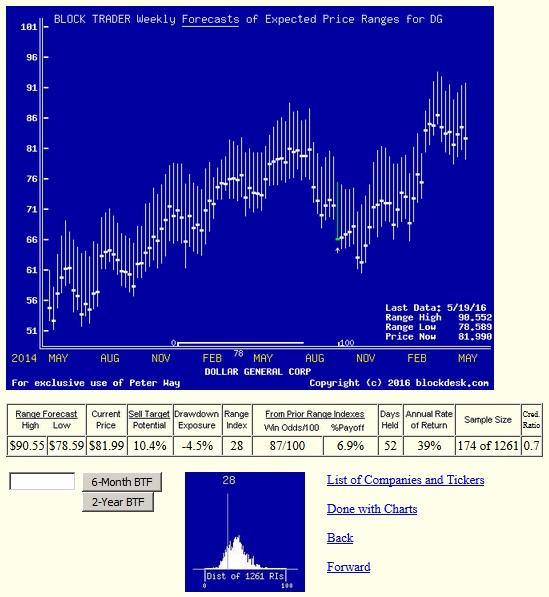 (used with permission)
Figure 8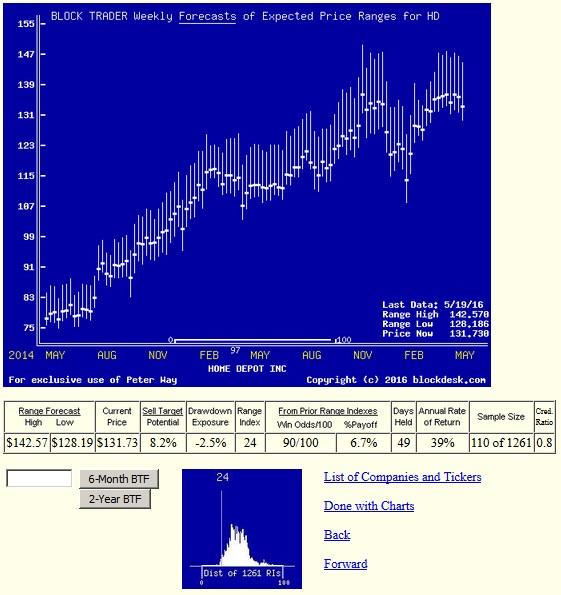 (used with permission)
Conclusion
One of the interesting observations often present in the BTF pictures has to do with the thumbnail pictures displaying the subject issue's daily Range Index frequency over the past 5 years. When stocks are attractive, their current RI is usually on the left side of the distribution. As an issue climbs more rapidly in price than in expectations, the current RI often tends to shift to the right side, suggesting its market presence is weakening, even though it continues to display forecast strengths.
That may be the case with AMZN at present. Clearly other issues have advantages.
Additional disclosure: Peter Way and generations of the Way Family are long-term providers of perspective information (earlier) helping professional and [now] individual investors discriminate between wealth-building opportunities in individual stocks and ETFs. We do not manage money for others outside of the family but do provide pro bono consulting for a limited number of not-for-profit organizations. We firmly believe investors need to maintain skin in their game by actively initiating commitment choices of capital and time investments in their personal portfolios. So our information presents for their guidance what the arguably best-informed professional investors, through their own self-protective hedging actions, believe is most likely to happen to the prices of specific issues in coming weeks and months. Evidences of how such prior forecasts have worked out are routinely provided. Our website, blockdesk.com has further information.
Disclosure: I/we have no positions in any stocks mentioned, and no plans to initiate any positions within the next 72 hours.
I wrote this article myself, and it expresses my own opinions. I am not receiving compensation for it (other than from Seeking Alpha). I have no business relationship with any company whose stock is mentioned in this article.