Thursday was a messy day for the markets, but in the end, the losses were fairly mild. The S&P 500 (NYSEARCA:SPY) fared best, down just 8 points; the Nasdaq (NASDAQ:QQQ) and Dow (NYSEARCA:DIA) took slightly bigger hits.
Regardless, it was a big recovery from the morning, when the markets were much lower. The Dow was down 200 at one point, and the S&P 500 fell to the 2025 level before bouncing. 2040 is viewed as key support, and the market was able to regain that level by the close.
It looked as though the bears were finally going to tilt the market to the downside, breaking things out of the recent back-and-forth trading pattern. But bulls were able to hold serve, helped by rumors that moved oil (NYSEARCA:USO) several percent higher, along with long-awaited strength in the retail sector.
The big question remains: Just how serious is the Fed? Are they actually entertaining a June hike possibility, or was that just posturing? The answer will be a major factor in how the market trades over the next month.
Wal-Mart Cheers Up The Retailers
After a truly dreadful series of earnings reports for retailers, where misses were rewarded with massive declines, and beats only caused minor gains, the pattern finally changed. In a recent Briefing, we were wondering what would finally put a bottom in the sector: a big earnings beat from somewhere was a likely catalyst.
Well, Wal-Mart (NYSE:WMT) delivered the spark the beleaguered sector needed. Despite the market in general being down on the day, the retailers (NYSEARCA:XRT) were up 1.3%.
Wal-Mart, for its part, jumped an eye-popping 9.6% on the day - reportedly its biggest one-day up-move since 2008. Suddenly, all those losses during the recent slump have been reversed: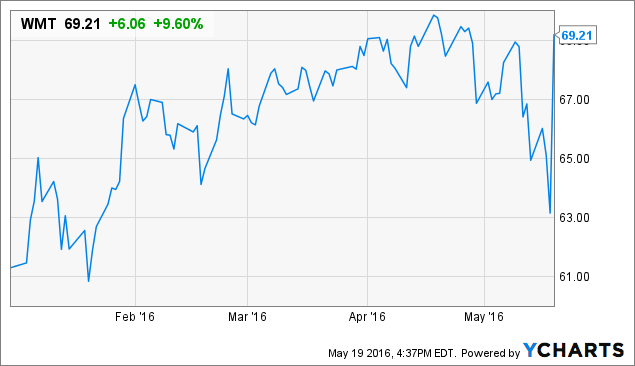 If you'd been asleep for the past month, the $69 quote at the end of the day wouldn't look out of the ordinary. However, given the recent sell-off in retail, it's pretty remarkable that WMT is back to the year's highs.
Topping things off, the company's earnings report wasn't even that great. US same-store sales were up 1%. Operating income was down sharply, with international sales taking a heavy toll, in large part due to currency impacts.
Wal-Mart shares had plunged on Wednesday, as investors fretted after the lousy Target (NYSE:TGT) results. However, analysts had their expectations so low for WMT that even a fine, though not great, quarter was a relief and sent shares higher.
The question now becomes, how bad is the situation overall in retail-land? Some big box retailers, like Lowe's (NYSE:LOW), Home Depot (NYSE:HD), and Wal-Mart, had reasonably strong or outright positive results. While the mall retailers are struggling, if the big box names apart from Target are fine, then Amazon (NASDAQ:AMZN) might not be having as strong an impact right now as had been feared.
In defense of that theory, Target has been running from one crisis to another. There was the infamous credit card breach. Target Canada was a colossal flop, showing management has little aptitude for international stores. The online store is tenth in the US in digital sales, far off pace. Wal-Mart, by contrast, is #2 in digital, trailing only Amazon.
Now Target has again found itself in another social policy controversy with its stance on bathroom usage. Whether you agree with the decision or not, as investors, we must acknowledge that having 1.2 million people boycotting its stores will be a drag on results for the upcoming quarter.
Wal-Mart's results, along with those of the home improvement stores, indicate that there are still some powerful brick-and-mortar retailers performing reasonably well. The worst may be over for the sector after the punishing last few weeks.
Chinese ADRs Hit By Regulatory Concerns
In recent weeks, Chinese stocks listed in the US have faced a unique problem. China's government has become opposed to many of the so-called "take-private" deals.
Take-private deals have become a commonly-used technique. Over the years, Chinese companies have lost credibility in the US. This was the result of a large number of Chinese companies listed in the US or Canada that were shown to engage in unscrupulous dealings, causing their stocks to plunge or be wiped out entirely. Famed short selling firm Muddy Waters Research got its start by exposing several of these Chinese companies.
This negative view toward US-listed Chinese firms has caused many of them to receive seemingly lower valuations than they might receive on other markets. In recent years, with the tremendous boom in the country's domestic market, many firms thought it might be wise to ditch their US listing and relist in mainland China or Hong Kong, where the market might give them a higher valuation. If you could go private at a 15 P/E in the US, for example, and IPO in China at 25x earnings, there's a good trade to be made.
However, these deals have ground to a halt. They were already slow to begin with - the average Chinese take-private deal was open a rather ponderous 271 days before closing last year.
Now the government is using measures to stop them entirely, such as preventing Chinese firms from converting their currency to dollars in order to fund buyouts in the US. Qihoo (NYSE:QIHU) is one important example: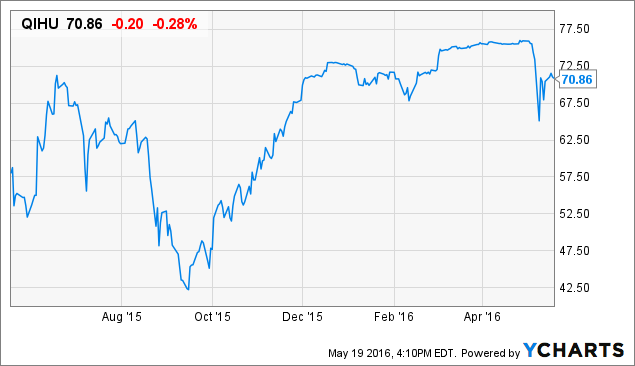 Qihoo was supposed to be taken out at $77/share. After spending several months just below the buyout price, the shares slumped recently as it became more clear that the government may prevent the deal from closing. A deal for leading Chinese internet firm YY Inc. (NASDAQ:YY) was abandoned: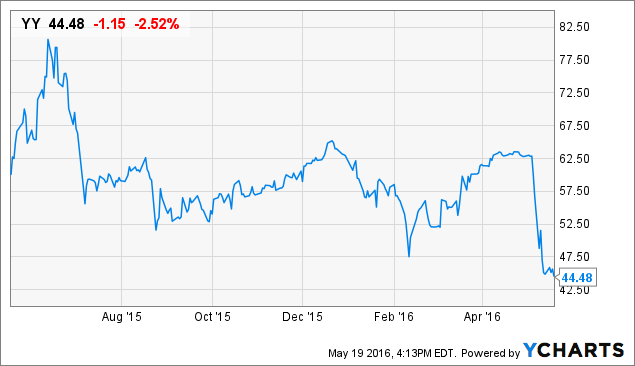 There are various other such firms that have been impacted. And the impact goes beyond companies that see their buyouts threatened. The value of US-listed Chinese companies drops as a whole if the opportunity to go private is taken off the table. It effectively kills one method of market arbitrage, allowing prices to remain at lower levels with no market remedy.
On Thursday, various Chinese firms were atop the biggest losers list. Cheetah Mobile (NYSE:CMCM) - related to YY via key investor and Xiaomi chief Lei Jun - plunged 19% following soft earnings.
Renren (NYSE:RENN) knifed 19% lower in a rather strange-looking late-day sell-off: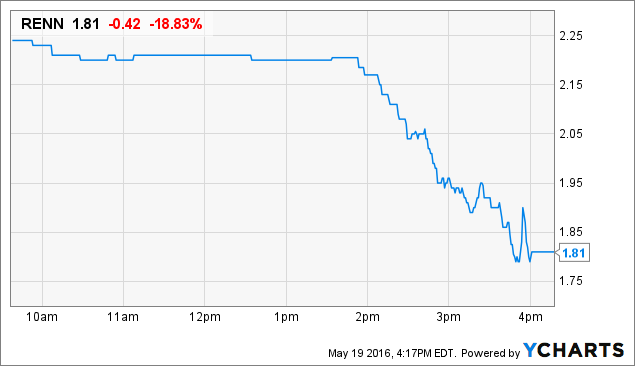 RENN Price data by YCharts
Not to be left out, the controversial NQ Mobile (NYSE:NQ) dropped 18% on the day.
The takeaway: Look at Chinese stocks with an extra grain of salt for the time being. The government's actions have helped create an unsettled environment where people will hit the Sell button quickly.
Also, be especially skeptical of new Chinese IPOs. With the climate favoring going public in China rather than in North America, it's likely that only low-quality firms are eager to list on the US exchanges at this time. Let's let last year's IPO, rise, and then plunge of Chinese charcoal producer Tantech Holdings (NASDAQ:TANH) serve as a warning: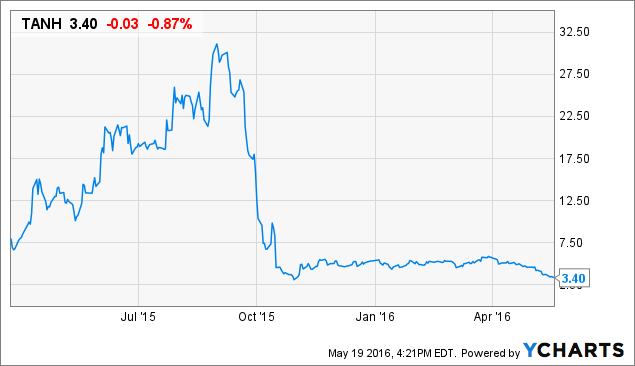 Finally, I'll show the chart for Fuling Global (NASDAQ:FORK), the Chinese plastic cutlery maker which recently went public. Despite reporting great numbers on paper, investors haven't wanted to order up any shares for their portfolios: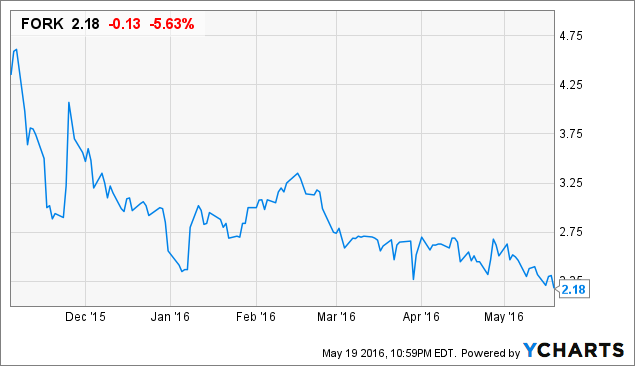 While the Chinese market always requires discretion, use extra prudence at the moment. The government crackdown and very soft environment for IPOs make things especially tricky for the time being.
Disclosure: I am/we are long WMT.
I wrote this article myself, and it expresses my own opinions. I am not receiving compensation for it (other than from Seeking Alpha). I have no business relationship with any company whose stock is mentioned in this article.