By Raul de Frutos
Improvements in commodity markets made copper prices hold above the lows recorded in January but investors are not yet excited enough to trigger a bull run in copper prices.
We noticed in March that copper, aluminum and nickel were lagging badly in this year's industrial metals rally, and they still are. Copper fell this week below $4,600 per metric ton, the lowest level in two months.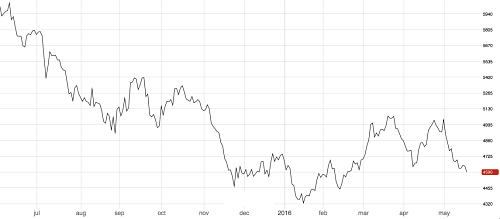 Three-month London Metal Exchange Copper hits a two-month low. Source: Fastmarkets.com.
Overcapacity issues are still visible. Last December, a group of Chinese smelters announced intentions to cut refined copper output. However, recently, China's largest copper producer, Jiangxi, said those output cuts have been offset by new capacity there.
More Expansion
Also, earlier this month, Rio Tinto Group (NYSE:RIO) approved a $5.3 billion expansion to more than double output at the Oyu Tolgoi copper mine in Mongolia, making it one of the world's largest copper mines. Rio is also expanding its iron ore efforts. Even though almost everyone seems to agree that the market is oversupplied, copper producers seem quite optimistic on the long-term picture.
The Chilean Copper Commission said on Tuesday that it expects copper to rise more than 30% by 2018, because of rising demand from China, the top consumer. Rio Tinto agrees with Chile and Freeport-McMoRan (NYSE:FCX) sees the market in deficit as soon as next year.
If monetary policies keep driving the U.S. dollar down and the upturn in Chinese demand is for real (at least for an extended period of time), then producers might have it right. However, in a year full of global uncertainties, bears might not be out of sight for too long. So far, we have yet to get signals to buy copper forward. "Don't buy copper on weakness, wait for price strength."
That's something our subscribers know well as they've been enjoying copper's falling trend by buying only small quantities for quite a long time now.