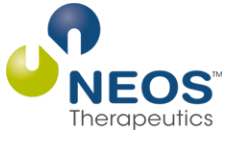 Neos's (NASDAQ:NEOS) Q1 EPS and revenue came in above expectations. But that was not really important - the important thing was this week's official launch of Adzenys XR and the $60 million debt raise, which has officially ended speculations about the potential dilutive share offering.
Neos's Q1 net loss widened from $7.6 million last year to $12.6 million. This was a consequence of higher SG&A costs related to the launch of Adzenys. I am expecting the net loss to widen in the following quarters to around $15 million as the company ramps up its commercial efforts.
I am also not expecting significant net sales from Adzenys this year due to the following reasons:
The company will initially target physicians who prescribe to children that have difficulty swallowing. This is seasonally not a great period for a significant ramp in prescriptions, but it is a good period to prepare for the back-to-school period in August and September. Sales reps will have enough time to educate physicians about Adzenys's advantages over the competing products, but prescriptions should start ramping in autumn.
The company is not experiencing pushback from payers - it has been informed by most payers that there will be no coverage problems as long as pricing is in line with other extended-release products - and it is. Early reimbursement troubles are to be expected and the situation should be much better in 2017. This should also constrain early script numbers.
The focus this year will be on building awareness. Neos will have coupons for a free 30-day supply and is also looking to limit the amount a patient pays out of pocket to $25. The campaign should positively affect long-term growth, but will negatively affect paid scripts and revenues per script in the next few quarters.
Debt raise eliminates dilution concerns
Neos also announced a $60 million term loan from Deerfield this week. The loan is interest-only for the first 36 months and the company will have to pay $15 million a year starting in 2019. This brings the pro-forma cash balance to $136 million at the end of Q1, which should be enough to cover expenses for at least three years, and maybe even until the company reaches cash flow break-even. It is also worth mentioning that the current market cap is $125 million, which is below the company's current cash balance.
Growth expectations - modest 2016, followed by a big jump in 2017?
This year's revenue expectations are quite modest - the analyst consensus is just $9.5 million as of this writing. I think that this target might be achieved just with generic Tussionex, which generated $2.5 million in net sales in the first quarter. This means that analysts predict little or no contribution from Adzenys. I think this is probably an accurate assumption and I too expect modest net sales this year but think that the company should beat the very low revenue consensus for 2016.
I was previously expecting Adzenys sales to be in the $10 million to $15 million range this year, but am lowering that estimate to $5 million to $10 million due to the awareness campaign, the 30-day free supply and the goal of $25 out-of-pocket cost per patient.
On the other hand, I am not sure that next year's revenue estimate is realistic. The 2017 revenue consensus is $52.7 million, which would represent quite a jump from 2016. However, the company will likely have two branded products on the market next year. Cotempla's NDA should be submitted in Q4 2016, but I don't think that we will see meaningful sales from Cotempla until 2018, mostly due to the above-mentioned factors that will likely constrain Adzenys's growth this year. Net sales in the range of $30 million to $35 million for 2017 seem more appropriate and the number also includes sales of generic Tussionex.
The cash burn and Adzenys's uptake are my main concerns. This year's cash burn will likely be in the $50 million to $60 million range, so if we exclude the $12 million in Q1, the company should end 2016 with $90 million or $100 million in cash. Next year's cash burn should be similar considering the higher costs due to the launch of Cotempla, which should be offset by higher net sales of the two branded products.
If sales ramp to at least $30 million in 2017 and to at least $50 million in 2018, I think that the company should not have problems with financing. These estimates look achievable to me - Adzenys and Cotempla have enough differentiation to take at least 1% of the ADHD market - which is a very modest assumption and which translates into annual sales of $60 million for Adzenys and around $35 million for Cotempla. These estimates are actually very conservative and I stand by my base case of $300 million in combined peak sales for the two products (RBC's combined peak sales estimate is $500 million) and I am reiterating my buy rating and a $25 price target on Neos.
Conclusion
Neos made two important steps forward this week. The company officially launched Adzenys and closed the $60 million term loan, which has eliminated the threat of dilution. The initial focus on children that have difficulty swallowing, the differentiation from other marketed products and the awareness campaign should result in solid uptake for Adzenys in late 2016 and beyond, but I expect a slow ramp in the next few months. The company's market cap is currently lower than the cash balance and I am reiterating my bullish view and the $25 price target on Neos, which is still below the analyst mean and median price targets of $27.7 and $29 respectively.
Disclosure: I/we have no positions in any stocks mentioned, but may initiate a long position in NEOS over the next 72 hours.
I wrote this article myself, and it expresses my own opinions. I am not receiving compensation for it (other than from Seeking Alpha). I have no business relationship with any company whose stock is mentioned in this article.
Additional disclosure: This article reflects the author's personal opinion and should not be regarded as a buy or sell recommendation or investment advice in any way.