Introduction
Value investing is often associated with conducting deep fundamental analysis on individual companies. However, what investors often miss is that opportunities and risks can also be found via a top-down approach. Macro movements can have tremendous effects on a company's bottom line, directly or indirectly. For example, crack spreads directly contribute to a refiner's income while the fuel price indirectly influences an airline's operating margin. In Value Investor's Daily Macro, I will share some of the macro data that I pay attention to, and how they can be used to identify opportunities and risks. In today's edition, I will examine two subsectors of the market (NYSEARCA:SPY)(NASDAQ:QQQ)(NYSEARCA:DIA): airlines and mREITs.
Fuel Prices
To kick off, I would like to look at jet fuel prices. This is one of the variables that led me to purchase Spirit Airlines (NASDAQ:SAVE) for the V20 Portfolio.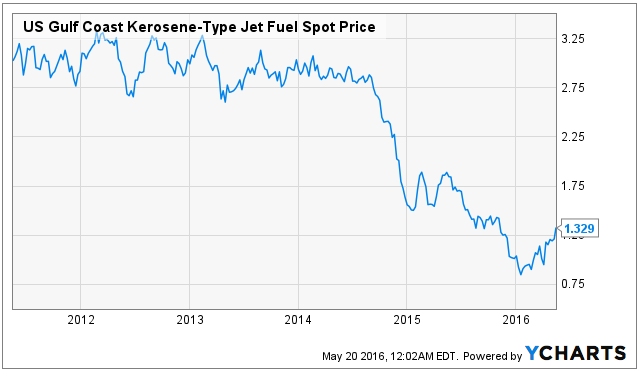 In the chart above we can see that fuel prices have begun to recover, jumping almost 70% from $0.8/gal to $1.329/gal. Back in 2015, fuel's rapid decline allowed airline companies to significantly increase their profits, but now that fuel is bouncing back, will they feel the squeeze?
In the short term, airline companies may not have enough time to pass on the cost to customers, decreasing their profits. Using this information, let's examine the potential impact for a few airlines.

(
Source: data from 10-Q
As you can see, ALGT is the least sensitive to fuel volatility since fuel expense is a small portion of operating income. Every percentage increase in fuel expense will only result in a 0.45% decrease in operating income. Hence if you are looking for an airline that will not be overly sensitive to fuel prices, Allegiant Travel may be worth a look.
Rate Hike
With the conclusion of the most recent FOMC meeting, it would appear that another rate hike will be scheduled for June. An increase of 25 bps is likely, making the target rate 0.75%. Interest rates affect every type of security out there, but some are more sensitive to changes in rates than others. Leveraged companies with short-term maturities are especially exposed, as they must refinance debt at higher interest rates. Let's take a look at Annaly Capital (NYSE:NLY), the definition of generating income using leverage. As an mREIT that borrows short and lends long, it is particularly sensitive to increases in short-term rates.
At the end of Q1, the company had $62 billion of interest bearing liabilities at an average rate of 1.73%. If the Fed does indeed raise rates by 25 bps, Annaly Capital would have to cough up an additional $155 million per year to satisfy its short-term liabilities, which is more than 60% of the company's quarterly interest income. Combine this with a flattening yield curve due to stationary/falling rates on the tail end, Annaly's long-term profit potential will be significantly reduced. Investors with a short-term view may not have to worry yet, as Annaly's large hedging portfolio ($30 billion of notional value as of Q1) will reduce the effect of the rate hike.
Other leveraged mREITs to watch for: AGNC, CIM, MFA
Takeaway
To end today's edition of Value Investor's Daily Macro, I would like to say that macro analysis only serves as a good funnel for you to identify potential candidates, deep fundamental analysis should still be conducted. In the jet fuel example we found out that Allegiant is the least sensitive to fuel price increases, yet I still chose to purchase Spirit Airlines over Allegiant. By conducting a deeper analysis of Spirit Airlines, you will find that the stock is currently valued more cheaply and has greater growth potential. In my view, those two favorable characteristics outweigh the risks that come with a higher sensitivity to fuel prices. Thankfully, the market has agreed with my judgment thus far, as Spirit Airlines has significantly outperformed its peers since the V20 Portfolio took a stake in late October.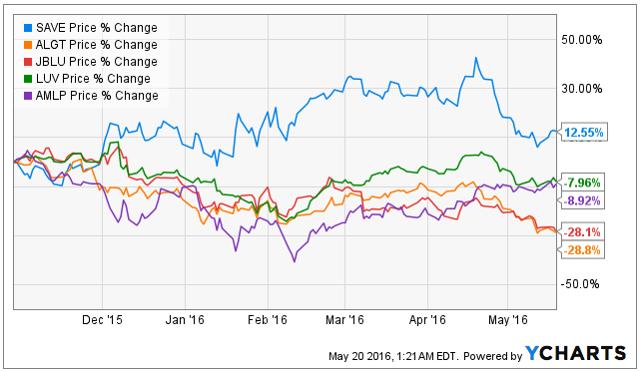 Click to enlarge
Note: If you are interested in reading more about my investment process, you can click the "Follow" button beside my name on the top of the page and be updated with my latest insights. To learn more about the V20 Portfolio (+40% in 2015), whose goal is to compound capital at 20% over the long term, I encourage you to read the introduction to my investment process. Premium subscribers will get full access to the V20 Portfolio. You can follow my latest weekly update available to all here.
Disclosure: I am/we are long SAVE.
I wrote this article myself, and it expresses my own opinions. I am not receiving compensation for it (other than from Seeking Alpha). I have no business relationship with any company whose stock is mentioned in this article.