In my previous article on May 12, 2016 I outlined the past failed deals involving NQ Mobile (NYSE:NQ) trying to sell their mobile game subsidiary FL Mobile since 2014. In the conclusion I stated to watch whether or not "NQ announces some sort of new deal that involves selling FL Mobile" during their Q1 of 2016 earnings that is coming up soon.
However we didn't have to wait that long as on May 17, 2016 NQ Mobile announced they are now selling the remaining 64.87% of FL Mobile to a company listed in China called Shenzhen Prince New Materials Co, a plastic packaging material company.

Click to enlarge
The terms of the deal is that Shenzhen Prince New Materials Co will pay 3.2 billion RMB for a 65% stake of FL Mobile. On the surface this sounds very positive but like almost all other FL Mobiles deals announced in the past by NQ Mobile there are also certain conditions and likely accompanying termination or reversal clauses involved.

Click to enlarge
As stated in the press release for the deal to move forward Shenzhen Prince first has to be able to complete equity financing. Taking a look at the balance sheet of Shenzhen Prince, in September 2015 they had around 197 million RMB in cash and short term investments.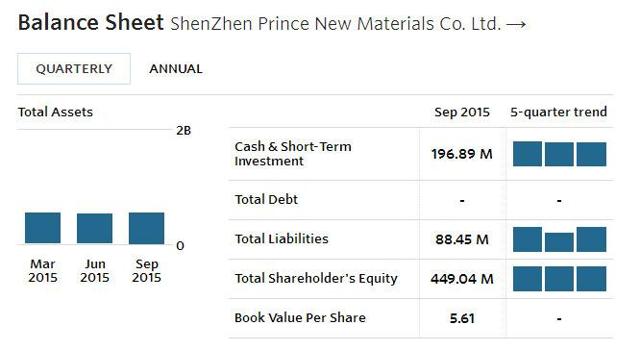 Click to enlarge
This means they would first have to successfully raise somewhere around 3 billion RMB (if not more) in cash before they can proceed to buy the 65% stake of FL Mobile at the stated price.
The second part is that both the equity financing for Shenzhen Prince and the deal to purchase FL Mobile is subject to approval from the China Securities Regulatory Commission (CSRC for short). This is another key issue as I mentioned in my previous article.
As I have talked about there are reports of new rules by the CSRC that seem detrimental to the latest FL Mobile deals. Like this one dated May 11, 2016 titled "CSRC Said to Ban Listed Firms from Selling Shares to Invest in Four Fields". It explains how the CSRC clamping down on reverse mergers in China and how they are banning mergers and acquisitions in certain industries such as "Internet finance, video games, film and TV, and virtual reality" to prevent abuse and a stock market bubble.
As stated in the report:
The CSRC has also stopped approving refinancing and merger and acquisition plans involving firms in these fields, the source said.
The whole Shenzhen Prince equity financing plan to purchase FL Mobile sounds just like the type of refinancing and merger and acquisition plans involving video game companies which the CSRC is stated to have stopped approving.
Second the article also states that:
The regulator has no problem with companies diversifying their portfolio as long as it remains in the real economy, he said. So for example, a cement factory would be allowed to sell extra stock if it planned to use the money to manufacture clean energy equipment, but not so if it wanted to buy a video game producer.
A plastic company trying to buy a mobile gaming company with Shenzhen Prince buying FL Mobile also sounds exactly like the example given of a cement company not being allowed to buy a video game company. Therefore it is highly questionable that the CSRC will even allow Shenzhen Prince to sell extra stock so they can buy FL Mobile, assuming they have investors lined up to give them 3 billion RMB in exchange for new equity in the first place.
In addition a newer article in English dated May 17, 2016 titled "Delistings on Hold as CSRC Slams a Back Door" goes into further details of the new regulations by the CSRC and the clamp down on reverse merger listings and related deals. This newer article also states that:
Moreover, citing fears of a dangerous share price bubble, CSRC in early May put a temporary hold on all stock activity related to mergers and acquisitions among Internet-platform companies in the online financing, videogame, film, TV and virtual reality sectors, a person close to the commission told Caixin.
So the ban involving mergers and acquisitions related to video game companies and the other industries definitely looks like it is in place to prevent a stock market bubble.
The article goes on to say that even investment banks in China have stopped taking any new work for companies trying to complete a reverse merger so they can be quickly listed in China.
No wonder brokers in China took CSRC's decision as a call to action. Some played it safe by refusing new delisting projects and accelerating work on any projects already on the table.

"We will try to speed up ongoing (U.S. delisting and China-listing) projects before new (regulatory) policies are issued," said an brokerage source who focuses on investment banking but requested anonymity. " We will not accept new projects due to policy risks."
With investment banks refusing any new work for these types of deals which involves reverse mergers to get a company quickly listed in China, it is highly questionable that the latest announced FL Mobile deal with the listed plastic company Shenzhen Prince has any real decent chance of success.
Furthermore there is also an article in Chinese from Sina Finance dated May 19, 2016 which talks about the Shenzhen Prince and FL Mobile deal. Most of the parts in the beginning are about the weak financial performance of Shenzhen Prince's current plastic business. However the last paragraph also expresses doubts about the FL Mobile deal.
Here is an automatic computer translation from Chinese to English of the last paragraph.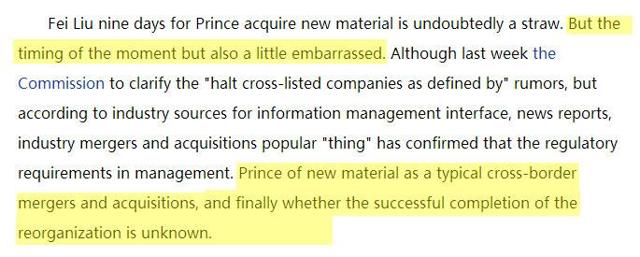 Click to enlarge
The second sentence which contains "timing" and "a little embarrassed" is talking about the timing of this new deal being announced. Since there was just a reported ban by the CSRC involving mergers and acquisitions of video game companies, the timing of announcing this new deal for Shenzhen Prince to acquire FL Mobile seems a bit embarrassing. In the last sentence it states that since this deal is a merger and acquisition involving companies in different industries, whether it can be successfully completed is unknown.
Therefore the big question here is what happens if the CSRC doesn't grant approval to Shenzhen Prince for equity financing and the whole deal to buy FL Mobile? Does this mean this new deal is automatically cancelled?
The most questionable FL Mobile deal yet?
Currently two huge hurdles which make this new deal to sell FL Mobile even more questionable than the failed FL Mobile deals in the past. First the Shenzhen Prince company has to be able to successfully raise around 3 billion RMB if not more. Second the CSRC has to approve a type of deal which they were reported as banning just around a week ago. The terms of other failed FL Mobile deals in the past seemed a lot smaller and simpler when compared to this new deal.
Bison Capital & FL Mobile Deal
First let's take a look at the failed deal in May 2014 when NQ sold a small 5% stake of FL Mobile to Bison Capital and others parties giving it a "post-money valuation of $425 million." The stake sale however comes with a redemption right. If "FL Mobile Inc. does not complete a qualified listing within 12 months after the share purchase is completed" then the buyers can make NQ Mobile repurchase the stake and get their cash back.

Click to enlarge
The majority of this redemption right was utilized as disclosed in NQ Mobile's 2015 annual report. Bison Mobile Limited and Treasure Getter Limited used the redemption right and was paid $17.8 million back in exchange for the FL Mobile stake they bought in 2014. So in the end this deal was pretty much voided.
Therefore in 2015 NQ Mobile ultimately ended up failing to sell even 5% of FL Mobile at a $425 million valuation. However this new deal with Shenzhen Prince involves NQ selling 65% of FL Mobile at a 5 billion RMB (around $765 million USD) valuation. This is a 60% larger stake than before and at a $330 million USD higher valuation for FL Mobile.
Furthermore based on the decline of mezzanine equity on NQ Mobile's balance sheet, Bison Capital and the other parties used their redemption right some time in Q4 of 2015.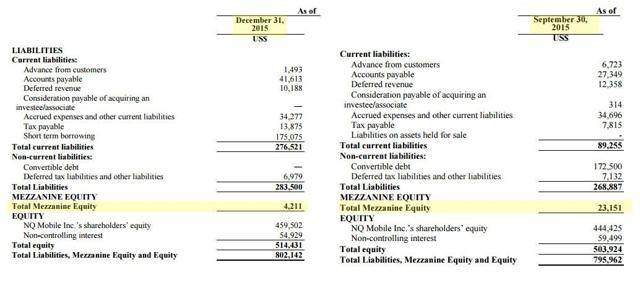 Click to enlarge
This means just between 5 to 8 months ago Bison and the other parties didn't even want to keep their entire 5% stake of FL Mobile at a $425 million USD valuation but yet somehow now NQ allegedly has a deal in place to sell 65% of FL Mobile at a $765 USD million valuation to Shenzhen Prince.
Tack Fiori & FL Mobile Deal
Back in December 2014 NQ Mobile announced they were selling FL Mobile to an apparel company listed in Hong Kong called Tack Fiori for equity valued between "US$570 million and US$630 million".
This deal solely involves Tack Fiori issuing new equity to NQ Mobile in order to acquire FL Mobile with and there was no cash in the deal. However around 8 months later this deal was cancelled and replaced with a different FL Mobile deal involving Beijing Jinxing Rongda Investment Management.
When looking at the disclosed conditions of this failed deal with Tack Fiori, simply issuing new shares for an acquisition is a whole lot easier compared with Shenzhen Prince needing to raise at least 3 billion RMB in cash in this latest deal to sell FL Mobile.
Conclusion
With NQ Mobile's Q1 of 2016 earnings conference call coming up, it will be interesting to see whether or not they provide any updates to this new announced FL Mobile and give any reasons or excuses on why this new deal could actually succeed. With the information available this latest deal to sell FL Mobile looks even more questionable than other failed deals in the past.
Disclosure: I/we have no positions in any stocks mentioned, and no plans to initiate any positions within the next 72 hours.
I wrote this article myself, and it expresses my own opinions. I am not receiving compensation for it. I have no business relationship with any company whose stock is mentioned in this article.