During the past few weeks, many shareholders have experienced the thrill of victory and agony of defeat.
After reporting strong results for Q1 2016, I think that Sears Holdings (NASDAQ:SHLD) REIT Seritage Growth Properties (NYSE:SRG) may have missed a golden opportunity.
On April 20, I wrote an SA article updating my retail REIT sector picks, which began:
"Since my February 2016 update of my top retail REIT picks, my bonus pick, Sears REIT Seritage Growth Properties has become a momentum stock."
It appeared clear to me that a bubble had begun to formulate in the value of Seritage common shares. Management may not have been ready, willing or able to take advantage of the situation to undertake a secondary share offering.
This is unfortunate, because Seritage needs a larger balance sheet to take advantage of the cornucopia of opportunity embedded in its portfolio.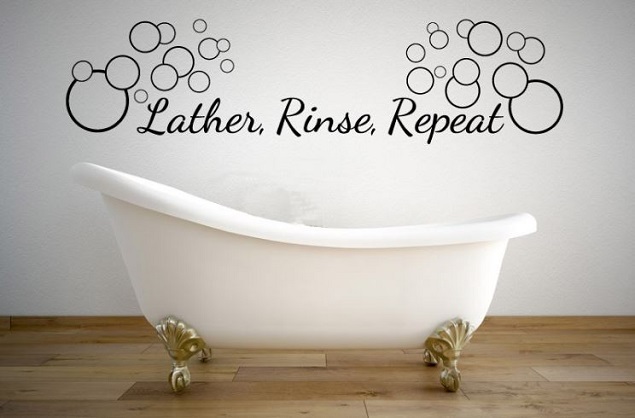 Source: Stickerhogwallsdecal.com
At least for the time being, that window now appears to be closed. But does this recent pullback offer an opportunity for investors to redeploy some dry powder?
Tale Of The Tape - Greed & Fear
My longer-term bullish thesis on the Seritage plan to transform legacy Sears and Kmart brand store square footage from $4.30 per SF to 3-10x higher rents has not changed.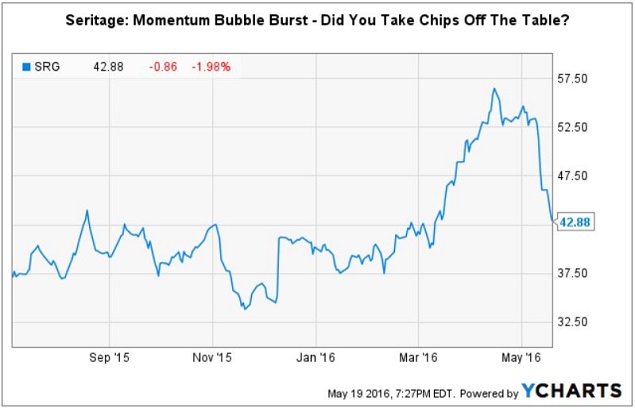 In late April, I suggested that shareholders take some chips off the table, utilizing the graphic below to help make that point crystal clear.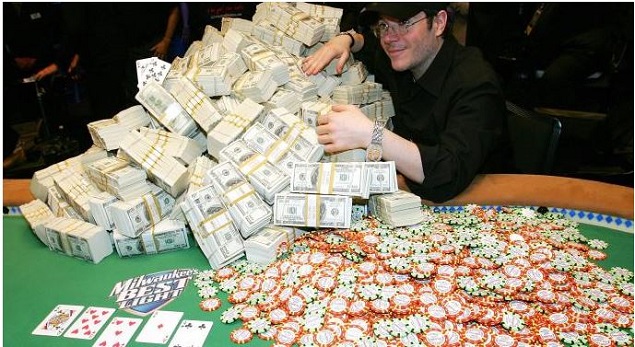 Source: Benzinga
While I generally do not recommend REITs for trading, Seritage is a special situation that generated some huge short-term gains for readers who took my advice.
I never expected to see the run-up which occurred in just a few weeks; however, I was not surprised to see the Seritage price bubble pop.
I pointed out to readers that the overheated SRG share prices were not going to last. Valuation had gotten way out in front of fundamentals and headline risk. Management still had not hosted an earnings call to answer investor questions.
Then the other shoe dropped.
Retailer Woes & Retail Landlords
During the past couple of weeks, most of the top department store names have reported results that disappointed Wall Street. This resulted in a significant pullback in shares of both retailers and REIT landlords.
However, the reality is that the REIT landlords that own the top locations continue to report better results than many of the anchor tenants. Some concerned investors are now wondering how long this apparent disconnect can continue.
Many investors fail to take into consideration that the best retail "pins in the map" will continue to evolve, because high household income and population density lead to higher sales per square foot.
The answer is deceptively simple. The best retailers will adapt and survive, focused on their top-performing stores. The others will simply disappear. This is part of the retail circle of life.
Seritage - Big Picture
My long-term bullish thesis for Seritage remains intact, but this is a process that will play out over months and years.
The Seritage owned and JV real estate is disproportionally located in markets with strong demographics relative to the entire portfolio of Sears and Kmart owned and leased properties.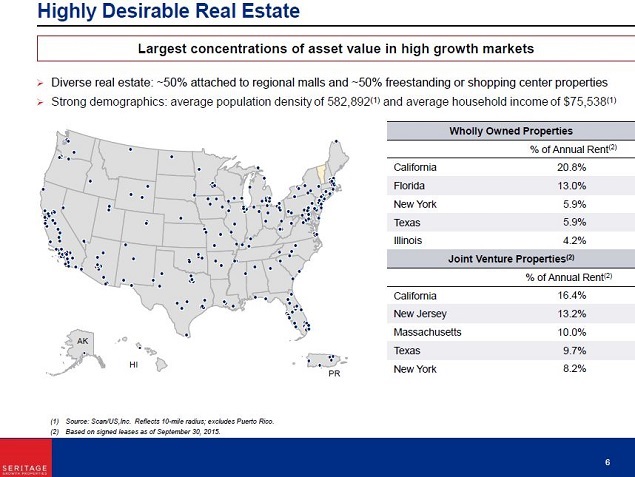 Source: Seritage - Dec. 2015 presentation (for all unattributed slides)
The ability to recapture the 3.6 million SF contained in 164 Sears Auto Center locations has already shown that it can create a huge windfall.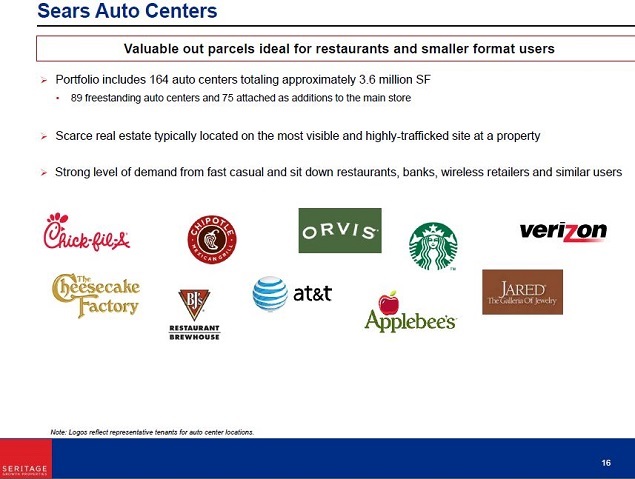 This is some of the most valuable space, and would simply be an amazing redevelopment opportunity all of its own.
However, when short-sighted investors started to see leases being signed for $45 per SF, they did some back-of-the-envelope math, got excited, and ran up the price of the SRG shares.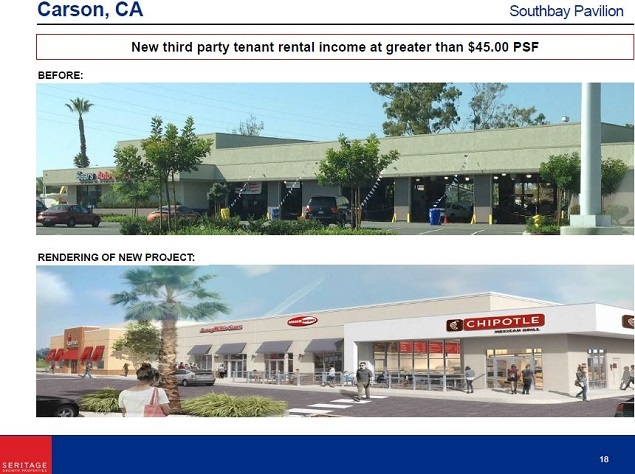 Source: Seritage Growth Properties
Allocating capital to the projects with the highest IRR will result in solid year-over-year growth in revenues and NOI for Seritage during the next few years.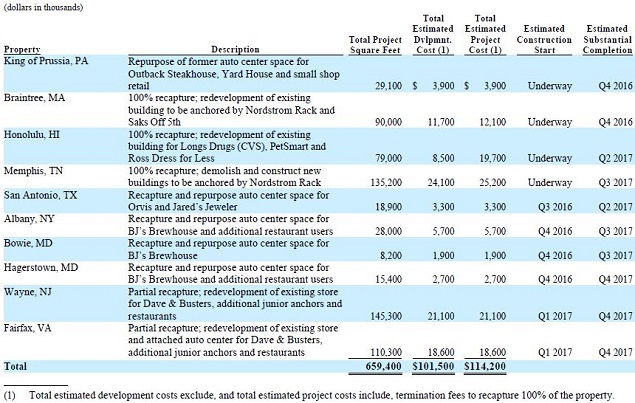 Source: Seritage - 10-K filed May 2016
The current pipeline of properties gives Seritage shareholders near-term earnings visibility. The estimated yield-on-cost for the redevelopment projects as of March 31, 2016, was 12-13%.
These are strong numbers, but Seritage's management has not provided guidance regarding how they are going to "step on the gas" and grow at a faster rate. Its current net debt to EBITDA is 5.4x, which is reasonable. However, Seritage is essentially capital constrained, unable to move much faster.
Unfortunately, Seritage recently missed an opportunity to issue additional shares at stratospheric price levels. This would have given management more dry powder to deploy while deleveraging the balance sheet. However, it is still early in the game.
Seritage - Dedicated Team
I do appreciate that having Sears Holdings as your largest tenant also presents some unique challenges. I would love to be the proverbial fly-on-the-wall when that sensitive subject is discussed with all of the relevant stakeholders in the room.
Unlike Sears Holdings, the Seritage C-Suite is populated by experts in retail bricks and mortar, and value-add real estate development. The REIT is internally managed by a team of executives who appear to be focused on creating long-term shareholder value.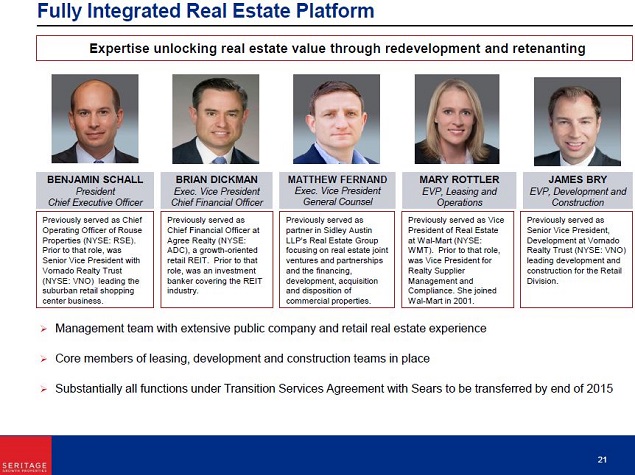 A Massive Opportunity
Notably, the 13-acre average size of the Seritage owned properties is deceptively large. Seritage owns over 3,000 acres of buildings and parking lots. This isn't acreage out in the boondocks.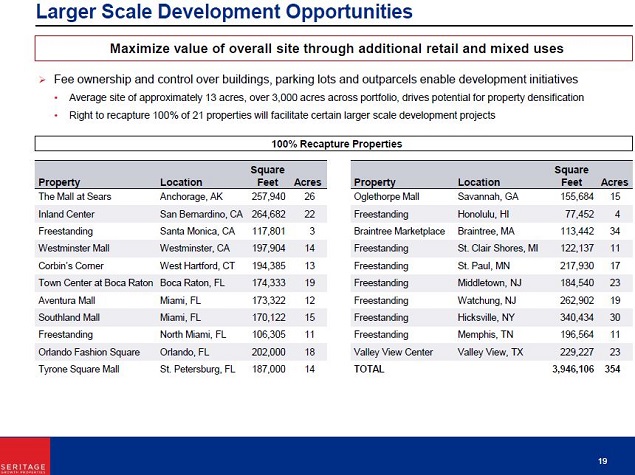 It is developed retail property. Much of it is infill, and some is located in high barrier to entry markets.
There are some prime locations on the list above, including:
Santa Monica, CA - Three acres freestanding in Silicon Beach. This is one of the hottest markets, with some of the highest valued real estate in SoCal.
Honolulu, HI - Four acres on an island where property is at a premium and retail sales per SF can be over $1,000 in top locations.
Aventura Mall, Southland Mall, North Miami - These Miami, Florida, sites in aggregate comprise 38 acres of prime redevelopment opportunity.
Town Center at Boca Raton - This is a 19-acre site in affluent Palm Beach County, Florida.
The entire group of 21 sites represents about 10% of the portfolio. However, redeveloping sites of this quality to their highest and best use will take time, and likely a larger balance sheet.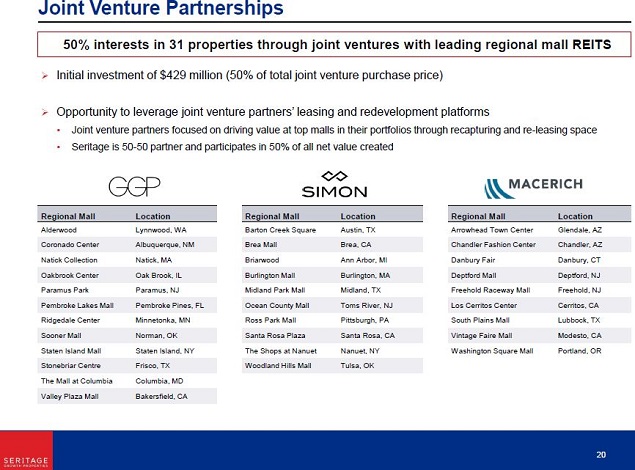 The 50/50 JV interest with the three largest regional mall REITs helps to streamline the process, and align the interests of Seritage with these large market cap landlords.
Repurposing Poor Retail Locations
There are many Seritage owned sites that may no longer be competitive as a top retail site in a local market. Meanwhile, the $4.30 ABR paid by Sears Holdings is much closer to the rents generated by large distribution warehouses. This leaves a lot of options on the table for Seritage.
The last mile of e-commerce remains a challenge for all retailers to solve. Infill locations near large urban areas are ideal.
These B-/C locations can make economic sense for redevelopment into other uses, including: self-storage, multifamily, industrial, and even data centers.
Some of the infill Sears Holdings properties could be repurposed as "edge" data centers to support the Internet of Things. IoT refers to wireless machine-to-machine communication.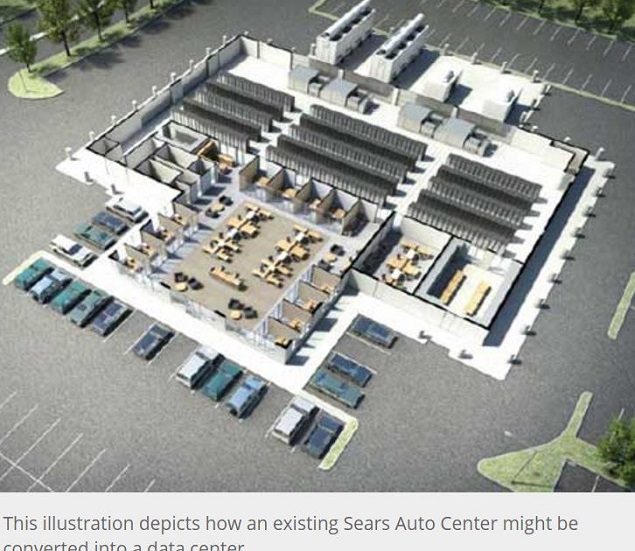 Source: Sears Holdings - Ubiquity initiative
IoT growth will create a demand for many smaller data center sites located in secondary and tertiary locations. Crunching the big data generated by self-driving vehicles needed for real-time decision making is an example of a time-sensitive, or "low latency," application.
However, these type of real estate solutions require: time, focus and access to capital. All problems that could be solved by the right JV partners.
Alternatively, the Seritage team can do a bit of pre-development work, and then sell off some of these properties to recycle capital for core portfolio real estate initiatives.
Seritage Portfolio - End Game
In my mind's eye, there is a successful retail REIT strategy that Seritage may be able to partially emulate over time as its core portfolio evolves.
The gold standard for retail REITs is Federal Realty Investment Trust (NYSE:FRT). A hallmark of this REIT is a blend of large mixed-use developments, and a core portfolio of grocery anchored community shopping centers. Federal Realty is constantly redeveloping its owned portfolio of trophy properties.
Here is a link to an SA focus piece on Federal Realty that I wrote towards the end of last year. The strategy of constantly upgrading has handsomely rewarded Federal Realty's shareholders. Strong demographics is the foundation for this success, along with having the right team in place who understands development.
In a similar fashion, larger Seritage redevelopment opportunities will play out over years, and in some cases, decades. These projects would complement the core portfolio of smaller properties leased to top retail names in newly renovated boxes. It has the makings of a winning plan.
Investor Takeaway
The perfect storm of ugly retail Q1 results and a more hawkish FOMC has taken most of the air out of the short-term Seritage price bubble. It is now time to carefully watch this Seritage pullback as it is getting close to the high-30s per share where I think it is a great "lather, rinse, repeat" opportunity.
However, Seritage is not a simple story, it is a special situation. Seritage will continue to be rocked by headline risk from Sears Holdings; and its largest controlling shareholder, CEO Eddie Lampert. Therefore, Seritage is not a suitable investment for everyone.
In late April, I warned Seeking Alpha readers:
"I fully expect Seritage shares will pull back and present a more attractive buying opportunity. If you have been following my top REIT picks on SA, I feel it is time to pull some chips off the table and lock in some of your recent gains."
At that time, Seritage's shares had rocketed up near their all-time high of $57.31 per share. As of this writing, Seritage closed at $42.91 per share, having retraced ~25%, making it far more attractive.
Based upon the strong Q1 leasing results, nibbling SRG shares as they pullback closer to $40/share makes sense for shareholders who are "itching" to get in on the opportunity.
However, if bricks-and-mortar retail REITs simply aren't your cup of tea, I invite you to check out the industrial landlords and data center REITs well positioned to benefit from e-commerce growth in "Amazon (NASDAQ:AMZN) Is Growing Like A Weed: Cash In On REIT Landlords - 2016 Update."
I relentlessly hunt for diamonds in the rough and rising stars, in addition to closely following data centers, covering REIT blue chips and breaking news. Please consider following me as a Seeking Alpha author if you would like to be notified when my future articles are published.
Disclosure: I/we have no positions in any stocks mentioned, but may initiate a long position in SRG, FRT over the next 72 hours.
I wrote this article myself, and it expresses my own opinions. I am not receiving compensation for it (other than from Seeking Alpha). I have no business relationship with any company whose stock is mentioned in this article.