Yesterday, Valeant Pharmaceuticals NYSE: (NYSE:VRX) received a notice of default from certain bondholders for a late filing of its quarterly report. I believe this offers an excellent opportunity to pick up shares this morning on any weakness. This stock has been under assault for several months and in my opinion is a screaming pound on the table buy right here right now.
First and foremost; this is not new news
Last week the company announced that they would be filing their 10Q On June 10th, long before the deadline of July 18th. The company also reiterated its guidance on the quarter. My take from that is good news; the market reacted by selling the stock off from the $38 dollar level down to $23.54 in a matter of 4 days, a gut wrenching $14 wipeout.
Big shakeout?
Look at the charts and be your own judge.
Below is a 60 minute chart going back 375 periods to give investors
a little reality check.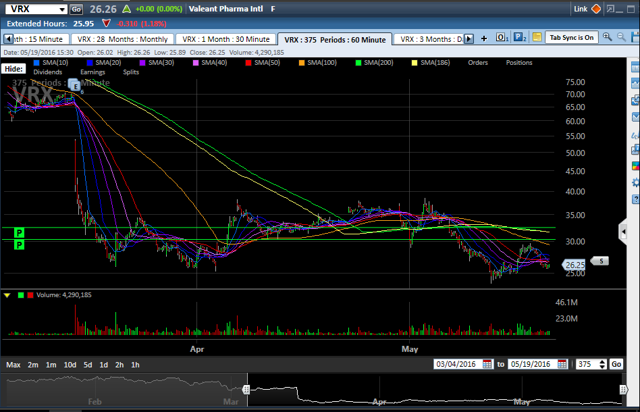 Click to enlarge
On March 15th the stock gapped down from $67 a share all the way to $33 on fear and a delay in reporting earnings. There were real questions on whether the company would default and have to file for bankruptcy. Those fears were way overblown as the company has since filed its report with very minimal impact on earnings.
In my opinion, March 15th was a margin call event. For those hanging on it got worse; March 16th, the stock hit a low of 31.20, on March 17th, the stock closed at $29.69. Stunned investors went home on Friday March 18th at a fresh low of $26.98 and some serious contemplating for the weekend.
Why the detail?
Because this is how major shakeouts work in this nasty business of finance. After a sleep tortured weekend investors awoke to another smaller gap down with the stock opening at $26.10 trading down to $25.99 and closing the day at $28.98. I would call a stock that goes from $258 to $25.99 a major shakeout.
Company Developments
April 5th Valeant Pharmaceuticals International, Inc. today announced that the ad hoc committee of the board of directors (the "Ad Hoc Committee") believes that its review of various Philidor and related accounting matters is complete, and that it has not identified any additional items that would require restatements beyond those required by matters previously disclosed.
April 29th, Valeant Pharmaceuticals Files Annual Report On Form 10-K For Year Ended December 31, 2015. Valeant Pharmaceuticals Receives Additional Notices Of Default Under Indentures Due To Delayed 10-K Filing.
Joseph C. Papa Assumes Role Of Chairman And Chief Executive Officer Of Valeant Pharmaceuticals Valeant Pharmaceuticals Provides Update Regarding Regulatory Matters.
May 16th, Company Expects to File its 10-Q on or before June 10, 2016, as Previously Disclosed.
Bill Ackman was heavily criticized for his investment and it seemed to me like Wall street was reveling in his failure and billion dollar loss. One thing is certain; Mr. Ackman is no dummy, he sees tremendous value in the stock and has said it is worth many multiples of where it trades today. Investors can choose to believe that or not.
Negative media hype
Anyone with experience in this market knows that the media just love to pounce on any story with a company in trouble. For the last two weeks, the street.com has been on a relentless assault on Valeant. In my opinion the stories have been irresponsible and lacking any substance. Rehash of old stories with dramatic headlines and fear mongering.
I will remind readers of my article back in February telling investors to buy NYSE: (NYSE:CHK) Chesapeake Energy at $2.30, right before it went on to triple in 45 days. I think it is ready to go back to the $5 level very soon. Interested investors can read that article here.
Conclusion
Valeant Pharmaceuticals is trading around 2.8 times earnings, the company just reiterated its guidance less than a week ago which is great news. They have a new experienced and well respected CEO in Joe Papa. Bill Ackman is on the board of directors and has stated on CNBC that he thinks Valeant is the best and most compelling value he has ever seen in large pharma in his career.
I own the stock; I have been trading it since it plunged to the $28 level on March 18th. In my opinion the last two weeks have been a double shakeout. When investors see a stock trade from a price of $38.50 to $23.54 in 4 days on good news; it tells me that weak hands were flushed and now it's time to rocket higher.
I expect to see this stock trading at $48 in the near future which will mark a double from $24 a week ago. From $48 I see it hitting $58 and reset from there. I strongly believe the stock should be bought on any weakness. As always, know your risk tolerance and have an exit strategy before you make any trade.
Disclosure: I am/we are long VRX.
I wrote this article myself, and it expresses my own opinions. I am not receiving compensation for it (other than from Seeking Alpha). I have no business relationship with any company whose stock is mentioned in this article.