If you ask me, the market's response to HP Inc.'s (NYSE:HPQ) unveiling of its first two 3D printers, available to order, has been underwhelming. Perhaps because the printers can only print monochrome objects and it isn't entirely clear when and if the machines will be able to print metals. These are real current limitations but the company also claims the models work at 10x the speed of competitors and are able to print very high resolution parts. Something, that's confirmed by analysts:
"HP's printers can produce really high-resolution parts at a cost and a speed that blows the competition out of the water," commented Joe Kempton, an analyst at the tech consultancy Canalys.

"Its technology really is a huge step forward and a game-changer
I've pasted a short company created commercial video showcasing its technology. Usually, I wouldn't put in these company materials but it helps a lot to understand what these new printers can and can't do, which is pretty far removed from what HP Inc.'s conventional product portfolio can:

What I'm gathering from the expert's take on the technology so far HP is likely to be able to offer color printing capability and mixed material printing in the future. Its technology incorporates one hundred HP owned patents and it's an extension of its inkjet technology which means HP takes its own approach to the 3D printing technology which is different from the route enterprise level printers have taken so far.
It will be interesting to see which fundamental approach can be taken far enough to move 3D printing from a prototyping niche-technology into manufacturing. My take on the current offerings by HP is that they truly stand out in terms of their price point and their speed of printing. These are key issues in order to get real-world manufacturing rolling even though the limitations in coloring and materials used means applications will be few for now.
Will HP make most of its money on the cartridges like it does with traditional printers? Not exactly. Apparently, it can still sell 3D materials in boxes like the one pictured below: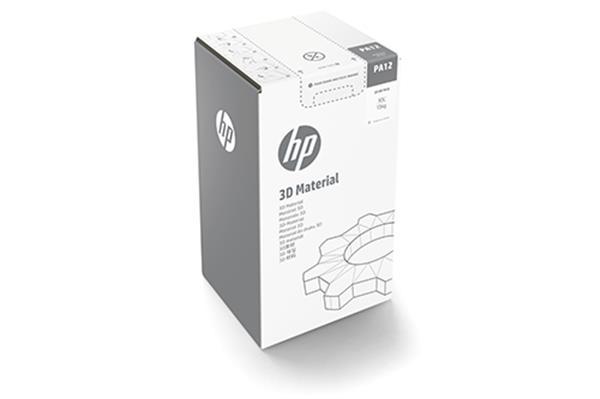 Source: 3Ders
But it is important the printers are able to work with a wide variety of materials, which all require research. To speed up the process of getting its hardware to work with different materials, HP Inc. has set up an open materials platform where partners like Arkema (ARKY), BASF (OTCQX:BASFY), Evonik (OTCPK:EVKIF) and Lehmann & Voss can sell their material applications or "apps." I guess app is somewhat of a misnomer but it helps to illustrate the business model behind an open materials market. HP makes the hardware and allows everyone to innovate on top of that but takes a percentage cut on the sales. If successful, it is superior even to the razor/razorblade model.
HP Inc. is trading at ~$11.44, it is down ~12% since the HPE (NYSE:HPE) spin-off as I write this, but I believe it could appreciate quite a bit and have written it up as part of the Off The Beaten Path exclusive research service.
In April 2014, I valued the printing business of HP alone at $20. Fast forward a few years and we can buy the printing division and the personal system division under one umbrella for about half that in HP Inc. 3D printing can be viewed as a division with lots of embedded optionality. It is uncertain to what extent it is going to contribute but we aren't paying for it anyway.
Disclosure: I am/we are long HPQ.
I wrote this article myself, and it expresses my own opinions. I am not receiving compensation for it (other than from Seeking Alpha). I have no business relationship with any company whose stock is mentioned in this article.