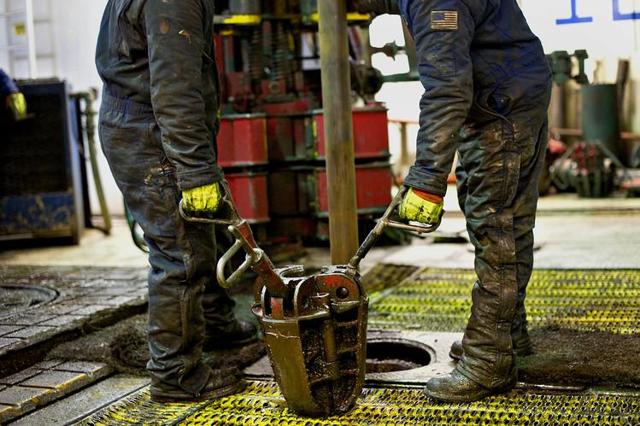 Click to enlarge
Source: Wall Street Journal
Nabors Industries (NYSE:NBR) delivered another disappointing quarter in Q1. The company reported revenue of $598 million and a net loss of $398 million. Given the rout in oil prices, I expect the company's revenue and operating income to grind lower. Here are my takeaways on the quarter:
Revenue Slides Unabated
Nabors Industries owns and operates the world's largest land drilling rig fleet. It also provides offshore platform workover and drilling rigs domestically and internationally. A few years ago, having a large rig fleet was a competitive advantage. With the rout in oil prices and corresponding cut in drilling activity, it is now an albatross around the company's neck. Total revenue fell 58% Y/Y from $1.4 billion to $598 million. Part of 2015 results were driven by well completion services provided by C&J Energy Services (NYSE:CJES), which Nabors now has an equity investment in. Revenue from core operations was down 43%.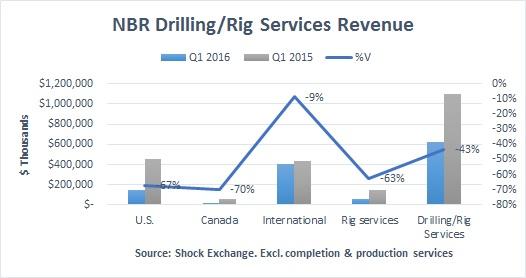 Rig years, which measure the number of equivalent rigs operating during a given period, fell precipitously for the U.S. and Canada. Rig years fell by 61% Y/Y in the U.S. and 49% in Canada. The rig count in the U.S. has fallen to record low levels in the first half of 2016. North American shale plays have cut capex in order to hasten their own survival. Revenue from the U.S. and Canada fell by 67% and 70%, respectively; declines will likely not abate until the rig count increases. Both countries account for 27% of total revenue combined, down from 47% in the year earlier period.
Rig years in international markets declined by 15% while revenue fell by only 9%. The company expects outstanding rigs to continue to fall. That and pricing pressure could cause revenue to fall by double-digits going forward. International has been the anchor over the past year, but that will likely change going forward.
High Debt Level
Nabors's EBITDA fell 56% Y/Y from $368 million to $152 million. Through cost-cutting efforts, the company's EBITDA margin of 26% practically mirrored that of the year earlier period. Management expects to cut costs even further, but I highly doubt cost cuts can continue to match the loss of revenue. That implies margins will also fall, amplifying the company's pain. Like many oil services firms, Nabors accumulated debt when oil prices were much higher. Its $3.6 billion debt is about 5.5x run-rate EBITDA - junk levels.
I expect continued pressure in North America and a downturn in international markets to cause its debt/EBITDA to rise. Nabors has cash and equivalents of $222 million, down from $275 million at the end of the year. Q1 free cash flow of $33 million was rather paltry. Nabors's major liquid assets are accounts receivable of $595 million; Each quarter it liquidates accounts receivable to help fund operating losses, including $46 million in quarterly interest expense.
At the end of the day, Nabors's high debt load gives it less flexibility to survive the downturn in the oil & gas industry. The company has over $1.1 in debt repayments due in 2018. Until oil prices remain at $60 or higher for a few consecutive quarters, E&P might not return. Meanwhile the debt still needs to be serviced. NBR trades at 9x run-rate EBITDA which is outside my range of 7x. NBR is off 45% over the past year, versus a flat return for the S&P 500 (NYSEARCA:SPY). I am short the stock and once its deteriorating debt metrics come into focus, I expect the NBR to fall further.
Disclosure: I am/we are short NBR.
I wrote this article myself, and it expresses my own opinions. I am not receiving compensation for it. I have no business relationship with any company whose stock is mentioned in this article.
Editor's Note: This article covers one or more stocks trading at less than $1 per share and/or with less than a $100 million market cap. Please be aware of the risks associated with these stocks.