In follow-up to my recent note on potential "Cap Structure Compression" at Oasis Petroleum (NYSE:OAS) - Cap Structure Compression being a major theme, we as a firm are watching into 2H/2016 - I break out the "Cap Structure Compression Model". In an effort to assist market participants with identifying potential Cap Structure Compression E&P candidates, I address the following within screencast below:
What is Cap Structure Compression?
How is Oasis Petroleum a good example of a Cap Structure Compression candidate?
What are identifiers of a high-probability Cap Structure Compression model?
How can I take advantage of a cap structure with compression probability?
Overall, what are the risks associated with Cap Structure Compression from the short-side?
Why is this an asymmetric investment opportunity?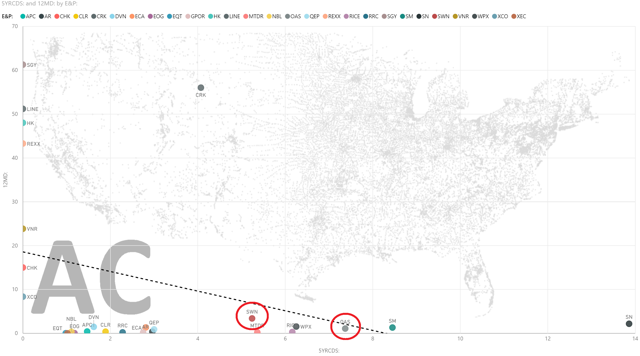 Click to enlarge
As a bonus, I identify Southwestern Energy (NYSE:SWN) as another high-probability Cap Structure Compression candidate that we're very closely watching for indications that the thesis is about to be realized.
Enjoy.
Disclosure: I/we have no positions in any stocks mentioned, and no plans to initiate any positions within the next 72 hours.
I wrote this article myself, and it expresses my own opinions. I am not receiving compensation for it (other than from Seeking Alpha). I have no business relationship with any company whose stock is mentioned in this article.
Additional disclosure: ALL data-visuals were created by Atlas Consulting. Atlas Consulting grants permission for redistribution of data-visuals to all parties reading this note. Data-visuals were created using Power BI via Microsoft and using data licensed via Kamakura Corporation (a risk-management consulting firm).