Summary
To buy when others are despondently selling and to sell when others are avidly buying requires the greatest fortitude and pays the greatest ultimate rewards."
Sir John Templeton - 1958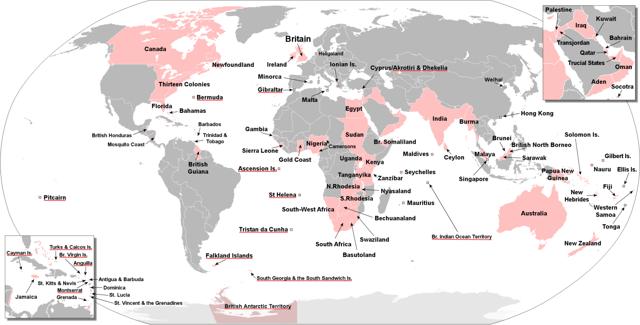 Click to enlarge
Introduction
While researching and writing about Apple's (NASDAQ:AAPL) relative and absolute under-valuation, the striking contrast to Facebook (NASDAQ:FB) caught my eye once again.
Facebook has been a darling of growth investors in a growth-starved world, owned by an army of institutional and retail investors, yet by almost any metric, its common shares are overpriced.
For that reason, even the most bullish investors, who need to own technology, would probably do better with one of Facebook's mega-capitalization technology growth peers, as its high valuation starting point is simply too big of a hurdle to overcome.
Thesis
Facebook shares are overvalued relative to its growth prospects, relative to the market, and relative to its mega-capitalization technology peers.
The Good News
Since its May 18, 2012 IPO, almost four years ago exactly, Facebook shares have dramatically outperformed the S&P 500 Index, as measured by the SPDR S&P 500 Index ETF (NYSEARCA:SPY), gaining 207% versus the 56% gain in the SPY.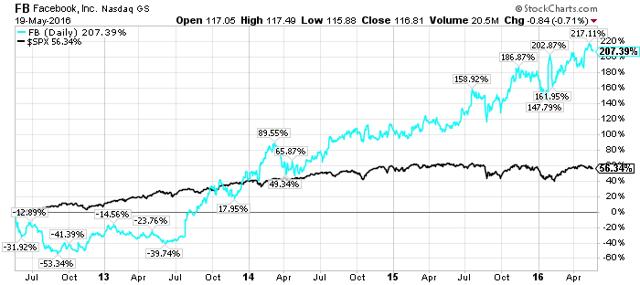 Click to enlarge
During this timeframe, Facebook has been an elite momentum stock, rarely trading below its 200-day moving average, making its shares a favorite of institutional, retail, and trend-following investors.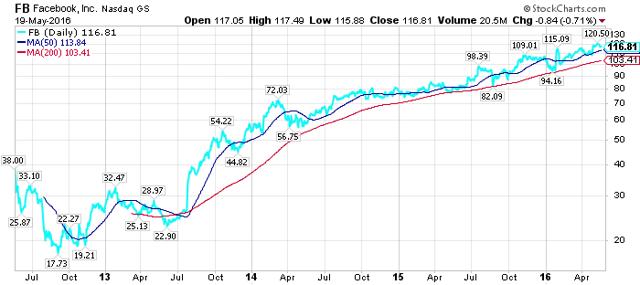 Click to enlarge
Relative to its mega-capitalization large growth peers, including Alphabet (NASDAQ:GOOGL),(NASDAQ:GOOG), Amazon (NASDAQ:AMZN), Apple and Microsoft (NASDAQ:MSFT), Facebook has outperformed, trailing only Amazon in performance since its inception, and this is by a slim margin.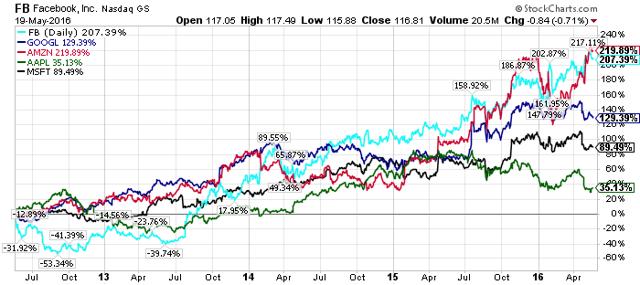 Click to enlarge
For reference, the SPY has risen 56.3% over this timeframe.
Building on this, Facebook has outperformed over the past year, compared to its peer group, with only Amazon topping the social networking giant in share performance.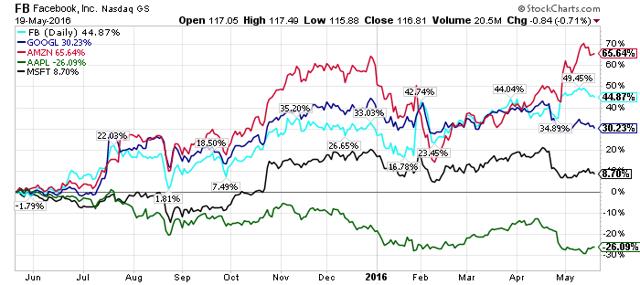 Click to enlarge
For reference, SPY has lost 4.1% over the past year.
Finally, on a year-to-date basis, when many leading growth stocks have struggled in 2016, FB shares have shined the brightest among its peer group.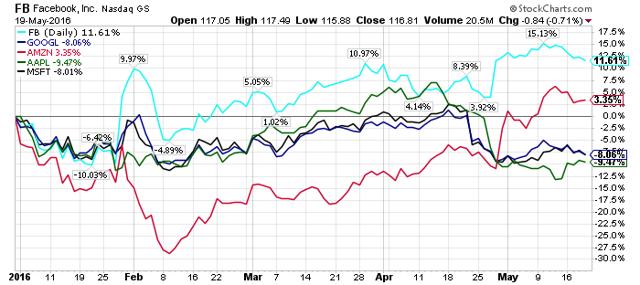 Click to enlarge
For reference, SPY has lost 0.2% over this timeframe.
Strong Share Performance Leads To Overvaluation
Facebook was the largest technology IPO in history, and its arguably expensive stock at the time of the IPO has more than tripled in roughly four years. Today, Facebook commands one of the largest stock market capitalizations on the planet, making its common stock a prime candidate to be examined for signs of overvaluation.
The following valuation table from Morningstar.com clearly shows that Facebook is stretched on this front.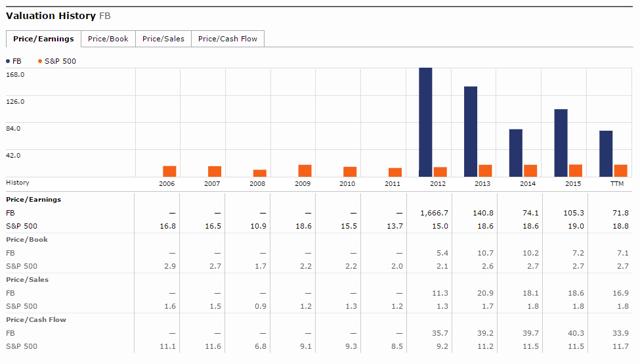 Click to enlarge
With shares trading at a trailing-twelve month's price-to-earnings (P/E) ratio of 71.8, versus the S&P 500's 18.8, the traditional P/E ratio is almost four times the broader markets.
Earnings growth has been robust, so the bullish case has been that Facebook could grow its earnings fast enough to eventually grow into its current valuation. After all, analyst estimates have been rising as the following table shows.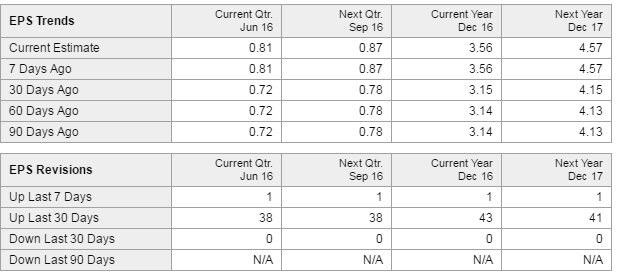 With 2017 estimates up to $4.57 per share, FB trades at a forward P/E of 25.6, using yesterday's May 19, 2016, closing price of $116.81 for Facebook shares. With 2016's earnings anticipated at $3.56, the P/E for 2016 is 32.8, not unreasonable for a company that is projected to grow earnings by 56% from 2015 to 2016.
Thus, even to someone who brings a cynical eye to Facebook's earnings and valuation, one could make the argument that shares will grow into their present day valuation via superior earnings per share growth as Facebook continues to monetize its unprecedented base of users.
The other valuation metrics, however, leave more to be desired. Facebook's price-to-book value (P/B) is 7.1 versus 2.7 for the S&P 500 Index, its price-to-sales ratio is 16.9 versus the 1.8 for the S&P 500 Index, and its price-to-cash flow (P/CF) ratio is a lofty 33.9, versus the S&P 500 Index's 11.7.
Perhaps Facebook will simply grow into these valuations through their tremendous ability to generate profits, but outsized profitability attracts competition, and Facebook faces a formidable group of competitors, who are much more reasonably valued.
Facebook Overvalued Compared To Peers
Once again, here are Facebook's current valuations, via Morningstar.com.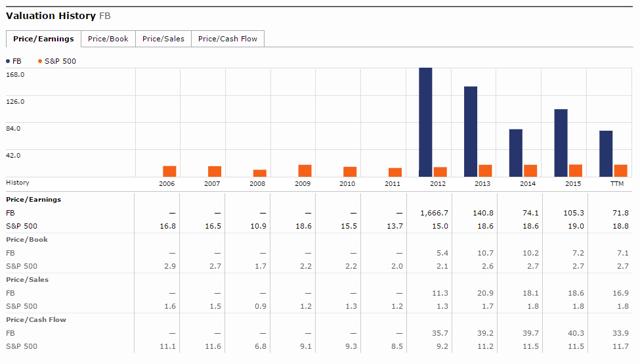 Click to enlarge
Now, compare and contrast this valuation table with Google's valuations from Moriningstar.com.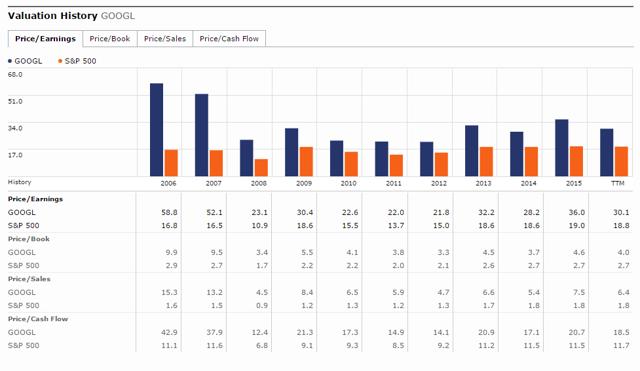 Click to enlarge
For the TTM, FB's P/E ratio is 71.8, GOOGL's is 30.1. FB's P/B ratio is 7.1, GOOGL's is 4.0. FB's P/S ratio is 16.9, GOOGL's P/S ratio is 6.4, and finally FB's P/CF ratio is 33.9, and GOOGL's is 18.5.
On every valuation metric, GOOGL is cheaper! This is striking to me, considering that in my opinion, following the developmental path of Alphabet is really a best case scenario for Facebook. Alphabet is perhaps the only company in the world that counts more active users than Facebook, and its successful foray, via a combination of internal development and acquisition, into supplemental revenues sources like Android and YouTube, is something that Facebook has tried to emulate with their acquisitions of Instagram and Oculus VR.
Alphabet has a current market capitalization of $491 billion, flip-flopping with Apple for the largest market capitalization, and Facebook has a market capitalization of $334 billion. From my perspective, I cannot imagine how Facebook would ever overtake Alphabet, and given the comparatively cheaper shares, I would rather own GOOGL today.
With the Alphabet comparison out of the way, let's compare Facebook's valuation to another overvalued growth stock, in my opinion, and that is Amazon. Amazon's valuations from Morningstar.com are below.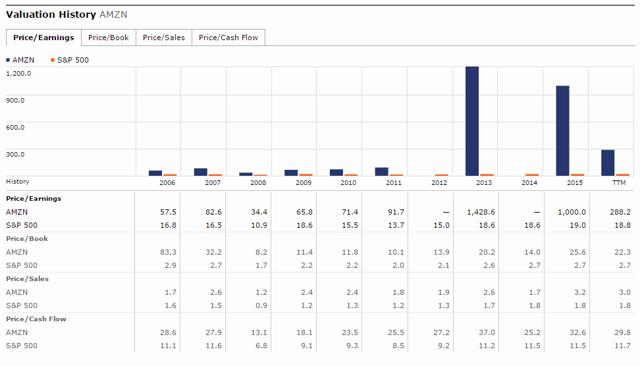 Click to enlarge
For the TTM, FB's P/E ratio is 71.8, AMZN's is 288.2. FB's P/B ratio is 7.1, AMZN's is 22.3. FB's P/S ratio is 16.9, AMZN's P/S ratio is 3.0, and finally FB's P/CF ratio is 33.9, and AMZN's is 29.8.
The takeaway here is that Amazon, at a similar market capitalization of $330 billion, compared to Facebook's $334 billion, might be Facebook's twin in terms of being overvalued relative to their peers and the market in general. Look for a future Amazon article from me on this topic.
Just for our intellectual curiosity, let's look at Facebook's valuations versus Microsoft valuations, which are provided by Morningstar.com in the table below.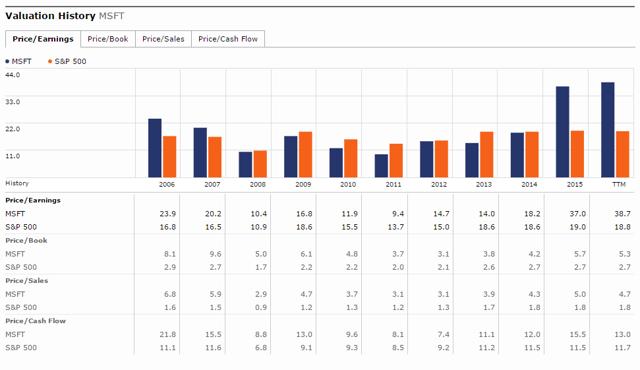 Click to enlarge
For the TTM, FB's P/E ratio is 71.8, MSFT's is 38.7. FB's P/B ratio is 7.1, MSFT's is 5.3. FB's P/S ratio is 16.9, MSFT's P/S ratio is 4.7, and finally FB's P/CF ratio is 33.9, and MSFT's is 13.0. Clearly, Microsoft, at a market capitalization of $396 billion, is much cheaper that Facebook, though it is somewhat expensive relative to the market.
Finally, let's revisit my analysis of the Facebook versus Apple valuation comparison that I highlighted in my recent bullish article on Apple shares.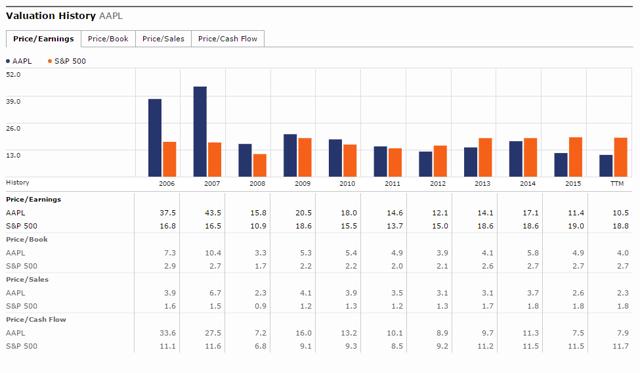 Click to enlarge
For the TTM, FB's P/E ratio is 71.8, AAPL's is 10.5. FB's P/B ratio is 7.1, AAPL's is 4.0. FB's P/S ratio is 16.9, AAPL's P/S ratio is 2.3, and finally FB's P/CF ratio is 33.9, and AAPL's is 7.9.
Compared to Apple, which once again has the world's largest market capitalization at $516 billion, the contrast in valuations is striking. Apple shares are cheap relative to the market, and Facebook shares are expensive. Apple is much cheaper than Facebook, and if you were a large capitalization institutional investor, I think it would be a no-brainer if you were forced to overweight one of these two stocks.
The only thing that Facebook has in its favor is price momentum. As illustrated earlier, Facebook shares have resolutely stayed above their 200-day moving average, never correcting materially, even as stocks like Apple and Amazon have fallen more than 20% from their highs over the past year.
Facebook Faces Institutional Selling Pressure
With the broader large-cap, large-cap growth, and technology markets under pressure, Facebook is bound to face selling pressure as large institutional shareholders face their own redemption pressures (I wrote about this in February of 2016) and are forced to trim their largest positions.
Sands Capital is a growth investor that I am familiar with from my research analyst days, prior to when I founded my firm in February of 2009. They manage roughly $34 billion in assets under management, and their top holdings are listed in the following table.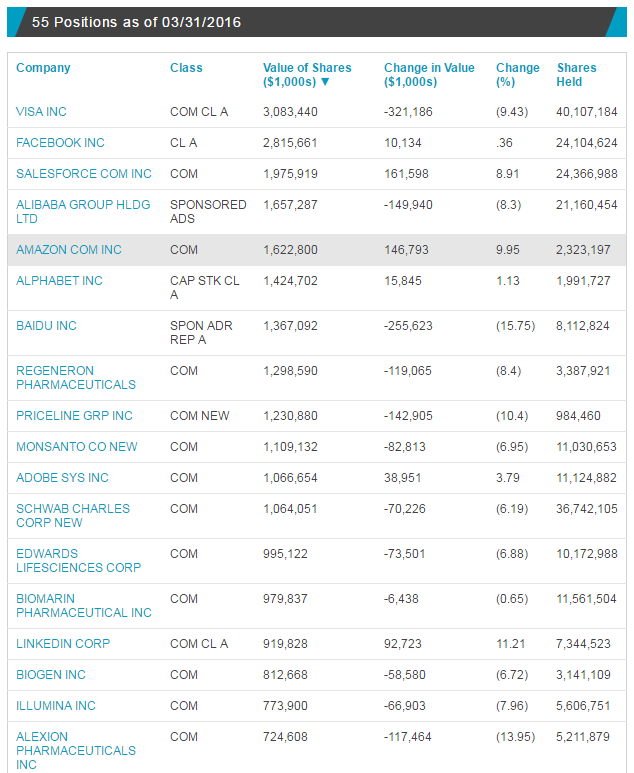 Obviously, Facebook is their second largest holding as of March 31, 2016. With shares in their top holdings outside of Facebook, including Visa (NYSE:V), Salesforce.com (NYSE:CRM), Alibaba Group (NYSE:BABA), Amazon, Alphabet, Baidu (NASDAQ:BIDU), Regeneron Pharmaceuticals (NASDAQ:REGN), Priceline (NASDAQ:PCLN), Monsanto (NYSE:MON), and Adobe (NASDAQ:ADBE), all experiencing selling pressure in the first half of 2016, even though many of these companies have rebounded, investors will look to trim positions in their underperforming mutual funds.
In fact, with BIDU shares down roughly 10% year-to-date, GOOGL shares down 7%, and REGN shares down 29% YTD, some of Sands Capital's mutual funds have struggled, like Touchstone Sands Capital Institutional Growth Fund (MUTF:CISGX), which is down 9% YTD, and with the S&P 500 Index roughly flat, this will prompt increased redemptions from investors.
Facebook's largest institutional shareholders are the giants of the investment industry, including Fidelity, Vanguard, State Street (NYSE:STT), T. Rowe Price (NASDAQ:TROW), and BlackRock (NYSE:BLK).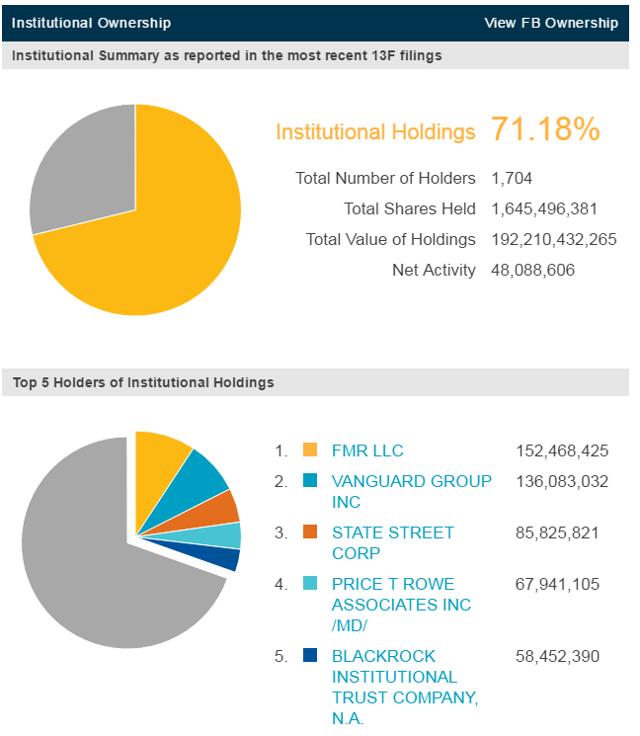 Click to enlarge
With Facebook shares being the sixth-largest holding in the Vanguard S&P 500 Index Fund (MUTF:VFINX) behind Apple, Microsoft, Exxon Mobil (NYSE:XOM), Johnson & Johnson (NYSE:JNJ), General Electric (NYSE:GE), and just ahead of Berkshire Hathaway (NYSE:BRK.A), (NYSE:BRK.B), there could be a lot of forced selling pressure if the large-cap stocks and the broader market turn south.
Many investors may not know this, but large-cap U.S. stocks have significantly outperformed their small-cap U.S. peers over the past five years, which is unusual behavior for a bull market, so there could be some mean reversion in order.
Facebook Exhausts Growth
Facebook had grown dramatically from 2009 to 2016, becoming the most popular social network in a majority of the world. The following Google Trends maps from Vincenzo Cosenza, which graphically depict the change in Facebook users from June of 2009 through January of 2016, beautifully illustrate this growth in Facebook's dominance.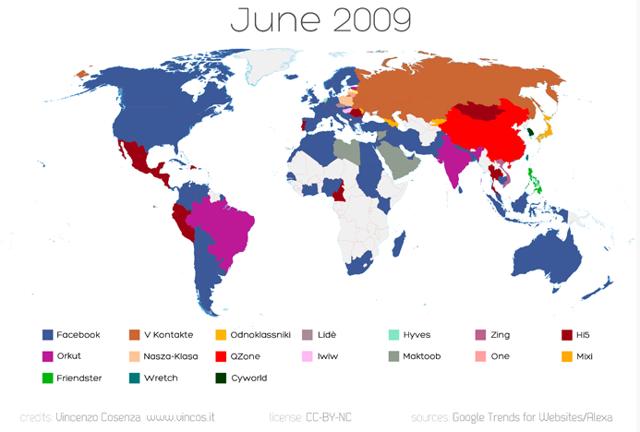 Click to enlarge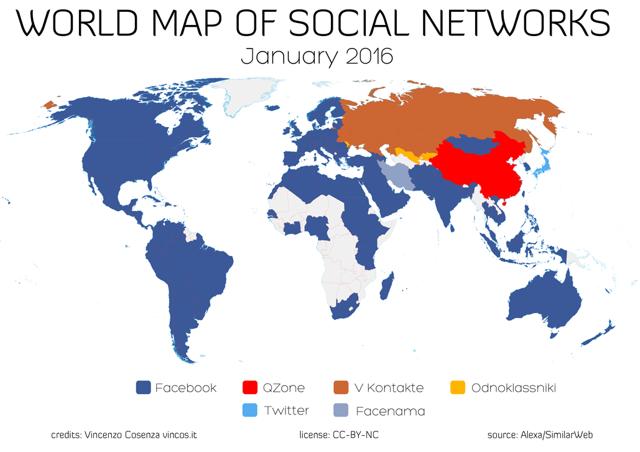 Click to enlarge
Twitter (NYSE:TWTR) is the leading social network in Japan, but outside of a closed China, Russia, and a few Russian territories, Facebook dominates the world's social networking scene. Astute readers will notice the map of the British Empire at the beginning of this article, and all empires peak and then fade. With 1.6 billion users, and dominance in nearly every country on earth, where will future growth come from for Facebook?
Quantifying The Downside In Common Shares And Identifying Risks
Morningstar, an independent research firm, has a $92 fair value target for FB shares, with the acknowledgement from Morningstar that modeling Facebook's future is highly uncertain. They arrived at this target by anticipating that FB's business will reach maturity within the next decade, and that FB will post similar profitability and margins comparable to Alphabet, with considerably lower revenue.
Argus and S&P Capital IQ, two additional independent research firms, have price targets of $151, and $150 on FB shares, as they are more optimistic about ultimate market share gains and profitability for Facebook.
Most sell-side Wall Street analysts are bullish on FB shares, so a clear risk to the short thesis is that Facebook shares continue to demand a premium valuation, while the company routinely exceeds its estimates, denying those who are short the stock a chance at even a pullback in price.
However, with optimism among independent and sell-side analysts so universally rosy, a small change in sentiment could trigger a pullback. Even a simple 20% drawdown in shares would bring FB's share price down to roughly $94, and a 25% pullback would take shares down to the high $80 dollar range.
A growth slowdown or a profit miss could do even more damage to FB shares, with expectations so high after a period of uninterrupted success. A revision to GOOGL's current valuation level could see FB shares lose 40% to 50% over their present value.
Conclusion - Consider Selling Facebook Shares
Facebook shares have been a go to growth stock in the second longest bull market in U.S history, and the company's valuation, market capitalization, and retail and institutional sponsorship, all appear to be at, or near, short-term peak levels. In summary, Facebook shares are overvalued and over-owned.
Investors who own them should consider selling Facebook shares, or hedging their investment. A possible pair trade against Facebook's mega-capitalization technology peers should at least be investigated. Aggressive investors should consider shorting Facebook shares outright, via put options, or using FB as a short hedge for their long portfolio. If Facebook shares ever normalized relative to even Alphabet's valuation, there would be considerable downside potential, given FB's nosebleed valuation levels today.
Over the years, a weekend tradition for me is opening up the pages of Investor's Business Daily to peruse the IBD Top 50. Even though I am a value investor at heart, I respect the accomplishments, and seek to learn from William O'Neal, a legendary and pioneering growth investor, who founded Investor's Business Daily.
The IBD 50 list, and its predecessors, seeks to identify the strongest stocks in the market using fundamental, quantitative, and technical research.
Facebook has been the top stock in the IBD 50 for a number of weeks in 2016, and it, along with a handful of other stocks, including Amazon, Alphabet, Disney (NYSE:DIS), Gilead Sciences (NASDAQ:GILD), and biotech stocks in general (NASDAQ:IBB), (NYSEARCA:XBI), Home Depot (NYSE:HD), Netflix (NASDAQ:NFLX), REITs (NYSEARCA:IYR), (NYSEARCA:VNQ), and Tesla (NASDAQ:TSLA), have been the go to growth investments in the bull market that rose like a phoenix from the ashes in March of 2009.
The investing thesis behind these bull market heroes has been challenged over the course of the last year. The skepticism and scrutiny have intensified in 2016, as a majority of the leading stocks have experienced significant corrections, and even mighty Amazon experienced a heart-stopping swoon. In a skeptical environment, Facebook could be the next company on the chopping block, and under close examination, its valuations will not pass the test. Short FB.
Disclosure: I am/we are long AAPL, SHORT AMZN, SHORT FB, AND SHORT SPY.
I wrote this article myself, and it expresses my own opinions. I am not receiving compensation for it (other than from Seeking Alpha). I have no business relationship with any company whose stock is mentioned in this article.
Additional disclosure: Every investor's situation is different. Positions can change at any time without warning. Please do your own due diligence and consult with your financial advisor, if you have one, before making any investment decisions. The author is not acting in an investment adviser capacity. The author's opinions expressed herein address only select aspects of potential investment in securities of the companies mentioned and cannot be a substitute for comprehensive investment analysis. The author recommends that potential and existing investors conduct thorough investment research of their own, including detailed review of the companies' SEC filings. Any opinions or estimates constitute the author's best judgment as of the date of publication, and are subject to change without notice.