Raiffeisen - a brief introduction
Raiffeisen Bank International AG (OTC:RAIFF, OTCPK:RAIFY) is an Austrian bank that is very active in eastern Europe. In recent years, the bank, like many other peers in Europe, have cut down its costs due to a weak eastern European market and pressure from the EU to increase its equity ratio. Being Austria's most powerful banking institution with numerous subsidiaries in the insurance, agricultural and media business, the bank has experienced a heavy sell off in its shares.
After the fall of the iron curtain, the bank expanded into the eastern European markets. Russia is the largest market in eastern Europe and has emerged as a key supplier for Europe in terms of natural resources and fossil fuels. Between 2000 and 2007, eastern Europe grew at a high speed and the economic picture of not only Russia but Poland, Hungary, Czech Republic, Romania and even Ukraine was looking fantastic. After the world financial crisis of 2008, eastern Europe has plunged into a deep recession and only now some markets are showing improving conditions.
However, it has forced Raiffeisen to sell some of its subsidiaries such as Poland. Raiffeisen is currently in the process of listing its Polbank shares publicly in Warsaw. The bank already slashed a few thousand jobs throughout eastern Europe, especially in countries like Poland, Ukraine and Hungary. The real cash cow in the Raiffeisen portfolio is the Russian subsidiary. (Raiffeisen in CEE, 19th April 2016)
Why Russia is the most important market for the bank
Slammed with sanctions by the West, decreasing oil prices and capital flight, Russia has found itself in a deep economic recession. GDP contracted 3.8% in 2015 and is not likely to recover anytime soon. Nevertheless, Russia has been very profitable for Raiffeisen and remains the only hope for the bank for two major reasons:
Growing pressure in Western Europe from regulators and Fintechs makes it hard to find sources of income
Eastern Europe as a whole has suffered heavily due to the world financial crisis, but still, the Russian subsidiary has not had a single year since the beginning of the crisis where it made losses
EU regulators require an increased equity ratio. This has forced the bank to take actions. The banking group has earned around €380 million in 2015. It has cut about 8,300 jobs in the past three years.
In 2015, the Russian subsidiary has made € 387 million, Belarus € 119 million, Slovakia € 124 million, € 100 million in Romania, € 44 million in Serbia, € 32 million in Bosnia, € 25 million in Poland and € 102 million in the Czech Republic. There have been losses of € 85 million in Ukraine and € 276 million in Asia. The Russian market has a huge size and Raiffeisen is one of the leading western banks there. Only imagine how much earnings will surge if GDP growth turns positive in the coming years.
Raiffeisen will benefit from improving conditions especially when lending picks up again. Raiffeisen has first class connections to the government and does not even think about leaving its most profitable region. Recently, there have been rumors about the bank selling off its Russian unit. From my point of view, it would not make a lot of sense.
In the past few months, Raiffeisen has also decided to get rid of some of its non-performing loans. Lots of them in eastern Europe. Furthermore, Poland has become an uncomfortable market for most banks, because its current government tries to put pressure on foreign financial institutions. Poland's government is trying to adopt the Orban-model from Hungary. Not only Raiffeisen, but also UniCredit is thinking about getting rid of its Pekao bank in Poland.
(Raiffeisen makes a profit in 2015, 16th April 2016)
Growing pressure from regulators
The Financial Market Authority in Austria is putting huge pressure on banks, not only Raiffeisen's banking business. In the past ten years, the number of laws that the Financial Market Authority has been using for its work has risen from 660 pages to 4500 pages. That is an increase of more than 550%. Also, the number of employees working there has increased to a staggering 380 people.
A few years ago there were much fewer people employed. This unveils that there is a regulatory burden, not only for banks and financial intermediaries but also for other non-financial firms. Further, there is no end to be seen for the excess of new regulations. Too much bureaucracy will lead and is already leading to job creation in the financial service sector in Austria. The Russian market has much less regulation in comparison to the western European markets. (Lots of regulation in Austria, 20th May 2016)
Fintechs are conquering the market
Just like any other Austrian bank, Raiffeisen had to close not profitable bank branches across the country. This is a phenomenon that became very familiar during the past 5 years. Bank Austria, which is a subsidiary of UniCredit, has closed many physical branches and is now even in talks to split its eastern Europe division and to move its headquarters back to Italy from where it plans to take care of its business in eastern Europe. The internet has made it possible.
Most financial service providers will be technology companies. The owning of a bank licence itself will not play an integral role anymore. Mobile payment systems are on the rise and banks are trying to become creative in finding new sources of income. At the moment, the Austrian banks are in talks to implement a fee for ATM withdrawals. The protest among Austrians is huge and especially young people are looking for alternatives such as Number26 and other fintech startups offering cost free accounts with credit cards. This trend is likely to continue. Lendico and Savedo are two other promising fintechs. (Fintechs are coming to Austria through Germany, 15th November 2015)
Brief fundamental and technical analysis
As you can see on the chart below, the bank is trading close to its all-time lows.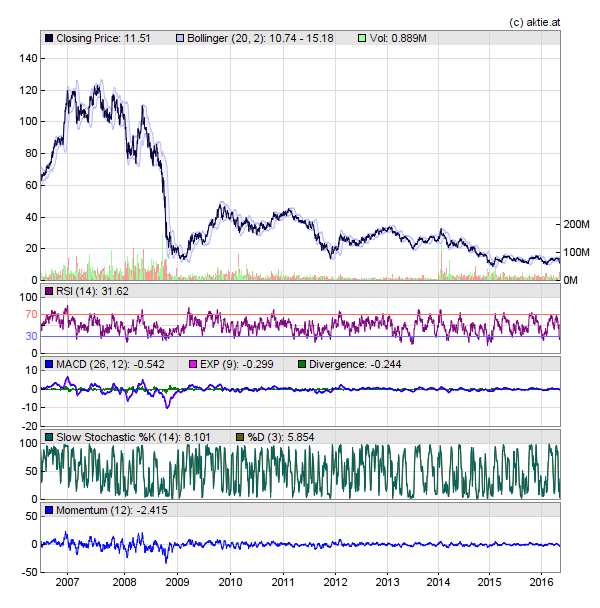 The stock is currently trading on the Vienna Stock Exchange for about € 11.50. At the moment, Raiffeisen Bank International and Raffeisen Zentralbank are in talks to merge in order to benefit from cost savings and regulatory advantages that should occur once both have tied up. Raiffeisen reported Q1 earnings, the profit was at about € 114 million. This was slightly disappointing. Raiffeisen merger, 15th May 2016)
Conclusion
With a P/E ratio of about 8.70, the bank seems to have touched ground. I think it is not likely to rise in the near future. The only hope for Raiffeisen remains a strong Russian market. However, that does not seem likely in the next 12-24 months. The bank has also missed the fintech train and has not even acquired any startups in the field of financial technology.
The bank could start an accelerator and get access to innovative solutions for its business. Unfortunately, that has not happened yet. Other banks such as BBVA have already bought into fintech. The Spanish bank acquired HOLVI, a fintech firm from Finland. I do not see any upside potential in the near future. I do not recommend to buy Raiffeisen shares.
Disclosure: I/we have no positions in any stocks mentioned, and no plans to initiate any positions within the next 72 hours.
I wrote this article myself, and it expresses my own opinions. I am not receiving compensation for it (other than from Seeking Alpha). I have no business relationship with any company whose stock is mentioned in this article.
Editor's Note: This article discusses one or more securities that do not trade on a major U.S. exchange. Please be aware of the risks associated with these stocks.