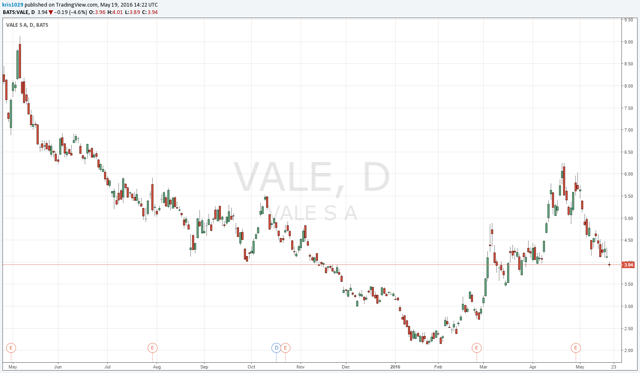 Click to enlarge
By The Valuentum Team
After an increase in iron ore prices in early 2016, some iron ore producers have warned that the rally may not be sustained, while others believe the beginning of a prolonged rebound may be in place. The Chinese economy, the largest consumer of iron ore in the world, remains in a transition phase while iron ore producers continue to increase production, with some producing at record levels. Many major suppliers are currently undertaking large investment projects that will create material production capacity growth in the future as well. Though we cannot deny the slight bounce in iron ore prices, we aren't sure supply and demand rebalancing is right around the corner.
Vale (NYSE:VALE) recently made a cautious statement regarding its production in 2016. After reporting record production levels for the first quarter of the year April 20, the company noted that it now expects annual production to be at the lower end of its guidance range of 340-350 Mt. This guidance is largely similar with ~346 Mt of production in 2015 but excludes the firm's production of iron ore pellets, which added 58.5 Mt of production in 2015. Though explicit guidance was not given, iron ore pellet production through the first quarter of the year was slightly higher than the comparable period in 2015, despite the shutdown of production at Samarco, the firm's joint venture in Brazil that accounted for more than 20% of Vale's iron ore pellet production in the year before being involved in a disastrous dam failure. Vale is also preparing to complete the largest investment project in its history, which will become operable in the second half of the year.
As Vale and rivals Rio Tinto (NYSE:RIO) and BHP Billiton (NYSE:BHP) companies continue to pump the market full of iron ore, we again must warn investors of the near-term pains they are likely to experience. Income investors are already aware of such troubles after each of the "Big 3" iron ore producers were forced to cut their dividends in early 2016, and we continue to warn against the holding of commodity-linked equities for income purposes. Even the best management teams have difficulty operating through the boom and bust cycles of the industry, and we can only hope that iron ore producers do not have an irrational knee-jerk reaction to the recent rally in prices, which would cause even more suffering further down the line.
All things considered, we're not interested in Vale at the moment. An overleveraged commodity producer does not spell sustainability, in our view. The firm currently registers a 6 on the Valuentum Buying Index.
Vale's Investment Considerations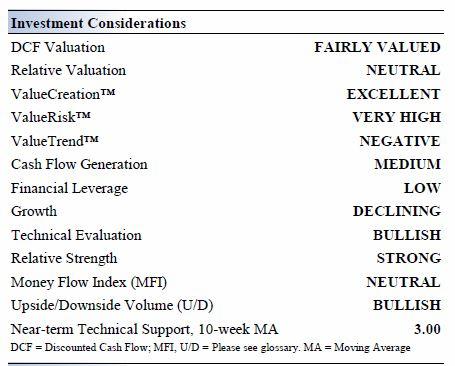 Investment Highlights
• Vale is the world's largest producer of iron ore and iron ore pellets, and the world's second-largest producer of nickel. The firm also produces manganese ore, ferroalloys, coal, copper, platinum, gold, silver, cobalt and potash, phosphates and other fertilizer nutrients. It was founded in 1942 and is based in Brazil.
• Iron ore and iron ore pellets together account for about 70% of Vale's gross operating revenues. Demand for iron ore largely depends on global demand for steel, which remains highly cyclical and volatile. Changes in the trajectory of expansion in China could also have profound implications on the firm's profitability.
• Vale's balance sheet is mired in debt, much like that of its peers. As of the end of 2015, Vale´s total gross debt was ~$28.9 billion, which compares to a cash position of ~$3.6 billion. Though net debt has been falling as of late, the company is still buried under significant obligations.
• Iron ore and copper prices have been under pressure as of late, and Vale has not been spared the pain. Any rebound may not happen soon, and we may have seen the last of $100/ton iron ore prices.
Business Quality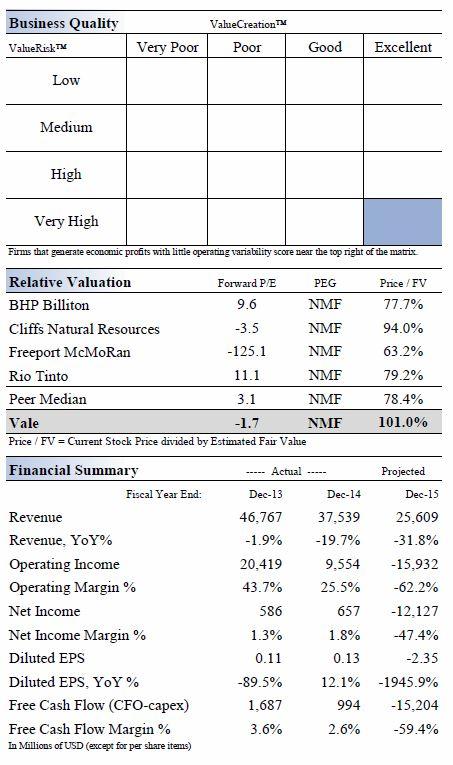 Economic Profit Analysis
In our opinion, the best measure of a firm's ability to create value for shareholders is expressed by comparing its return on invested capital with its weighted average cost of capital.
The gap or difference between ROIC and WACC is called the firm's economic profit spread. Vale's 3-year historical return on invested capital (without goodwill) is 17%, which is above the estimate of its cost of capital of 7.8%. As such, we assign the firm a ValueCreation™ rating of EXCELLENT.
The concept of an economic moat - or sustainable competitive advantages - focuses purely on the sustainability and the duration of the competitive advantages that a firm possesses. The concept of an economic moat does notconsider the cumulative sum of a firm's potential future economic profit creation, but only that at some point in time in the future, a moaty company will continue to have an economic profit spread and a no-moat firm will not.
Let's examine the problem that arises by focusing exclusively on companies that have economic moats, or sustainable and durable competitive advantages.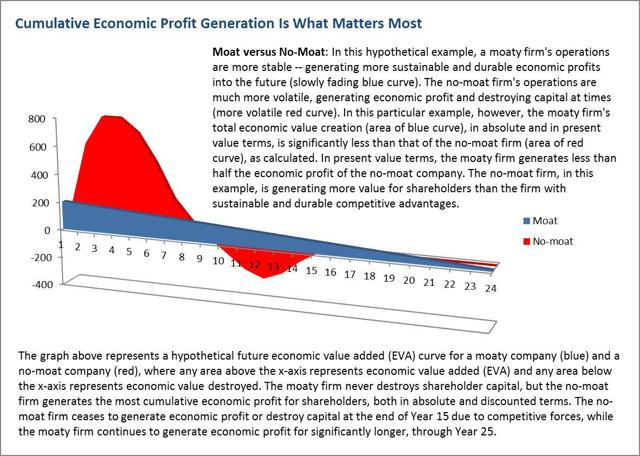 Click to enlarge
Image Source: Valuentum; EVA is trademarked by Stern Stewart & Co
In the chart below, we show the probable path of Vale's ROIC in the years ahead based on the estimated volatility of key drivers behind the measure. The solid grey line reflects the most likely outcome, in our opinion, and represents the scenario that results in our fair value estimate.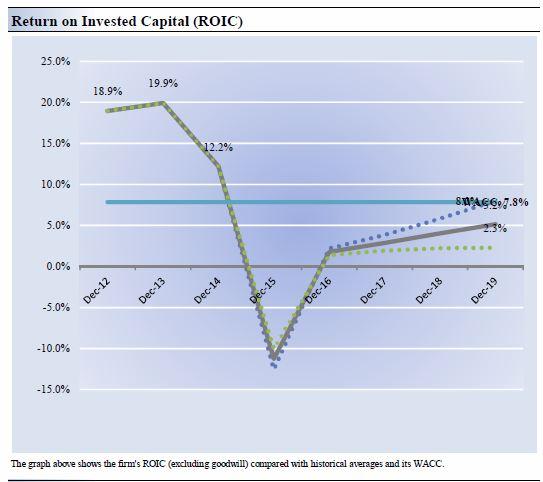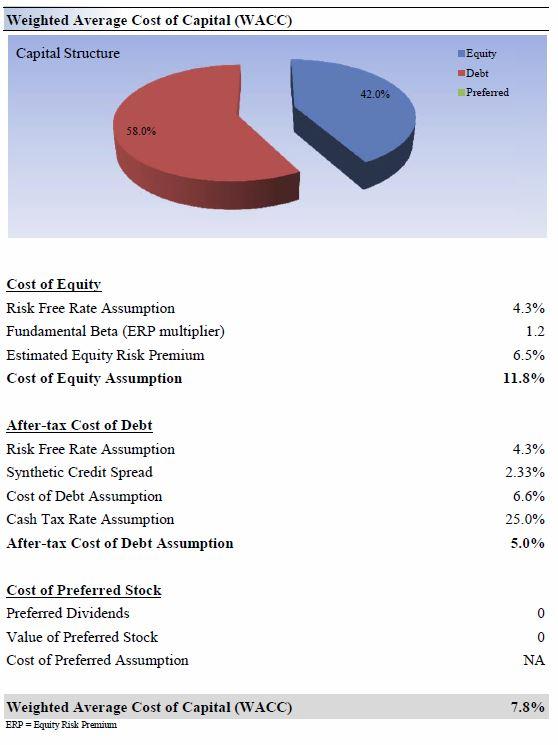 Cash Flow Analysis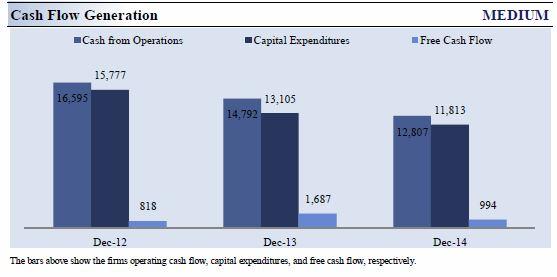 Firms that generate a free cash flow margin (free cash flow divided by total revenue) above 5% are usually considered cash cows. Vale's free cash flow margin has averaged about 2.7% during the past 3 years. As such, we think the firm's cash flow generation is
relatively MEDIUM.
The free cash flow measure shown above is derived by taking cash flow from operations less capital expenditures and differs from enterprise free cash flow (FCFF), which we use in deriving our fair value estimate for the company. At Vale, cash flow from operations decreased about 23% from levels registered two years ago, while capital expenditures fell about 25% over the same time period.
In 2015, Vale reported cash provided by operating activities of ~$4.5 billion and capital expenditures of ~$8.4 billion, resulting in free cash flow of -$3.9 billion (negative $3.9 billion). This represents a substantial decrease from previous levels.
Valuation Analysis
This is the most important portion of our analysis. Below we outline our valuation assumptions and derive a fair value estimate for shares.
We think Vale is worth $4 per share with a fair value range of $1-$7. Shares are currently trading at ~$4, near our fair value estimate. This indicates that we feel there is a similar amount of upside potential and downside risk associated with shares at the moment. Forecasting future iron ore prices is not easy, which is why our fair value range is so large.
The margin of safety around our fair value estimate is derived from an evaluation of the historical volatility of key valuation drivers and a future assessment of them. Our near-term operating forecasts, including revenue and earnings, do not differ much from consensus estimates or management guidance.
Our expectations for 2016 are a bit more pessimistic than consensus estimates due to our lack of confidence in the current outlook for the iron ore market. However, we are anticipating a larger rebound than consensus in 2017 as the market should begin to work its way back to a favorable position for producers. Our bottom-line expectations follow a very similar pattern to that of revenue over the next two years. We're also forecasting continued reductions in capital spending for Vale as iron prices remain suppressed, consistent with management's expectations.
Our model reflects a compound annual revenue growth rate of -4.6% during the next five years, a pace that is higher than the firm's 3- year historical compound annual growth rate of -14%. Our model reflects a 5-year projected average operating margin of -6%, which is below Vale's trailing 3-year average.
Beyond year 5, we assume free cash flow will grow at an annual rate of 9.1% for the next 15 years and 3% in perpetuity. For Vale, we use a 7.8% weighted average cost of capital to discount future free cash flows.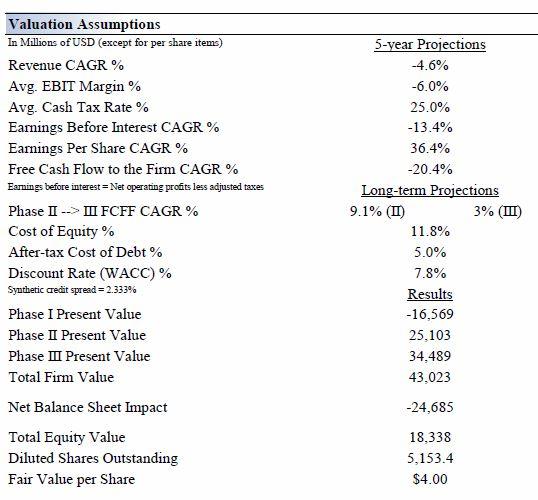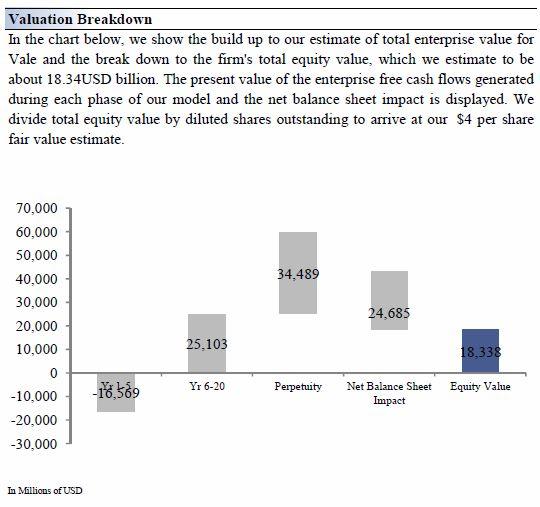 Click to enlargeMargin of Safety Analysis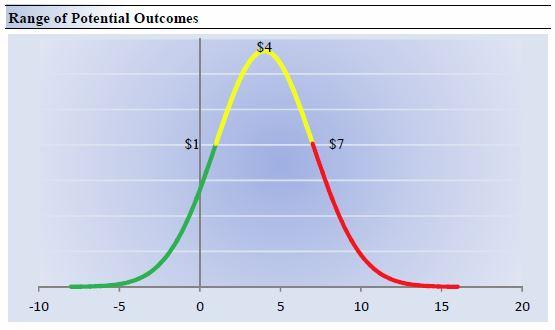 Our discounted cash flow process values each firm on the basis of the present value of all future free cash flows. Although we estimate the firm's fair value at about $4 per share, every company has a range of probable fair values that's created by the uncertainty of key valuation drivers (like future revenue or earnings, for example). After all, if the future were known with certainty, we wouldn't see much volatility in the markets as stocks would trade precisely at their known fair values.
Our ValueRisk™ rating sets the margin of safety or the fair value range we assign to each stock. In the graph above, we show this probable range of fair values for Vale. We think the firm is attractive below $1 per share (the green line), but quite expensive above $7 per share (the red line). The prices that fall along the yellow line, which includes our fair value estimate, represent a reasonable valuation for the firm, in our opinion.
Future Path of Fair Value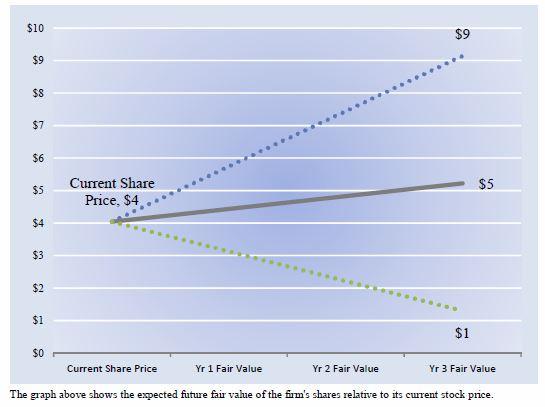 We estimate Vale's fair value at this point in time to be about $4 per share. As time passes, however, companies generate cash flow and pay out cash to shareholders in the form of dividends. The chart above compares the firm's current share price with the path of Vale's expected equity value per share over the next three years, assuming our long-term projections prove accurate.
The range between the resulting downside fair value and upside fair value in Year 3 represents our best estimate of the value of the firm's shares three years hence. This range of potential outcomes is also subject to change over time, should our views on the firm's future cash flow potential change.
The expected fair value of $5 per share in Year 3 represents our existing fair value per share of $4 increased at an annual rate of the firm's cost of equity less its dividend yield. The upside and downside ranges are derived in the same way, but from the upper and lower bounds of our fair value estimate range.
This article or report and any links within are for information purposes only and should not be considered a solicitation to buy or sell any security. Valuentum is not responsible for any errors or omissions or for results obtained from the use of this article and accepts no liability for how readers may choose to utilize the content. Assumptions, opinions, and estimates are based on our judgment as of the date of the article and are subject to change without notice.
Disclosure: I/we have no positions in any stocks mentioned, and no plans to initiate any positions within the next 72 hours.
I wrote this article myself, and it expresses my own opinions. I am not receiving compensation for it (other than from Seeking Alpha). I have no business relationship with any company whose stock is mentioned in this article.