After two years of consistent over-supply, Goldman Sachs recently called an end to "cheap oil." Goldman now predicts oil will reach $50 by the end of the year. Considering WTI was near $48/bbl when the analyst made the remarks, it's far from a bold call.
In addition, apparently Goldman doesn't consider $50/bbl "cheap." I think it is cheap. Although many shale oil companies say they can drill economic wells at $50/bbl, when you add interest payments and all of the rest of corporate overhead, I doubt that is true for the majority of producers, excepting those focused solely on the sweet spots of only the best plays.
I recently wrote an article criticizing the management of ConocoPhilips (NYSE:COP) for its refusal to hedge at least some percentage of Lower-48 production. A few readers said if COP didn't hedge on the way down, it would be foolish to hedge on the way up. But, of course, that assumes we are truly on a sustained upward oil price recovery. I'm not convinced. It appears quite likely oil could easily take another leg down back to the $30-$35/bbl range. Here are some reasons why I believe "cheap oil" - which I define as sub-$50/bbl - will be around for quite a while to come.
Recent Production Outages Will Come Back Online
The recent rally in the price of WTI was primary due to nearly 2 million bpd of supply outages as a result of wildfires in Canada and civil unrest in Nigeria and Libya. But these are relatively a short-term phenomenon. Some oil sands operations are already coming back online (while some recent shut-downs continue), and we have seen interruptions in Nigeria and Libya before and usually those countries quickly realize the importance of oil revenue and work on correcting the problems. Yet to be fair, both countries have seen total exports drifting lower for some time now.
But just yesterday Reuters reported Libya once again began loading oil tankers for export at the port of Marsa al-Hariga, and Canadian wildfires moved away from the oil sands with no damage done to the largest oil sands projects like Suncor's (NYSE:SU) base plant and the Syncrude facility. That said, production will likely be affected for some time to come. Syncrude extended a force majeure on crude production through the end of May. But Canadian production will eventually be restored - it's just a matter of time.
Iranian Production and Exports Keep Growing
According to the OPEC monthly oil report for April, Iran continues to ramp up oil production: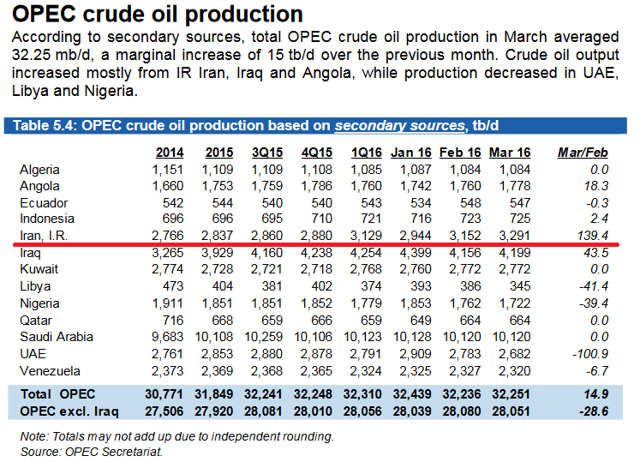 Click to enlarge
Iran's oil production for March was up 139,000 bpd month-over-month and now stands at 3.3 million bpd - up over 400,000 bpd from the Q4 of last year. As a result, Reuters reports that Iran is set to increase exports by 60% yoy and is setting up a battle royale with Saudi Arabia over the European market. This will likely affect global Brent prices and by extension the price of WTI.
Huge Inventory of Drilled and Uncompleted Shale Oil Wells ("DUCs")
World Oil recently reported an IHS estimate of 2,750 drilled but uncompleted shale oil wells in the Lower-48. IHS analysis indicates that production to be derived from these DUCs is estimated to be more than 380,000 bpd by September 2017.
Active Hedging As Oil Headed Toward $50/bbl
A recent Bloomberg report indicated domestic drillers were very active hedgers as oil rose to near $50/bbl. So even though the EIA reported domestic production dipped to the lowest level since 2014, the active hedging at near $50 means domestic producers intend to pick up activity - likely completing many of the DUCs discussed earlier. This is a bearish indicator moving forward.
Oil Storage Inventory Is Still Near A Record High
Despite the global oil production outages described earlier, domestic oil inventory actually rose in the most recent week by 1.3 million bbls and is still near a record high of 545 million bbls: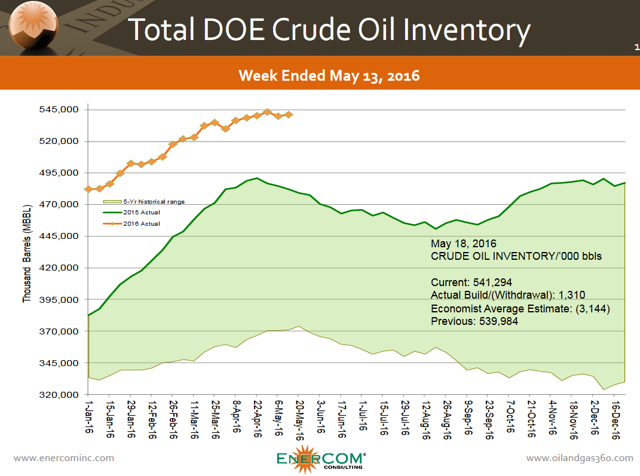 Click to enlarge
As a result, crude oil inventories are still over 100 million bbls above the mid-point of the 5-year average range as shown by the shaded green area. That's a lot of inventory to work off. For example, even if domestic production dropped by 1 million bpd it would take more than 3 months just to bring oil inventories back to the middle of the 5-year range (all else being equal and not accounting for increased demand pull). Yes, that is an over-simplified example, but it does show the extreme level of oil inventories that need to be worked off just to get back to "normal".
Strength in the US Dollar
Lastly, recent reports of a more hawkish Federal Reserve led to a quick pop in the US$ and a corresponding drop in oil prices. Market watchers are now expecting a Fed rate hike in June. Since WTI and Brent is generally priced globally in US dollars, the expected three rate hikes this year will likely put heavy downward pressure on oil prices.
Summary and Conclusion
While Goldman Sachs may be predicting the "end of cheap oil", it would appear to me that a stronger oil price faces significant headwinds. While those arguing that ConocoPhillips (and other independent shale producers) would be unwise to hedge domestic production in the middle $40s/bbl, all I can say is $45 is much better than $35.
Disclosure: I am/we are long COP, SU.
I wrote this article myself, and it expresses my own opinions. I am not receiving compensation for it (other than from Seeking Alpha). I have no business relationship with any company whose stock is mentioned in this article.
Additional disclosure: I am an engineer, not a CFA. The information and data presented in this article were obtained from company documents and/or sources believed to be reliable, but have not been independently verified. Therefore, the author cannot guarantee their accuracy. Please do your own research and contact a qualified investment advisor. I am not responsible for investment decisions you make. Thanks for reading and good luck!