Shares of Target (NYSE:TGT) have hit a brick wall this year, falling from the low $80s to where they sit now in the upper $60s. It's an ugly picture painted in the chart of TGT shares and one that finds itself possibly heading lower over the near term, but that remains to be seen as the company maintains a very strong balance sheet. The latest plunge in TGT share price comes on the heels of a Q1 2016 earnings beat, but revenue miss and poor Q2 2016 guidance.
If we look backward for better than a year at the performance for shares of TGT, the stock has performed in line with the major averages, but slightly outperformed when adjusted for the dividend. Of course, that was before this significant share price erosion. Nobody is in the business of investing solely for a dividend and that is pretty much all you received from owning Target over the last 12-15 months. I owned shares of TGT myself in early 2015 only to exit in the same year with barely a 2.8% return on my capital, largely due to the dividend.
In an article I authored in late 2015 titled, "Target Ends The Year In No Better Shape Despite Strong Metric Performances," I discussed that as the retailer was beating most every expectation through the first 3 quarters of the year, the stock essentially went nowhere.
In short, what many investors are forced to realize is that just because companies are employing all of these strategic actions to bolster their business for the future, many aren't willing to wait, even as they get paid to do so through dividends. The retail landscape is the dominating issue of the day, not the buybacks and not the dividends in my opinion and as evidenced in those stocks like TGT that are down despite carrying those "value added" features. It's all about the shift to digital sales and with those sales being less than 5% of the Target total business the company can brag, boast and glorify their initiatives to their hearts extent; investor sentiment through 2015 has suggested they want something more.
So if we look back at Target's strong 2015 performance that produced very little share price appreciation that year, it serves to figure with a poor Q1 2016 result, the stock would get hit hard. Investors aren't considering the yield or share repurchase programs in the way they had previously. Investors need to see sustainable top line growth that leads to bottom line growth and this just hasn't happened for Target over the last several years.
Target seems to benefit from "fits and starts." The fits bring about declining same-store-sales, revenues and gross profits before the starts bring about better performance, albeit from depressed levels that are seemingly easy to hurdle over for the retailer. Maybe the issues of the past weren't all Gregg Steinhafel's fault, the former CEO of Target. Maybe the better 2015 Target performance wasn't all the doings of Brian Cornell, Steinhafel's successor.
I would propose that last year's Target results were greatly benefited from hurdling over a very low bar and with some improvements that would have been active regardless of who held the CEO position. By and large, as I said back in 2014, nothing Target has done in the last 10 years in the way of improving its stores has worked long-term and to the benefit of long-term shareholders.
Oddly enough if we look at the stock price just 9 years ago, we see it peaked at roughly $66.49 a share. As of May 18th, the stock closed at roughly $67 a share. For those who have held shares of TGT in their portfolio, 401(k) or Roth IRA, your only benefit has been the dividend, which would have vastly and dramatically underperformed the market. I'm sorry, but TGT shares have been a terrible investment for long-term shareholders.
Let's briefly take a look at Target's quarterly results from the first quarter, as there were some fits and starts during the quarter. Target announced a Q1 2016 earnings beat while missing revenue expectations. The big-box department store chain with over 1,800 store locations in the U.S. reported earnings of $1.29 a share against a $1.20 EPS estimate. This represented 16% earnings growth YOY. This was highly favorable, but revenues came in at $16.2bn, which fell short of estimates by roughly $120mm and fell 5.4% YOY.
First quarter comparable sales increase of 1.2%, below the estimate of 1.7%, was driven by growth in traffic and ticket. As expected, total sales declined from last year reflecting the sale of the pharmacy business and lower sales trends in the Northeastern portion of the U.S. in the back half of the quarter. Comparable digital sales grew 23% in the first quarter on top of 38% a year ago.
Comparable sales in signature categories: style, baby, kids and wellness grew more than three times as fast as the company average. Comps in home grew nearly 4% led by strength in domestics, décor and seasonal areas. Highlights included kids home assortment, which saw comp sales in the mid-teens, driven by the successful launch of the new Pillowfort brand. Comps in apparel grew between 2% and 3%, led by sales in Baby, Kids and Women's ready-to-wear.
On the surface, the comp sales growth doesn't look so bad, but they represent a sharp decline from the same period a year ago. The worst part of the Q1 2016 conference call was offered guidance for the Q2 2016 period.
With that backdrop, we are planning for second quarter comparable sales of flat to down 2%. All together we expect to generate second quarter adjusted EPS in the range of $1.00 to a $1.20.
Why was the guidance viewed as underwhelming? Well, Street estimates had the retailer earning $1.36 a share.
Target always has a great many reasons for underperforming analysts' expectations, always. Whether it is deflationary pressures, negative impact from weather in certain regions or remodeling and re-profiling its center-store grocery area, the retailer always has an explanation for underperformance. As it pertains to weather, this will always impact Target and its peers if they choose not to adjust their exposure to weather sensitive goods.
J.C. Penney (NYSE:JCP) has recognized this point of fact and as such, they are raising the company's assortment of appliances, furniture and now introducing flooring. These goods tend to be less sensitive to weather as consumers in need of appliances, furniture and flooring will need them regardless of weather and shop accordingly. It should be understood that this is a new initiative by J.C. Penney and as such, results will determine the level of success with the strategy. Target has beefed up its furniture offerings in the last two years, but mainly online.
With regards to Target's center-store grocery strategy, I beg of investors to ask themselves how many times and how much money will Target continue to spend on retro-fitting its grocery business. Simply put, Target has been in a perpetual state of remodeling its grocery business since 2007. Whether it is/was the former P-fresh initiatives or the more recent health & wellness private label foods expansion, Target is constantly working to better their standing in the grocery segment.
The grocery segment for Target carries less than 15% gross profit margins and with significant liability to the retailer. A tug of war is always presented to Target year in and year out between grocery and electronics and entertainment (E&E). These two sales categories have been an unfortunate, but necessary nightmare for gross profits at Target over the many years. Essentially, these two categories help to drive foot traffic and expose consumers to other products in the store.
In hardlines, we saw a high single digit increase in the first quarter of comparable sales in toys, even as we comped over high single digit growth last year. Offsetting the growth in toys we saw declines in electronics and entertainment reflecting the secular challenges these categories continue to face. These declines put about 70 basis points of pressure on our first quarter comparable sales growth.
Long-term investors and followers of the Target story might recall the announced Apple (NASDAQ:AAPL)/Target partnership from 2012. Here we are four years and 4 months later and the two dynamic companies simply can't make the numbers work in order to make this happen. Simply put, there has never been and likely will never be enough profit to share for E&E goods.
It's just one of the reasons Circuit City and Radio Shack have found bankruptcy an end result in years past. Moreover, Best Buy (NYSE:BBY) has been forced to restructure and close hundreds of stores using the E&E sales business model. It would not surprise me to see Target, shift or remodel its E&E assortment and store footprint in the coming years given the longstanding issues with the category and its ability to drive profits from the category.
In addition to improving the assortment of goods in the grocery category, Target has offered its ability or action plans to continue to address in-stocks. Before I offer an expert analysis on the in-stocks' action plans, here is what the company offered from the conference call:
Some of the in-stock improvement is being driven by additional inventory investments in central categories which drove a portion of our year-over-year increase in our inventory at the end of the quarter, however we have opportunities to make other changes that will allow us to streamline our inventory position overtime. Specifically the team is taking a data driven approach to reduce the number of skews in our assortment making room for additional facings of the best selling, faster turning items on our store shelves. In addition, the team is collaborating with vendors to reduce case pack sizes which will reduce back-room inventory while increasing store labor efficiency by reducing the number of times and items touched before it's displayed on shelves. Beyond these improvements the out-of-stock team has successfully tested other enhancements that will roll out later this year.

One test applied new replenishment algorithms for items of the regular demand patterns like seasonal sporting goods, and the results of the tests are dramatic as out-of-stocks improved by 50% on test items. Another test involves updates to our presentation standards for items that are typically purchased in multiples. This ensures that our minimum standards reflect the way guests are shopping today allowing us to better optimize the trade-off between inventory investments and out-of-stocks.
It's clearly understood that with sales declining and inventory rising sharply, Target has opportunities to streamline inventory. That pretty much goes without saying. It's almost like offering that because it is storming there is an opportunity yet for clear skies to come. With regards to "more facings of the best selling, faster turning items on the shelves," this is nothing new and is in fact retail 101.
Additionally, you can see from a simple walk through Target stores they already employ this strategy. Unfortunately, this offering was more an attempt to bring solace to those otherwise not well versed in the world of retailing and retail merchandising. As it pertains to working with vendors on case pack sizes, this is not within the control of the retailer.
Certainly, they can ask for concessions, but more often than not, if it comes at the expense of the vendor, a concession will not be found but rather status quo will occur. Furthermore, as it pertains to backroom/stockroom efficiency, Target stores have never had enough space to operate at optimal performance levels. Case pack and open stock items in the backroom are a function of store sales' volumes and as such not controllable by Target, but rather by consumer demand i.e. consumption of goods sold at Target stores.
Target has always, and not found alone in the battle, had in-stock issues and always will. The in-stock form factor is a function that is determined by and large by the human element with a mix of algorithmic elements. Some stores will perform better than others because they employ a better team with better individual team member performance. Target can develop and deploy as many algorithmic in-stock formulas as they desire, but at the end of the operating day, the team member has to complete his/her assigned tasks proficiently and to the degree that maintains a high in-stock score.
The worst part about the way Target has always administered new in-stock algorithms is without resetting the "accumulator." Let me explain from a high level view as best I can. Every item on a Target shelf is point-of-sale (POS) active and replenishment is coded through the accumulation of sales determined by both shelf capacity and case pack size. The coagulation of this process is identified through the "sales accumulator" which impacts every logistics and in-stock process.
The accumulator is coded to activate a replenishment of the good based on how many times the item is registered by the POS. Unless Target resets the accumulator for every good sold in its stores nationwide, all they have is a new algorithm built on a former algorithm that didn't work either because the accumulator has never been reset to optimize the new or old algorithm.
In a sense it's a chain of algorithms trying to optimize the former, that wasn't optimized either. The cat will always chase his tail with this practice. I know what you're thinking, "Target knows what they are doing with their store systems." Unfortunately, no, they very much do not and because they have deployed this effort most every single year, the cost to reset the totality of the in-stock and logistics workcenter workload can never be reset without a major impact to the business.
Let's say Target one day decided, "You know what, let's just once and for all be done with this issue and press the button." That action would set off a chain reaction throughout the entire logistics chain, deploying hundreds of individual case pack, in-stock batches to be fulfilled and merchandised throughout individual stores across the nation. Triggering such batches to be filled would also trigger some orders that may not be necessary and when delivered to the stores, have no place to go in the store.
So what is so wrong with filling the shelves Seth? Well, what's wrong is that the reset button will indiscriminately pull merchandise batches from the backrooms of stores that haven't sold that product all week, month or maybe even a year. The system will pull the entire case pack and total quantities available to be pulled. In short, it would be like setting off a nuclear bomb that would wipe out the Target logistics workcenter, but leave in its wake a starting point of perfection once swept clean.
I know that sounds a bit dramatic, but essentially, that is what it would take to right fit the entire logistics and in-stock process for Target. And that is the only real way to optimize and produce an efficient in-stock and logistics process at Target that would save Target hundreds of millions of dollars chain-wide. Algorithms, got to love them!
Don't let my exhaustive and expert understanding of retail operating systems deter your long-term investment thesis, but rather accept it to be additional information. As such, this can help investors better understand what is more of the usual action by the retailer and what is going to prove to be incrementally positive for the retailer.
In 2008, I was brought into Target as a logistics and supply line consultant and worked with Gregg Steinhafel's team to improve the performance of their operations. Unfortunately, even when laying the foundation for a better performing operation, the human element can prove to be the biggest impediment to long-term operating performance.
What I would urge investors and readers to better understand is that Target is a great retailer and combating typical retailing issues that its peers combat daily. Target is better than some retailers and worse than others, but in total, the Target team has developed a longstanding business that has found various levels of success and failures, as to be expected. As it pertains to an investment in TGT shares, I would be of the opinion that the consumer is rapidly changing their spending habits and a quick glance at retail sales, well it doesn't look favorable.
As such, investors may be inclined to "wait and see" before dipping their toe in the TGT pool. Having said that, the yield is improving given the lower share price at hand. I have been long-term bearish on TGT as an investment vehicle for several years because I simply didn't see or couldn't develop a strong enough earnings and revenue model that would witness shares appreciate long-term. It would appear as though my model has proven accurate for investing, but trading is another story and would have offered traders significant returns on shares of TGT during the aptly named "fits and starts." As such, I have made a few trades over time in TGT and beneficially profited.
The consumer is very fickle and found wanting for greater spending… always. With consumer spending being what it has been over the last couple of years, discretionary spending has been hard-pressed for growth. Take a look at the following consumer spending trends related to retail sales.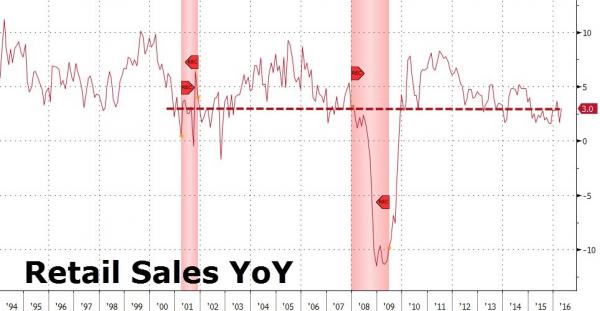 Target, like any other retail company needs consumer spending to grow, or at the very least show proliferating purchase intent toward spending. If consumption doesn't grow at a quicker rate, Target needs to find new ways to entice the consumer. With retail sales all over the map YTD and trending toward the low-end of the growth scale over the last couple of years, Target and its peers have shown a similar trend in sales growth that may ultimately lead to further sales declines. I'm not sure if many have looked closely at the retail sales trends that led up to the 2009 crash and compared them with where we are in the retail sales cycle. Looking at the chart above, retail sales look ominously bearish mid-term without a significant change to consumption habits.
So will Target's Q2 show improving performance, well that remains to be seen. If it does, it will likely have to come from the consumer's end though. Much of what Target has offered in action plans is more of the same and that's not all bad, but I'm not sure it is a game changer. At the same time, it isn't facilitating enough distinction for consumers to spend more at the retailer presently.
Disclosure: I am/we are long JCP.
I wrote this article myself, and it expresses my own opinions. I am not receiving compensation for it (other than from Seeking Alpha). I have no business relationship with any company whose stock is mentioned in this article.