I don't love talking incessantly about central banks. It isn't really fun anymore (with the notable exception of the BoJ's Haruhiko Kuroda, who will never cease to be a source of amusement for market watchers).
There was a time when criticizing the Fed's adoption of unconventional monetary policy made you a rebel. Then, after a few trillion in asset purchases and after a coordinated, global Keynesian policy lean, the chorus of those suggesting that the easy money regime would one day end in tears grew louder.
Before you knew it, everyone suddenly began to ask themselves whether central banks were actually creating the conditions for an even larger boom/bust cycle by robbing the market of its natural ability to purge misallocated capital. Criticizing DM monetary authorities was suddenly all the rage.
Now, eight years after the crisis, the general consensus is that central banks have lost all credibility and that they are "out of ammunition." Their counter cyclical breathing room is exhausted. The emperors have no clothes. And on, and on.
It's a tired, old cliche at this point.
"Central banks have no credibility" has become something of a tautology. Once something becomes conventional wisdom, it ceases to be interesting to me because frankly, by the time something becomes conventional wisdom, it is usually out of date and of little use.
Be that as it may, this week was one of those weeks where you really had to talk about the Fed. And not so much because 25 bps actually mean anything when it comes to mispriced asset values. It's not as though one more hike is going to set everything right or even move us much closer to normalization.
What a symbolic 25 bps hike could do, however, is play havoc with emerging markets by triggering a dramatic USD (NYSEARCA:UUP) rally. I talked about this a bit on Thursday and again today.
The problem is that in an increasingly interconnected global economy, an EM crisis will invariably affect the US. Throw in the fact that a soaring USD is prima facie bad news for US corporates, and it becomes clear that no matter how exhausted we all are with talking about the Fed, we need to think carefully about the timing here. Between the tail risk posed by Brexit, the uncertainty surrounding crude prices, the potential drag on the US economy exerted by USD strength, and the fact that EM FX and equities are ripe for a sell-off, thanks to a sharp YTD rally, the stage is set for a policy mistake.
With all of the above in mind, let's look at what a suddenly hawkish Fed means for the dollar (beyond the obvious).
Goldman has been calling for USD strength for a while now. Indeed, it was caught wrong-footed in March, but has since found something in the way of redemption. The first thing worth noting is that as of earlier this month, short USD positioning was the most extreme in around three years: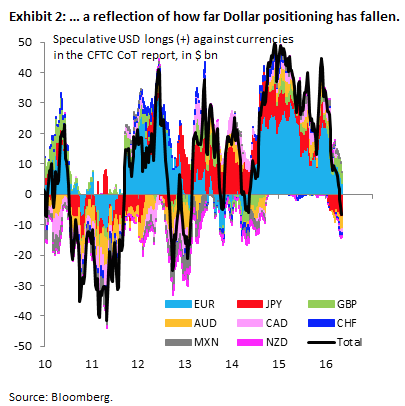 (Chart: Goldman)
"It is fairly clear therefore that - from the perspective of the Fed - the Dollar has reached a bottom," Goldman wrote, 10 days ago.
I'm not entirely sure how "clear" it was then, but that assessment turned out to be correct thanks to this week's Fedspeak.
Going forward, Goldman says the move higher could be quite pronounced. Here's what the bank had to say on Thursday regarding to move higher following the release of the April Minutes:
That price action is important since it illustrates that there is substantial, underlying appreciation pressure on the greenback. After all, if the Dollar rises almost one percent on something as small as the FOMC minutes, it helps validate our view that monetary policy normalization in the US - which we believe involves many more hikes than the market is pricing - will be a large, Dollar-positive event. Seen through this lens, our forecast for the Dollar to rise 15 percent through 2018 no longer looks that extreme.
Right. And given the easing bias of the ECB and BoJ, the increased policy divergence could lead to rapid appreciation. Here's what the bank means by "underlying appreciation pressure":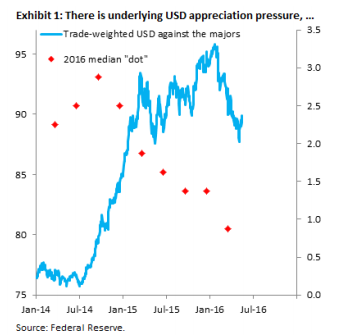 (Chart: Goldman)
The important takeaway, which I've been keen on emphasizing all week, is this:
"Given that there is underlying appreciation pressure on the Dollar, too hawkish a message could send the USD on a tear and, by weakening the economy, undermine the rationale for being hawkish in the first place."
And there you have it. Another central bank Catch-22.
Trade accordingly.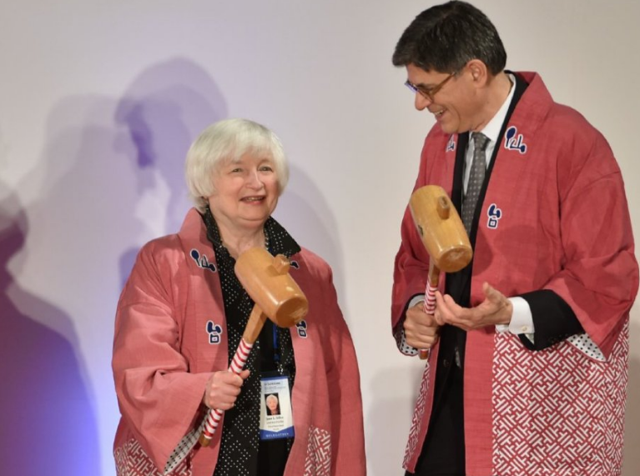 Click to enlarge
Disclosure: I/we have no positions in any stocks mentioned, and no plans to initiate any positions within the next 72 hours.
I wrote this article myself, and it expresses my own opinions. I am not receiving compensation for it (other than from Seeking Alpha). I have no business relationship with any company whose stock is mentioned in this article.