And the Winner is...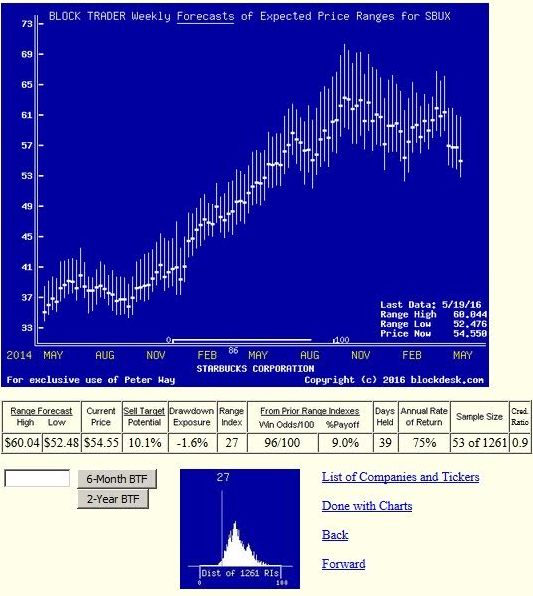 (used with permission)
Yeah, that old high-tech consumer-staple favorite, Starbucks (NASDAQ:SBUX).
In the past 1261 market days (5 years), of which the most recent once-a-week excerpts are illustrated, there have been 53 prior instances of Market-Maker price range forecasts - implied from their self-protective hedging behaviors - like those of today's. That's 10 or more a year.
The forecasts are not single-point ones, but are estimates of how far the subject's price might run - both up and down - as indicated by the prices paid for the derivative securities used to buy price protection from market risks. Risks that their firm capital must be exposed to if they provide market liquidity in balancing buyers and sellers to fill big-money fund portfolio managers' block trade orders.
The vertical lines above show how those forecast ranges evolve over time. Each one is divided, by the heavy dot of market price at the time of the forecast, into upside and downside prospects. That balance is measured by the Range Index [RI], which tells what percentage of the whole range lies below that market quote.
The 53 prior RIs like today's value of 27 (all derived live, as they occurred) were subjected to the TERMD discipline which "bought" a position at the "cost" of the next market day's close, and held it until a closing price hit or exceeded the top of that day's forecast range. If that didn't happen in 3 months (63 market days) then it was closed out regardless of gain or loss. But not before.
It appears that 2 of the 53 took a loss, since the Win ODDS for SBUX were 96 of 100. That means the other 51 recovered from the inevitable price drawdowns from cost during the average 39 market days it took to reach their sell targets or time closeouts. The average simple percentage gain on all 53 was +9.0%. If that 8-week holding period was repeated during the year (and it may have had ten+ opportunities) the +9% ROCE compounds into a CAGR of +75%.
Conclusion
How many other stocks in a past 52-week buy & hold won a +75% gain? And were never more than -2% under water?
Like the man said: "If ya can do it, it ain't braggin."
Additional disclosure: Peter Way and generations of the Way Family are long-term providers of perspective information [earlier] helping professional and [now] individual investors discriminate between wealth-building opportunities in individual stocks and ETFs. We do not manage money for others outside of the family but do provide pro bono consulting for a limited number of not-for-profit organizations. We firmly believe investors need to maintain skin in their game by actively initiating commitment choices of capital and time investments in their personal portfolios. So our information presents for their guidance what the arguably best-informed professional investors, through their own self-protective hedging actions, believe is most likely to happen to the prices of specific issues in coming weeks and months. Evidences of how such prior forecasts have worked out are routinely provided. Our website, blockdesk.com has further information.
Disclosure: I/we have no positions in any stocks mentioned, and no plans to initiate any positions within the next 72 hours.
I wrote this article myself, and it expresses my own opinions. I am not receiving compensation for it (other than from Seeking Alpha). I have no business relationship with any company whose stock is mentioned in this article.