The biotech sector is looking to end an already strong week on a high note with the main biotech indices up some two percent as we head into the last 90 minutes of trading for the week. Improving sentiment markedly was the over $5 billion buyout of Anacor Pharmaceuticals (NASDAQ:ANAC) for a hefty 55% premium by Pfizer (NYSE:PFE) on Monday. This help ignite the M&A juices in the area again and has benefited other mid-cap plays in the sector like Acadia Pharmaceuticals (NASDAQ:ACAD) that has been speculated as a possible buyout target in the past and just got its first drug Nuplazid approved.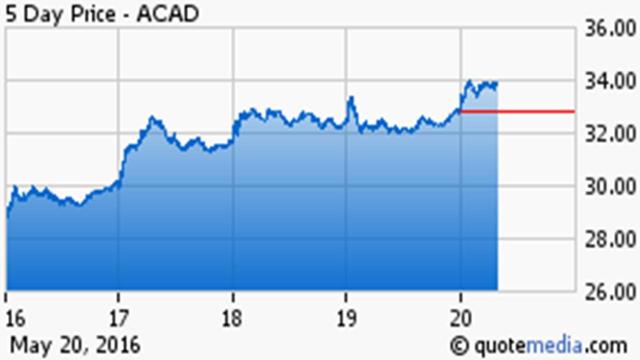 Click to enlarge
What would really boost sentiment further is further significant acquisitions in the weeks ahead. If Medivation (NASDAQ:MDVN), long rumored to be in play, gets acquired at north of a $10 billion valuation, the sector might start to come back in vogue after a 40% decline from its peak last July.
Note: To get these Biotech Forum Daily Digests as soon as they are published, just click on my profile and hit the big orange "follow" button and choose the real-time alerts option

Veterinary medicine concern Aratana Therapeutics (NASDAQ:PETX) continues on its recent roll. The company garnered its second drug approval in recent months this week when it received FDA clearance for Entyce (capromorelin), its appetite stimulator for dogs. Previously, the company had received approval for Galliprant (grapiprant) to treat osteoarthritis pain in dogs.
As I noted in an article earlier this month, Aratana is an "off the radar" and attractive ~$200 million market capitalization concern that had upcoming catalysts. About a month after it received authorization, it sealed a lucrative collaboration deal with Elanco, a unit of Eli Lilly (NYSE:LLY), to market and distribute that drug.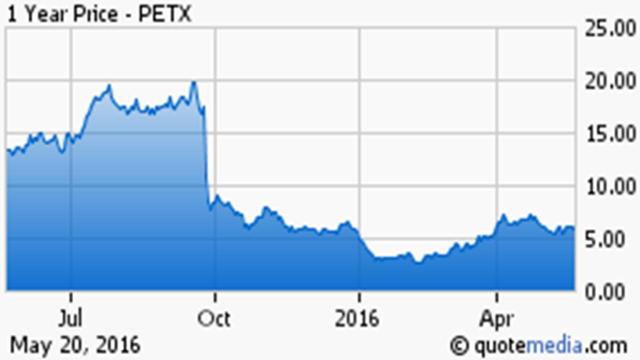 Click to enlarge
A similar deal around Entyce could buoy the shares further and a third drug should be approved by the end of 2016. This stock traded at $20 a share this summer before disappointing trials curtailed development of another drug candidate. With two approved drugs with a third compound looking like it will be approved soon, lots of cash on the balance sheet and a significant collaboration deal in place, the stock looks like it could be in position for a real rally.
The tale of one time "unicorn" Theranos (THER) just keeps getting more bizarre. The week the company told federal regulators that it has corrected the results of tens of thousands of tests conducted by the blood-testing company between 2014 and 2015. In some cases, test results were revised while others were voided. The Centers for Medicare and Medicaid Services is currently considering whether to levy sweeping sanctions against Theranos. Hard to believe this company once had a private valuation of $9 billion, which tells you how frothy this area had gotten in early 2015 before recently coming down over the past year. I am glad this story got "pricked" before Theranos became a public company and burned retail investors.
AstraZeneca (NYSE:AZN) and GlaxoSmithKline (NYSE:GSK) experienced some of the challenges drug firms face in both India and the Middle Kingdom this week. Both saw deep price cuts imposed on their popular drugs they sell in China. China's National Health and Family Planning Commission decided to slash the price of AstraZeneca's lung cancer pill Iressa by more than half to 7,000 yuan ($1,069) from 15,000 ($2,292), Reuters reports. It also reduced the price of GlaxoSmithKline's hepatitis B drug Viread by about two-thirds, to 490 yuan ($75) a month from 1,500 ($229).
Although these are European-based firms, American drug makers face the same challenges in emerging markets. With all the talk about the benefits and detriments of global trade this election year, one thing that rarely comes up is the lack of regard for intellectual property rights in much of the developing world whether it be around drugs, software or entertainment content. It is a key factor in our trade imbalances. Besides these sort of unilateral price actions, there is rampant piracy in these areas. On the flip side, it is also why there is no Silicon Valley in China and why 70% of the drug patents are issued to the U.S.-based firms.

OncoMed Pharma (NASDAQ:OMED) seems to be getting quite a lot of analyst attention over the past month despite its small market capitalization of just over $350 million. Today, Jefferies reiterated its Buy rating and $15 price target on OMED. Over the past month, Cantor Fitzgerald and Piper Jaffray have also reissued Buy ratings, with Piper being the most optimistic with a $29 price target. Leerink Swann has been the only dissenter of late with a Hold rating and $13 price target on the company.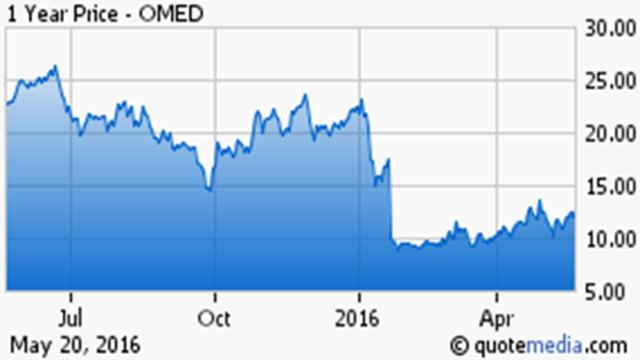 Click to enlarge
OncoMed is using stem cell therapy to target cancer. It has over a half dozen candidates in the pipeline. The stock cratered in the first month of the year as a Phase II trial did not show encouraging results for its drug candidate tarextumab in treating pancreatic cancer. I do have a small piece of OncoMed as it has multiple "shots on goal" and half of its market capitalization is represented by cash on the balance sheet.
Alnylam Pharma (NASDAQ:ALNY) continues to be a popular stock for positive analyst commentary during the month of May. Five analyst firms had already reiterated Buy ratings on the stock before this week in May with price targets ranging from a low of $107 at Leerink Swann to a high of $152 at Needham. Given Alnylam trades in the mid-$50s, there certainly is enthusiasm from analysts around its possible upside.
This week FBR Capital reissued its Buy rating as did Cowen & Co., which also provided a $150 price target on the company. The company focuses on discovering and developing novel therapeutics based on RNA interference. It has a significant pipeline with a couple of late stage candidates. The company also has some $1 billion on the balance sheet, so it seems well funded.
Its most advance trials are in Phase III targeting hereditary ATTR amyloidosis. This disease is a progressive, life-threatening disease caused by misfolded transthyretin ("TTR") proteins that accumulate as amyloid fibrils in multiple organs, but primarily in the peripheral nerves and heart. ATTR amyloidosis can lead to significant morbidity, disability, and mortality.
Alnylam Pharma has a market capitalization of just over $4.5 billion, which seems in the current sweet spot for acquisition targets right now after Anacor was taken out for $5.2 billion this week by Pfizer. This is not a name I own or follow closely, but seems worthy of a deeper dive. Look for it in a more comprehensive "spotlight" feature next week here at the Biotech Forum Daily Digest.
Note: New analyst ratings are a great place to start due diligence, but nothing substitutes for deeper individual research in this very volatile sector of the market. Many of the small-cap names highlighted in the "Analyst Insight" will eventually appear in the "Spotlight" section, where we do deeper dives on this type of promising but speculative small-cap concern.

Today's spotlight shines on a small biotech company called Xenon (NASDAQ:XENE) whose stock price has been cut in half over the past nine months, thanks to the brutal bear market in the biotech. However, the shares have spent most of 2016 in a bottoming pattern, and the stock has a favorable risk/reward profile at current levels.
Company Overview
Xenon is a clinical-stage biopharmaceutical company focused on discovering and developing a pipeline of differentiated therapeutics for orphan indications that it intends to commercialize on its own for smaller indication. The company has built a core platform, which is called Extreme Genetics®, enabling the discovery of validated drug targets by studying rare human diseases with extreme traits, including diseases caused by mutations in ion channels, known as channelopathies. This integrated platform has a full complement of in-house capabilities for human genetics and small molecule drug discovery, and for pre-clinical and clinical development. Currently, the company sports a market capitalization right at $100 million and began trading Friday at the ominous price of $6.66 a share.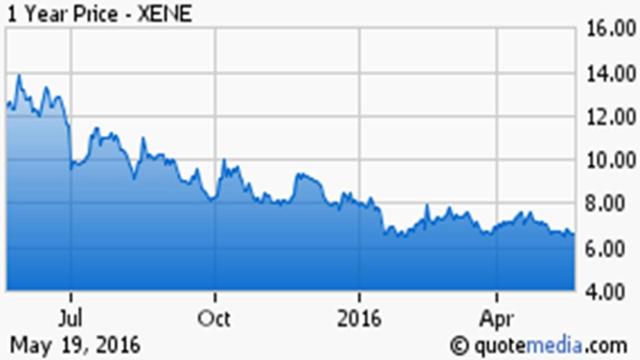 Click to enlarge
Pipeline
Xenon's lead proprietary asset is dubbed XEN801. This compound is a promising, novel treatment for acne that the company anticipates could be better tolerated without the serious side effects that often limit the use of currently approved retinoid treatments. XEN801 is a topically administered, selective, small molecule inhibitor of stearoyl-CoA desaturase-1, an enzyme involved in lipid synthesis that is expressed in sebaceous glands in the skin. Phase 1 trials produced positive results in the back half of 2015, and a Phase 2 clinical trial of XEN801 is getting underway.
The company is also focusing on the critical medical need for non-opioid based mechanisms to treat pain. Xenon has collaborations with drug giant Teva Pharmaceuticals (NASDAQ:TEVA) and Genentech focused on development of novel Nav1.7 inhibitors for the treatment of pain. Within the company's collaboration with Teva, the clinical development of TV-45070 in neuropathic pain continues to progress. TV-45070, which is topically applied, targets both Nav1.7 and other sodium channels to treat conditions of chronic pain. Teva is conducting a placebo-controlled Phase 2b clinical trial in approximately 300 patients with postherpetic neuralgia, and Teva continues to invest broadly in TV-45070 to support the late-stage clinical development of this product.
The partnership with Genentech to develop orally active selective small molecule inhibitors of Nav1.7 for the treatment of pain is also progressing. Genentech is currently conducting two Phase 1 clinical trials for two differentiated inhibitors of Nav1.7: GDC-0276 and GDC-0310. Pending the results from both Phase 1 trials, Genentech intends to initiate a Phase 2 clinical trial.
The company also has some other pre-clinical and early-stage candidates not relevant to factor into the analysis at this point. It has also launched Glycera in Europe via a distribution partner for certain adult patients diagnosed with the orphan lipid disorder lipoprotein lipase deficiency. Xenon does not expect significant royalties from this product in the foreseeable future, so it too is not germane to the investment thesis on the company.
Analyst Support & Balance Sheet
The company despite its small size has received some analyst notice in May. On May 11th, Jeffries reiterated its Buy rating and $13 price target, noting the positive progress of Xenon's pipeline as the reason for its enthusiasm. Canaccord Genuity followed the next day by reissuing its Buy rating and $16 price target. The analyst firm expects positive Phase II data for XEN801 for acne in the fourth quarter and believes the drug, if approved, could see over $200 million in peak sales. The company ended the first quarter with over $55 million in cash, which is more than half its current market capitalization and will meet funding needs.
Outlook
Xenon is a high-risk/high-reward mid-stage concern. I believe it has an attractive risk/reward profile after the stock has been cut in half during the recent bear market in the biotech sector. Its pipeline is progressing and has multiple "shots on goal", it has a couple of important partnerships, good recent analyst support and plenty of cash on hand to fund development. I have a small stake in this promising and speculative concern and offer it up for consideration for aggressive investors who have a well-diversified biotech portfolio.

Thank You & Happy Hunting
Bret Jensen
Founder, Biotech Forum
Disclosure: I am/we are long ACAD, OMED, PETX, TEVA, XENE.
I wrote this article myself, and it expresses my own opinions. I am not receiving compensation for it (other than from Seeking Alpha). I have no business relationship with any company whose stock is mentioned in this article.