3M (NYSE:MMM) is one of those companies that can fit in just about any portfolio. At various points over the past ten years it's been a deep value pick, a high-growth emerging market and recovering play, and a conservative dividend grower with stable cash flows.
From its humble beginnings in 1902, 3M has a history of scrappy innovation. Originally founded to mine a key ingredient in abrasives, the company failed to produce much of the mineral. Its initial forays into sandpaper continued to flounder, until the company found its footing in the '20s, changing tack to manufacture the adhesives used to affix abrasives to sandpaper.
As is sometimes the case, early struggle set the stage for the company's future success. As it grew and developed, it became known as an organization for talented engineers to spend a career and budding managers to build one. The company's famous 20% time and conservative approach to managing financial and environmental risk made it a rare example of a conservative maverick: a forward-thinking, yet strategically prudent, behind-the-scenes producer of products that make the world go round, but are only missed when they can't be found.
It was also the first stock I bought as a new investor in summer 2006, and it was the perfect start for an investing career: a rare dividend aristocrat with a healthy yield of about 3%, a relatively low P/E of about 15, and a strong earnings grower. The economic crisis gave me a second crack at the stock, and in aggregate my holdings have more than tripled and beaten the market by 40%, not including the substantial boost from reinvested dividends. On top of the capital gain, the 7% yield-on-cost makes returns all the more certain and lucrative.
In business, though, flush times are generally followed by lean, and recent macro headwinds have weighed on 3M's usually strong results: the dollar remains quite strong, emerging market peers have been hit hard by cooling commodity prices and overindebtedness, and our own era of economic growth has also been as underwhelming as it's been sustained.
A Flight to Safety, Growth Be Damned
But in this low-interest environment, share prices seem unrelated to growth estimates. When a 30-year Treasury barely beats inflation, a growing yield becomes akin to a Silicon Valley studio apartment: what would be typical in a normal environment becomes luxury in times of scarcity. The flight to safety combined with the desire for yield has pushed stable large-cap dividend stalwarts to valuations formerly reserved for fast-growers in the strongest markets.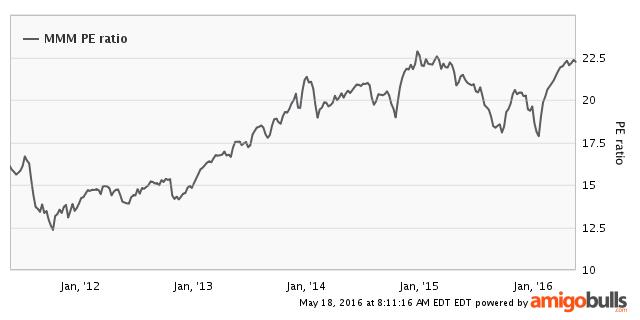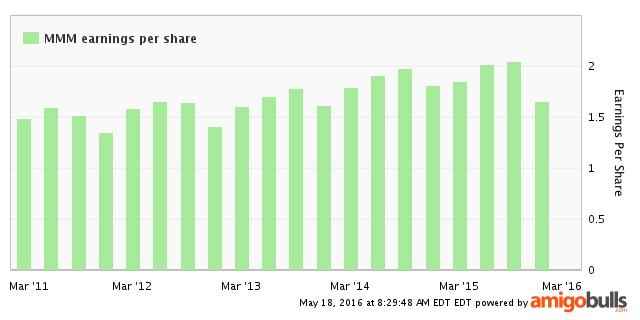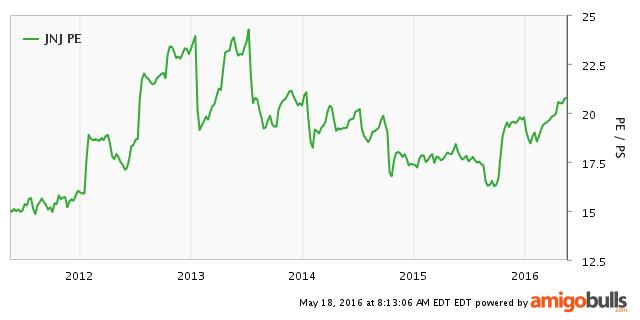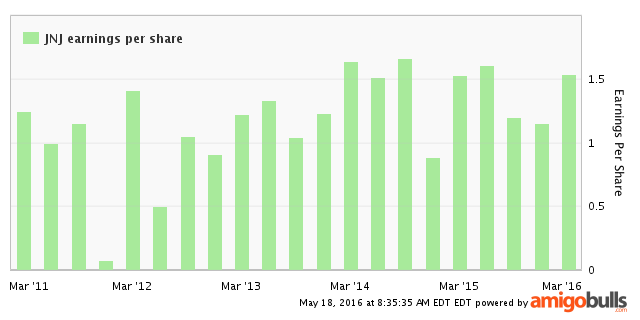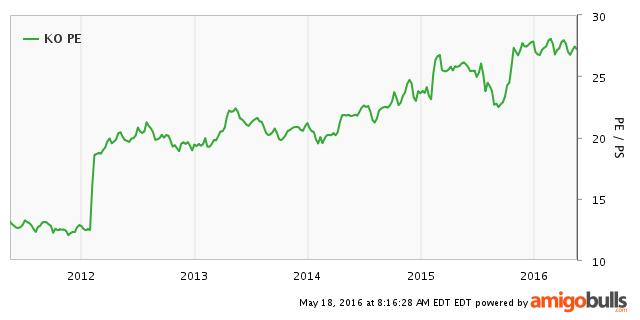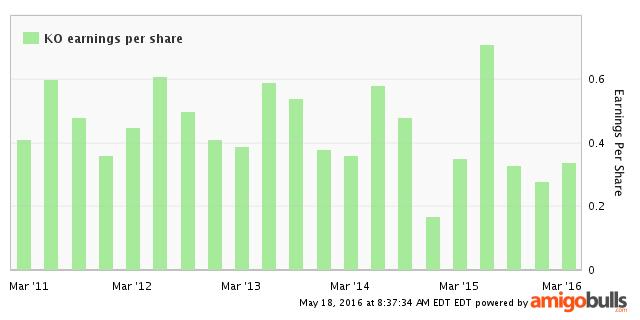 Source: amigobulls.com
Dividend growth, more than earnings growth, is selling at a premium, leading one to wonder to if current valuations are sustainable.
Yet… It's a Buy?
Warren Buffett famously declared it his mission to pay 50 cents for a dollar. Of course, buying future cash flows at a discount is every investor's aim. Unless that investor happens to be 3M.
With valuations at nosebleed levels and future growth estimates as tepid as global growth is sluggish, 3M is a buyer, approving a $10 Billion buyback plan on the heels of a recently completed $12 Billion plan.
Now, I think buybacks can be a really, really good idea, but only when the following conditions are met:
The stock is undervalued,
Excess cash is on hand, and
There is a lack of suitable alternatives, making a company's own stock its most desirable investment.
Maybe number 3 is true; 3M has been selling some divisions and acquiring others as it realigns its portfolio. Perhaps it's taken that as far as it can, and there actually aren't good places to park excess cash right now. I'm not sure, but I could be convinced of that. #1, though, isn't true, nor has it been for years. The stock price has been on an upward trajectory, fueled more by debt than by fundamentals. Some analysts still think the stock is undervalued, sure. But then, some analysts thought oil was going to $200 in 2008, and $20 in 2015. Analysts are interested in making money from me, not for me, and should never be the deciding factor when making a buy decision. In any case, point 1 is only relevant if cash is on hand to pay for it. 3M's growth in debt puts that in question.
Neither a Lender Nor a Borrower Be…
And for years 3M wasn't! Its conservative balance sheet was rock solid, its low debt to equity ratio the envy of its industrial peers, and its ever-increasing dividend secured by abundant cash. But times have changed.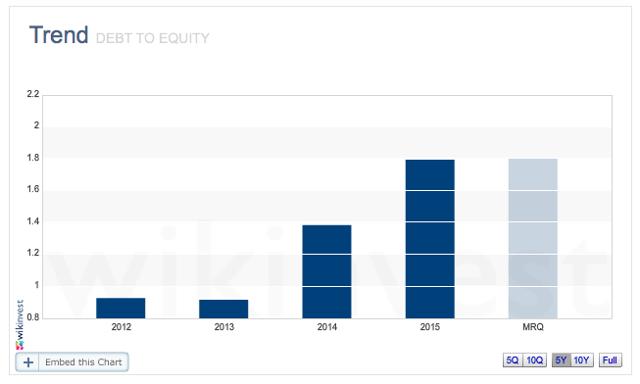 Click to enlarge
Source: wikinvest
And when we take a look at how the capital return plan stacks up against long-term debt, we see a company going more deeply in debt for a more richly valued asset with lower potential return. Sure, shares have appreciated, but this is not the mindset of a management team I want to invest more of my hard-earned money in, and should the market slide, these gains could quickly be erased.

Click to enlarge
And Yet, The Company's Fine
Debt's higher, but manageable. The stock is on the high end of fairly valued, but far from bubble territory. Sales and earnings will be affected by macro headwinds, but they'll grow.
So what's the problem?
The usually conservatively governed large-cap has put itself in a high-risk, low-reward predicament. Taken independently, the increasing payout ratio, debt, valuation metrics, and the expensive buyback could easily be managed. Taken together, though, and the stock is starting to feel like the late rounds of Jenga. The tower is growing taller, the foundation more rickety, and the players more willing to stretch for a move that will work-hopefully without causing a collapse.
Unless the Risks Come to Pass
And there are risks out there. The Fed is again rumbling about increasing interest rates, which would encourage yield hogs to forage elsewhere, and would likely increase 3M's debt expense. Oil prices have firmed, but not enough to propel emerging economies to their previous brisk growth. Domestically, the continued recovery has hardly been overwhelming, and its meager growth could again slow, in spite of the Fed's confidence.
Recent litigation presents another unknown risk. After DuPont's damaging, high profile PFOA suits, 3M was often held up as the model of a company that proactively addressed pollution concerns once risks were known. Recent disclosures have put that in question, however, and a lawsuit contends that 3M knew more than it let on about the risks of the chemical. The lawsuit is still in its early stages, and may bring little or no expense. Of course, it might, and right now the outcome is anyone's guess.
Finally, if the stock falls below its purchase price for any reason, 3M will add its name to the long list of companies that bought their stock back at the top, permanently destroying shareholder capital.
Final Thoughts
My crystal ball is as cloudy as anyone's, but we all have to draw conclusions with the information at hand. I doubt the company will suffer so badly that the stock will suffer a tremendous shock. But I also can't see how the buybacks, dividend increases and capital appreciation can continue at the pace of the past few years. We're nearing overvalued, overleveraged, and low-growth territory. Barring a significant change in the company's balance sheet or growth prospects, the law of gravity will affect 3M, too.
So, for me, it's a hold. It's served me well, will continue to pay handsome dividends, and though it's made capital allocation decisions I'm not entirely comfortable with, there's little risk of losing its corporate culture, brand strength, or market leadership. I think it could trade sideways for quite some time, though, and a decline is more likely than a substantial gain.
It's your money, your portfolio, and your decision. But with valuations and debt at highs, management seemingly more able to engineer returns than create growth, and a range of global risks, this might be a buy that's best to put off until valuations better reflect reality. If you do own it, a short leash and a finger ready to hit the sell button may be the surest way to protect your investment.
Disclosure: I am/we are long MMM.
I wrote this article myself, and it expresses my own opinions. I am not receiving compensation for it (other than from Seeking Alpha). I have no business relationship with any company whose stock is mentioned in this article.