Are you a Mr. Monopoly wannabe? Do you want to take a small slice of profit every time someone purchases virtually any fresh produce or fruit at a supermarket?
CF Industries(NYSE:CF) is a worldwide leader in producing nitrogen based and other fertilizers that helps farmers around the world improve crop yields and help feed the planet's growing and hungry population.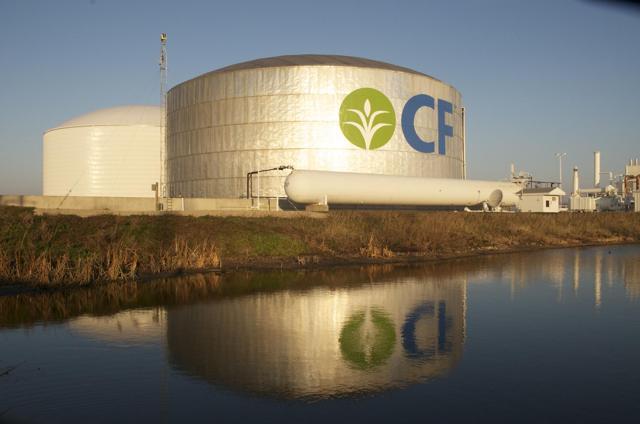 Click to enlarge
I will discuss some basics of CF's business, such as the dual commodity risks, recent and longer-term past results, and take a look at the current valuation and psychology necessary to be successful in this type of stock.
Low Natural Gas Helps CF
As the company mentions frequently, their primary input cost is natural gas, which is the main ingredient used to make nitrogen.
The company focuses mainly on North America and the UK, and most of their infrastructure is in the US, which allows them to have some of the lowest cost input of all nitrogen makers, excluding any unfair help Chinese companies may or may not be getting from their own government.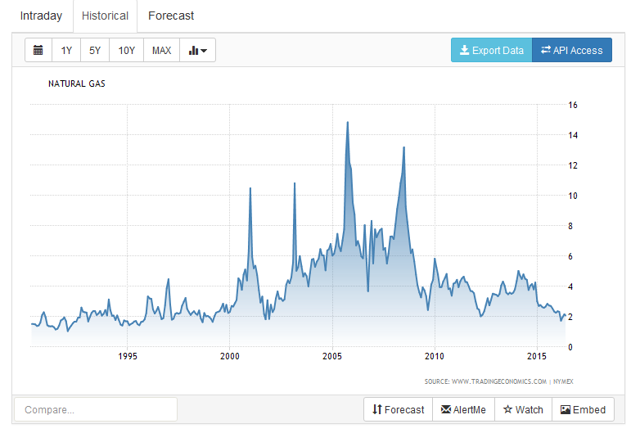 Click to enlarge
Recent Strategic Moves
The company has been on a 4-year journey of increased investment and expansion that will finally conclude this year.
They have invested heavily in new ammonia and urea plants that the company expects will be finished in mid-2016 and producing and contributing positively to the bottom line by the end of the year.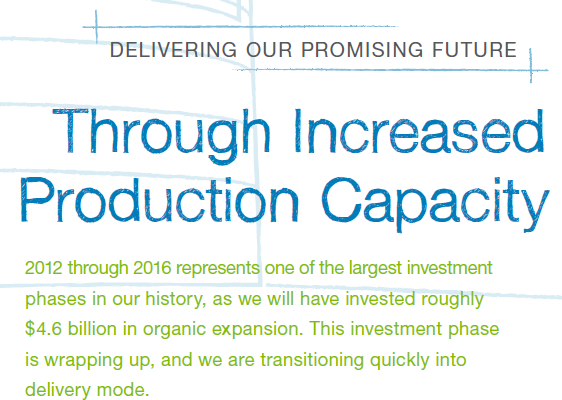 When the dust settles these investments of 4.6b over 4 years will increase the company's production by over 25 percent while also allowing them to keep their costs low with efficiencies naturally gained from brand new and more modern infrastructure.
As an investor it appears to be a great time to start a position in CF as you will be able to reap the benefits of this increased production without having to languish through a company in transition, something only the most patient investors can manage to do without another opportunity knocking.
Impact of weather
Blaming the weather for poor business results in generally considered a cop out except for a few industries such as apparel companies solely focused on coats or maybe a theme park operator without a diverse portfolio.
While this is something the investor has no control over, it is something they should be aware of when investing in CF Industries.
From the 2009 annual report the company remarks about how weather was not cooperating to help bail them out of a less than ideal operating environment: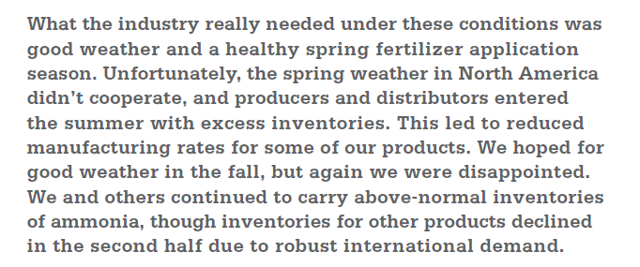 Click to enlarge
Recent Quarterly Results
The most recent quarter for CF industries was an ugly one. Revenue was slightly up but gross margins were way, way down and that negatively affected everything below it in the income statement including net income.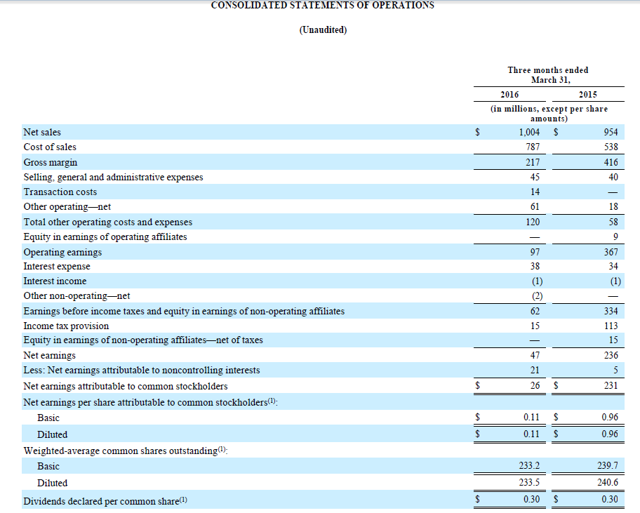 Click to enlarge
A 48% gross margin drop in a quarter would send off alarm bells in some industries, say consumer packaged goods, but for a company like CF industries this is part of the wild fluctuations that can happen when your primary input and end products are all commodities and can fluctuate in price.
The company blamed the majority of the decrease on lower average selling prices for their products like ammonia, UAN, granular urea, nitrogen fertilizer. Other small contributors were losses on natural gas derivatives and the impact of their CF Fertilizers UK acquisition.
The good news is that the company's Donaldsonville, Louisiana complex has come online and started to contribute volume which helped drive the top line growth.
Annual Results
Looking back a few years at year over year results yields a few interesting observations.
Sales have fallen dramatically the past 5 years from a high of just over 6 billion in 2011-2012 to around 4.3 billion in 2015. The reason for this has been to the company divesting some of its operations and becoming a more focused company. For example, in 2014 they completed the sale of their phosphate business.
You can tell this has not totally destroyed the value of the company because the share count has fallen by almost a 100 million shares.
EPS has bounced around a lot and is depressed greatly for 2015.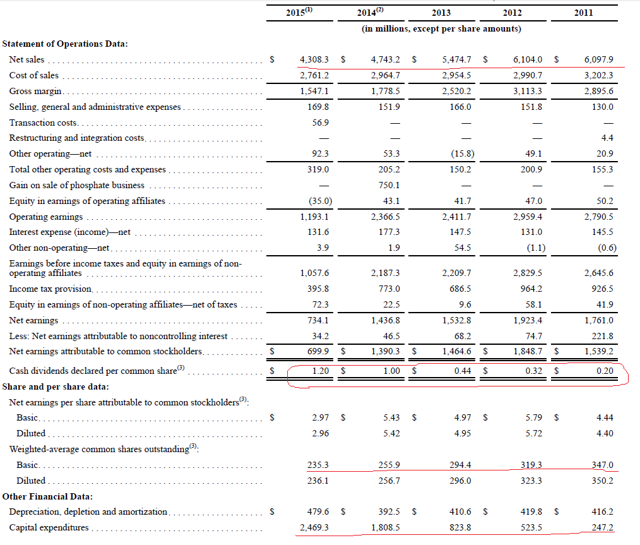 Click to enlarge
A second contributor is the steady downtrend in pricing the last 4-5 years for some of their main products. The below chart shows Urea prices, a important nitrogen based fertilizer, over the past 25 years.

Click to enlarge
Going back to the yearly income statements, it is encouraging that the company has increased the dividend from $.20 to $1.20 the past 5 years. This is either a sign that management is bullish on the company or brash foolishness.
Another thing I highlighted above is that massive increase in capex. Some analysts point out the company's weak free cash flows but that can be attributed primarily to that statistic right there.
As I remarked about above many of these projects are done or nearing completion and shareholders will begin to reap the benefits.
Valuation
CF Industries is a tough stock to get my head around because ultimately it is heavily influenced by prices of their end products and of natural gas.
While predictions and reasoning for the future movements of these items abound, as far as I am concerned there is simply no way to know.
What I do know is that based of this year's earnings the stock trades at 12.5 times. If you use trailing earnings the stock looks insanely cheap but that is because those earnings were substantially higher than what is expected this year although 2015 was also substantially below the previous years as you saw above.
So goes the cycle. A comforting fact is that the stock price has indeed reacted to the recent trough in earnings making it hard to see this stock as a value trap.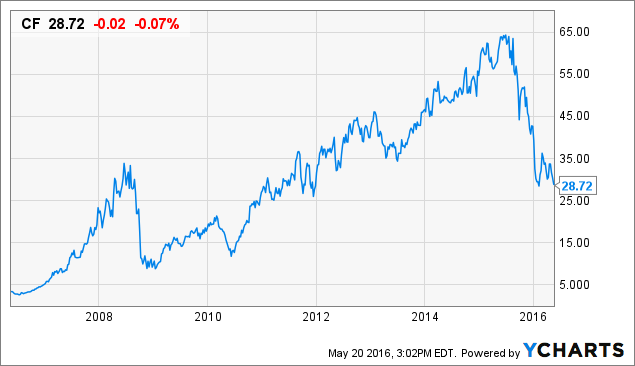 Ultimately, I think CF Industries is a buy here, but only if you are able to ignore the amplified fluctuations of a commodity-based stock. For those who were able to in the past, they have made a lot of money. CF has returned 1700%+ since its IPO, but it has certainly been a wild ride.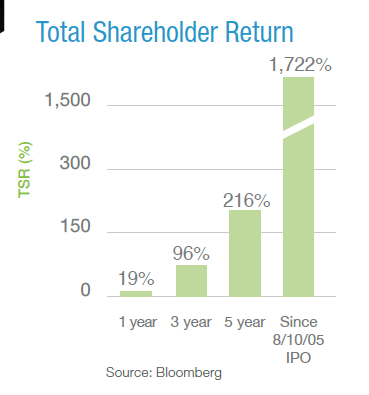 Conclusion
I think CF Industries is a compelling buy here buy only for the most patient and iron-stomached investors.
The company is increasing production and has historically had a great but volatile return, yet risks from the fluctuating nature of both end product prices and cost prices make this stock the opposite of a steady eddy.
Disclosure: I/we have no positions in any stocks mentioned, and no plans to initiate any positions within the next 72 hours.
I wrote this article myself, and it expresses my own opinions. I am not receiving compensation for it (other than from Seeking Alpha). I have no business relationship with any company whose stock is mentioned in this article.