Travelers (NYSE:TRV) appears reasonable value in the context of property/casualty insurers after a bad 2011, and appears a relatively attractive name in the sector for 2012, particularly given some yield and buyback support.
Background TRV is a multi-product, global insurer trading below book value (0.94x) and paying out a 2.8% dividend.
Recent History Travelers did buybacks equivalent to 12% of market cap last year, and have authorization to do more in future years, though they have indicated this will be linked to earnings growth rather than a fait accompli. EPS in fiscal 2011 was about half its 2010 level driven by catastrophe losses, and looking at past years, 2012 is likely to herald earnings growth if reversion to the mean occurs. Travelers currently trades at 17.5x earnings, which is in line with peers.
2011 - A Bad Year For Catastrophes, 2012 May Be Better As can be seen from the chart below, 2011 was a bad year for catastrophes. These costs roughly halved TRV's earnings. If 2012 is more normal, then TRV should see good earnings growth, and indications are already favorable based on good pricing power.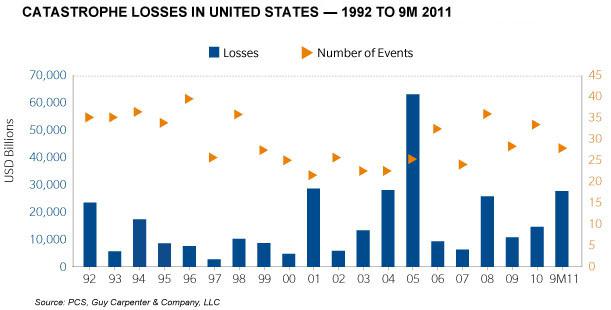 Source: http://www.reinsuranceguru.com/
TRV - Historic Price/Book This is based on the book value from the end of prior fiscal year. This suggests approximately 8% upside to a average valuation.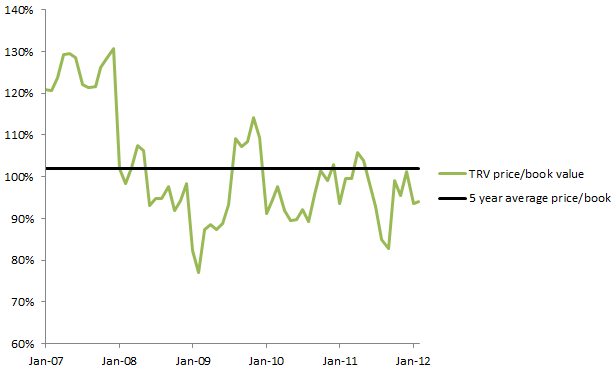 Comparable Companies TRV is larger than many of its peers, and appears expensive on a p/e basis relative to American Financial Group (NYSE:AFG) and CNA Financial Corp (NYSE:CNA). However, both these peers did not experience major earnings declines in 2011, and assuming TRV delivers more normalized earnings in 2012, it could appear cheap relative to peers.

Risks Aside from the obvious catastrophe risks inherent in insurance, insurers generally own significant bonds to meet future payout needs. I am concerned, as I have written before, that government bonds are too expensive right now,and this could be bad for insurers to the extent that their business model causes them to be overweight the asset class.
Conclusion TRV could see a strong earnings rebound in 2012, which together with a reasonable dividend and buybacks, could support the stock. Currently, TRV is at a discount to its historic book multiple by about 8%. Ideally, I would like a greater margin of safety before investing in the stock, and I would consider a purchase in the low $50s vs. $59.
Disclosure: I have no positions in any stocks mentioned, and no plans to initiate any positions within the next 72 hours.