The news flow in the consumer drone market has been rather uninspiring lately. While GoPro (NASDAQ:GPRO) just announced the delay of the widely expected Karma, Parrot (OTCPK:PAOTF), a leading drone maker, cast a shadow over the short-term industry outlook.
In Q1, Paris-based Parrot reported drone revenue down 46% year-on-year on an adjusted basis to only EUR18.7m ($20.8m). While Parrot blamed part of this decline on its distribution strategy overhaul and willingness to reduce retailers' inventories ahead of the launch of new products later this year, it also made it clear during its conference call that market conditions have deteriorated in recent months. Specifically, the company commented that intense competition is leading to strong pricing pressures, notably from 3D Robotics and DJI (Private:DJI).
In light of Xiaomi's (Private:XI) announced foray into the consumer market with a drone priced 20% below DJI's comparable product, our guess is that these pressures are unlikely to ease soon.
3D Robotics' decision to move away from the consumer market and to focus on commercial drones in a major restructuring is another illustration of the woes the industry is experiencing. Sadly, these woes are reminiscent of those in the action camera business (longer-than-expected upgrade cycles, difficulty to attract other consumers than the tech and action sports enthusiasts) and suggest that drones could be a less buoyant revenue and earnings driver for GoPro than initially expected.
That being said, we believe that the Street currently ascribes little value to GoPro's drone business. Indeed, a reverse DCF (see table below) shows that GoPro's core action cameras business is worth $8.2 in a conservative scenario (5% long-term revenue growth - 15-20% growth in the refresh years, 5-10% declines in the non-refresh years - and high single digit operating margins), suggesting the drone business is valued at $1.5.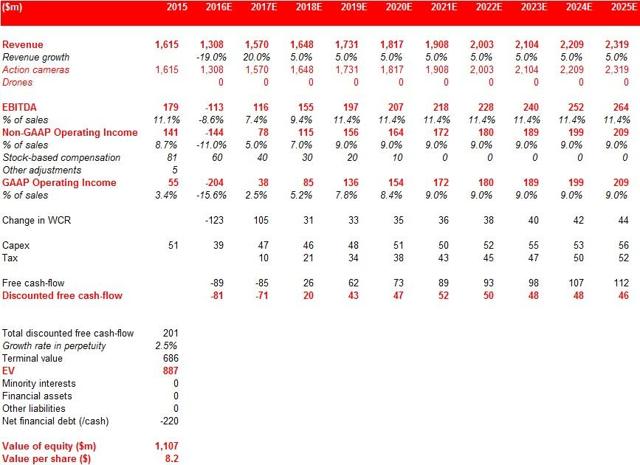 Click to enlarge
Source: AtonRâ
Even if the outlook for consumer drones has deteriorated as commented above, we believe that Karma could be worth around $4 per share, leading to a $12.3 valuation for GoPro (see table below). To get to this valuation, we assumed 500k shipments in 2017 at an estimated $500 ASP, leading to less than $300m in revenue for the new business in its first full year, and a 20% CAGR in following years. We believe our top line assumptions are reasonable as they point to $1b revenue by 2025, in-line with DJI's revenue… for 2015.
On the profitability side, while we acknowledge that the drone business could be margin dilutive in early stages due to marketing efforts, we suspect it will be at least in-line with action cameras in a near future. In the long run, the growing size of the business could allow GoPro to better leverage its fixed costs and to report margins in the low teens.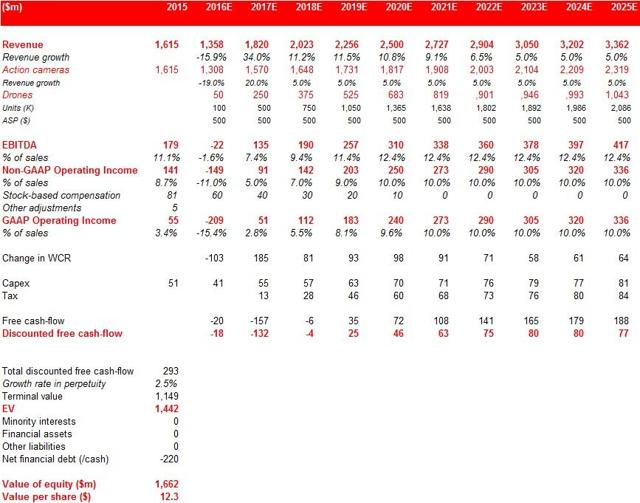 Click to enlarge
Source: AtonRâ
In conclusion, the risk / reward on GoPro (22% upside, 19% downside) remains slightly positive. That said, the stock is not a screaming Buy as we lack details about the upcoming Hero 5 line and Karma drone (specs, prices) to gauge their ability to spark consumer upgrade activity and quickly gain share at the expense of Asian drone makers. For now, GoPro remains on our watch list.
Disclosure: I/we have no positions in any stocks mentioned, and no plans to initiate any positions within the next 72 hours.
I wrote this article myself, and it expresses my own opinions. I am not receiving compensation for it (other than from Seeking Alpha). I have no business relationship with any company whose stock is mentioned in this article.
Editor's Note: This article discusses one or more securities that do not trade on a major U.S. exchange. Please be aware of the risks associated with these stocks.