Prologue
It was ten months ago, when I named my original A-Team - a group of 5 high-yield dividend stocks investors should stick with for the long run.
The original group consisted of the following five stocks: Ares Capital Corporation (ARCC), Apollo Commercial Real Estate Finance (ARI), Gladstone Investment (GAIN), Main Street Capital (MAIN) and Starwood Property Trust (STWD). Back then, in July 2015, I also took advantage of the opportunity to nominate Prospect Capital (PSEC) as "the sixth element"; a top candidate to enter my A-Team - and it recently did.
PSEC, together with additional four new names - Hercules Technology Growth Capital (HTGC), Ladder Capital (LADR), Newtek Business Services (NEWT) and New Residential Investment (NRZ) - are now part of my current ten-members A-Team that, for itself, has turned from being a "Fab Five" into a "Top Ten."
Following the end of Q1, I've started a series of articles that break my A-Team into pieces. Each article is focusing on a different company that is part of my A-Team.
In order to know or be reminded what is the criteria to make it into my A-Team and what were the closing prices at the end of Q1/2016 - please look at previous parts of this series of articles:
Part I of the series focuses on MAIN (Main Street Capital), the point-guard and nominated Captain of my A-Team (Golden) Warriors (Stephen Curry).
Part II of the series focuses on ARCC (Ares Capital Corporation), the power-forward of the team (Draymond Green).
Part III of the series focuses on STWD (Starwood Property Trust, Inc.), the small-forward of the team (Harrison Barnes).
Part IV of the series focuses on NRZ (New Residential Investment Corp.), the shooting-guard of the team (Klay Thompson).
Part V of the series focuses on ARI (Apollo Commercial Real Estate Finance, Inc.), the center of the team (Andrew Bogut).
Few Interim Observations Regarding The A-Team Coverage Thus Far
I. After reaching the halfway of my A-Team coverage last week, I allowed myself a short pause in order to emphasize the importance of RISK MANAGEMENT. I wish to repeat my ongoing mantras:
Hope for the best, prepare for the worst. Get your portfolio ready in case things don't work out the way you believe they will,
Protect your capital. All the time and at all costs, especially when the costs are cheap/reasonable. The odds of your house getting burnt down are very slim but if and when your house is on fire - it will be impossible to find a proper insurance policy.
A real SWAN ("Sleep Well At Night") is a matter of the macro (portfolio) and not of the micro (single positions). Put it differently, in order to sleep well at night, you need to be reminded of the SWAN status of your portfolio (as a whole) rather the SWAN rating that may be assigned to the single positions you hold within that portfolio.
II. Based on the number of page views that the A-Team articles received, ARCC (by far) is at the top - and that was true even before the significant deal that was announced at the beginning of this week. Buying American Capital (NASDAQ:ACAS), in a deal that also involves ARES and AGNC, is in my view a very positive deal for ARCC that should be immediately accretive to ARCC shareholders from each and every financial metrics. MAIN is ranked second, followed by NRZ, STWD and ARI.
I don't intend to cover the ARCC-ACAS deal in details myself - few authors have already done so - I recommend those interested in ARCC to read the following articles (under which I've left a few comments, in case you're interested):
"American Capital Shareholders Should Take Ares' Money And Run" by Terrier Investing.
"Ares Capital Offer To Buy American Capital: Good Enough?" by Nicholas Marshi.
III. As a matter of fact, the article that is featuring ARI isn't only ranked last but it received about 60% less page views than the article which is currently ranked 4th (NYSE:STWD). I must admit that this surprised me and to some extent disappoint me, not due to the low traffic but due to what is clearly lack of interest. I believe that the lack of interest is actually lack of knowledge, i.e. most SA readers never heard and/or don't understand how beneficial ARI can be for their portfolio! I'm not here to make a special case for ARI - they, i.e. the A-Team components, are all my sons and I love them all - but ARI is the less volatile out of the five and, therefore, it should be praised and adopted mostly by those looking for a nice-steady income with less volatility. Beats me.
IV. In spite of the Fed rate hiking extensive talks over the past week, the A-Team components have performed pretty well since the release of the FOMC April minutes on 5/18/2016: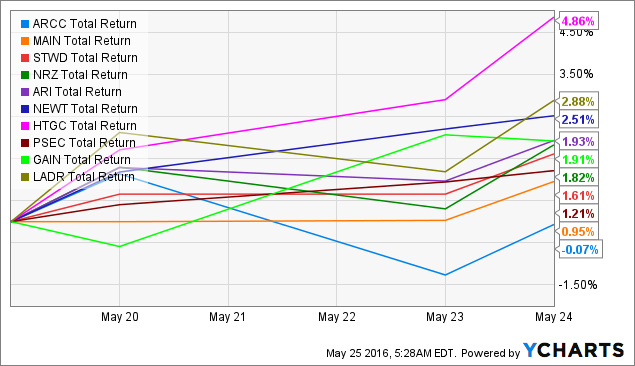 V. Risk management is the most crucial aspect of any portfolio, as I've stated above. So does the ability to distinguish between wishful thinking to cold analysis, to separate the wheat from the chaff. Professional authors, in SA as well as elsewhere, are human beings. As such, they have feelings, subjective views, opinions and biases. Sure, any professional tries very hard to separate the heart/emotions from the mind/facts but, at the end of the day, nobody is perfect and nobody is 100% neutral.
Therefore, no matter how convincing the writing seems to be and/or how knowledgeable the writer is - you should not take everything you read for granted and you should not follow anything you read automatically. Do your own diligence and always ask questions and express doubts. That applies to anyone and anything, including me and my very convincing articles of course (well, aside of the one about ARI...).
Bye-Bye Warriors (?), Welcome Onboard Thunders
Each of the first five stocks that I've already covered (out of my A-Team) has been "assigned" a player/position from the Golden State Warriors ("GSW"), the NBA Champions team. At the time of writing, the GSW are trailing 1-3 in their Western Conference NBA Final against the Oklahoma City Thunder ("OKC"). Personally, I wouldn't write a eulogy for the GSW as of yet. Stephen Curry & Co. are so skilled and experienced that it would be silly to call it off before it really is. It ain't over till it's over. Nevertheless, after writing about the experienced Warriors - MAIN, ARCC, STWD, NRZ and ARI - I see no better time to introduce the five Thunders (in an alphabetical order): GAIN, HTGC, LADR, NEWT, PSEC.
I'm not going to assign OKC's players/positions to these stocks and I'm not sure that I'm going to cover these stocks according to an alphabetical order but the first "Thunder" to be covered is GAIN. Not only that you can't lose with such a ticker (...) but when I choose the order of coverage, I also take into consideration two important factors: (1) How frequent has the stock I'm writing about has been recently covered in SA, and (2) is there a reason to believe that this stock is about to make a run up over the very short term, i.e. days or weeks. In other words, the order of my coverage (within the designated group) is influenced by both the general coverage as well as by the immediate opportunity that I see in the specific name.
GAIN looks to me as if it's an Formula 1 racing car at the grid, just before the race starts. The driver is pressing the fuel pedal all the way down while the handbrake is still up, smoke gets out of the rear exhausts and within few seconds, the car will be driving at over 200 MPH.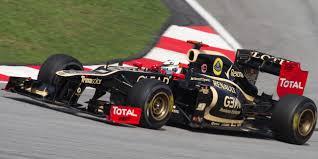 The image I've decided to use is an F-1 car sponsored by Total (NYSE:TOT). There are few good reasons for picking a Total car:
1. As oil prices are getting close to $50, it's a good opportunity to remind you all that aside of my A-Team, there are other sectors that I'm bullish about, including energy. I already made a call to "Fuel Up Your Portfolio With Blue-Chip Energy Stocks" a couple of months ago. Not only that GAIN reminds me of a F-1 car but it also reminds me that "It's Time To Energize Both Your Portfolio And Your Energy Sector Exposure," not only with energy stocks but also with GAIN!
2. On the other hand, it's worthwhile mentioning that GAIN has very little exposure to the E&P sector, and as such, the price compression that we witnessed as of late has nothing to do with low oil prices.
3. It's a good opportunity to remind you all that while BDCs, (equity and mortgage) REITs and energy may be my top (sector) picks - you should do your own DD and find the picks that are most suitable for you, from both risk and reward perspectives.
Keeping Glad with Gladstone
GAIN is part of the Gladstone group of companies that includes: Gladstone Capital Corporation (NASDAQ:GLAD), Gladstone Commercial Corporation (NASDAQ:GOOD), Gladstone Land Corp. (NASDAQ:LAND) and Gladstone Investment Corporation (NASDAQ:GAIN). It's not that hard to find some negativity about this group and even a bit of hostility towards David Gladstone, the chairman and CEO of all the Gladstone group of companies, as well as Gladstone Management that manages all these companies.
In his article dated 3/30/2016, Brad Thomas refers to GOOD as "A Sucker Yield" and he also writes the following:
The external management team at Gladstone Management includes a team of experienced employees, but there appears to be conflicts of interest in the duties, responsibilities and compensation associated with the various entities.
I have no problem with these descriptions and as a matter of fact, if and when there are conflict of interests, I'd rather be where these conflicts work in my favor and vice versa. It's kind of reminding me of Russia and Russian assets. Do I like President Putin as a person? No. Would I choose to be his best friend? Probably not. Do I like (as a human being) how he runs and controls his country? Definitely not! Nevertheless, (as an investor) can I take advantage out of his conduct and make money out of the companies that he mostly cares about and, therefore, protects? Definitely YES!
Similarly, I have nothing good (or bad) to say about David Gladstone as a person and I don't have positions in GOOD or LAND. I do, however, have positions in both GAIN and GLAD - and I'm very glad with these positions!
You may say whatever you want about Gladstone - the man and/or the group - but one thing can't be taken away from them: Boy, they do know how to pick the best tickers a company may ask for!...

GAIN: Company Profile and Focus Areas
Gladstone Investment Corporation is part of the Gladstone group. The group, with approximately $1.9 billion invested, is mostly engaged in the following activities: private equity, debt financing and real estate ownership and financing.
GAIN is a BDC that does things a bit differently than traditional BDCs. First and foremost, the company takes large equity stakes in the companies that it invests into. That means that GAIN is becoming a leading or even controller partner in these companies. Unlike a loan that generates a stream of income (out of interest and principal payments), such equity stakes don't generate income. Instead, GAIN counts on its ability to improve and enhance the business they buy into and then sell it for a nice profit. GAIN aims at allocating about 25% to its equity-related securities.
Although the equity investments are a major part of GAIN activity, currently circa 30%, the company still counts mostly on debt financing activities. GAIN aims at allocating about 75% to its debt-related securities.
While equity investments are supposed to provide capital gains (through "exits"), the debt financing investments provide a stream of current income. That is what allows the company to offer a relatively high dividend yield. Nonetheless, while most traditional (debt-focused) BDCs pay quarterly dividends, GAIN pays monthly
The company usually puts a sum between $5M to $30M into its investments, debt and equity alike. Sometimes, the company makes subsequent investments, as it deems suitable/necessary. Obviously, upon a sale of an investment (an "exit") the company may receive a much higher proceeds, as just happened last month.
Portfolio
Portfolio composition overview as of 31 March 2016: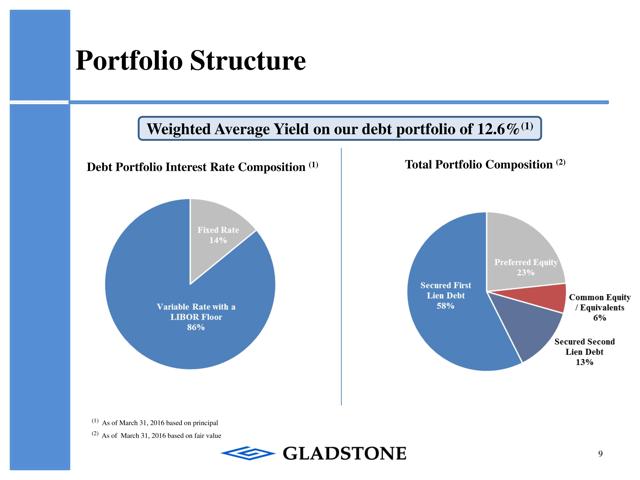 Click to enlarge
As always, I'm very minded to the company's readiness to deal with higher interest rates. In its recent ER press release, GAIN management reported that 86% of its loans are linked to variable interest rates with a floor/minimum and only 14% of its loan book assets carry fixed interest rates. Although this is not a formal requirement in order to be part of my A-Team, once again we are dealing with a company that is well prepared for higher interest rates, similar to all A-Team components that I've covered thus far.
GAIN's Main Strengths and Most Compelling Features
Being part of a multi-activity group. Gladstone is no Blackstone (NYSE:BX) but the fact that GAIN has three affiliate companies that are operating in three different arenas is always a plus. GOOD is a REIT that owns net leased industrial, commercial and retail property and selectively makes long-term industrial and commercial mortgage loans. GLAD is a BDC that also invests in small and medium-sized private businesses in the US, historically as a debt fund. LAND is a REIT that invests in farmland located in major agricultural markets in the US. There is no doubt that such a structure usually allows the sum to be bigger than its parts.
Dividend consistency and frequency. The company has increased its monthly distributions more than 29% over the past 5 years. GAIN has paid 130 consecutive monthly distributions since its inception in 2005. The truth needs to be told: GAIN did cut its distribution in 2009 following the sub-prime crisis but it never stopped paying its monthly distributions and the dividend yield has been "adjusted" to share price:

As you clearly see: (1) The dividend is on the rise since 2010, (2) The share price isn't keeping up with the pace of the (increased) dividend, and (3) We aren't that far away anymore from the "happy days" of 2008 with its record-high distribution.

The high and increasing monthly distributions have brought the annual dividend yield to ~11%, a very tempting level especially for a company like GAIN that counts on capital gains ("exits") almost as much as it counts on income that its portfolio is generating.

Capital gains upside. Putting it differently: GAIN goes after the gain, not just after the income. That makes GAIN a unique species amongst its fellow-BDCs. While BDCs typically count on the stream of income that is being generated by the companies they lent money to, GAIN is a small private equity shop that is looking to make (and count on) "exits" that will generate substantial gain and cash flow. As a matter of fact, as of 31 March 2016, 29% of GAIN's investments at cost are invested in equity. Such investments do not generally contribute to the company's monthly income/distributions, but instead provide for potential realized capital gains. Taking a look at few of GAIN's recent exits, it's clear that this is a very nice niche that the company is operating within:

Click to enlarge

It's important to understand that unlike the average BDC or REIT for that matter, where investors are looking for the Net Interest Income ("NII") to cover the dividend payouts, in GAIN's case the NII may not cover the dividend and yet the company may outperform substantially... as just happened in Q1/2016 (Please continue reading...).
NII and dividend coverage vs. NAV and net assets from operations. How many BDCs or REITs are you familiar with that managed to increase their NAV by, sit tight, over 6.5%? I'm familiar with one. Guess who?... So - yes, GAIN FQ4 NII of $0.16 did "miss" by $0.03 while the total investment income was in line... BUT - no. That wasn't a disappointment and that didn't prevent GAIN from posting a huge jump in NAV (from $8.66 at 12/31/2015) to $9.22 as of 3/31/16. Furthermore, the net increase in net assets from operations was $22.62M (versus a decrease of $6.2M in the previous quarter). No surprise then that the company has decided to maintain its $0.625 monthly distribution.
The past quarter wasn't a one-off. One of the reasons that I'm so immediately bullish about GAIN is that the past quarter results, mainly the big jump in the NAV, does seem to be the beginning of real change. Subsequent to 31 March 2016, the company reported another substantial exit. GAIN got out of its investment in Acme yielding $44.6M of net cash proceeds, which included debt repayments at par of $14.5M and ~$21M of realized gains and other income.
Outrageous discount to the NAV. The share price of GAIN, currently $6.86, compared to the 3/31/16 NAV of $9.22, represents a discount of 26%. The sector average discount to NAV is only about half of that and the only reason I can find to partially "justify" it is that the data hasn't been updated to reflect the most recent jump of the NAV... In a more serious tone, GAIN is probably suffering from its "private equity" status, i.e. investors are looking for a wider margin of safety due to GAIN strategy. GAIN may also suffer from the possibly negative approach towards the Gladstone group. But then again, why has GAIN significantly outperformed the other Gladstone group entities since through 2/11/2016?...
Honestly, I don't find a good reason and this is exactly why I feel and believe that GAIN is about to gain much, soon enough.
Conservative balance sheet with low leverage. Some people may claim that PSEC is the BDC that is most closely operating the same strategy as GAIN. PSEC is currently trading at 21% discount to NAV, and with all due respect (and I do have respect to its future), PSEC is carrying way more risks, doubts and bad (management and share) experience than GAIN. If PSEC is the benchmark for GAIN pricing - I'm certain that GAIN should trade much higher. Furthermore, GAIN is running an operation that is less risky than PSEC. During the last quarter, GAIN's weighted average leverage was less than 50% of investment assets, i.e. less than $1 debt for every $2 of investment assets. That's solid and way lower than PSEC!
The expected lack of (micro) diversification is actually a (macro) plus. although, I must admit, that GAIN's balance sheet is far less diversified than PSEC. As far as I am concerned, this is quite natural for a company that is looking to make "exits." In a PE type of activity, you are expected to invest in far less companies than in a capacity of a lender. Obviously, if I'm investing in an equity of a company, I'm taking more risk, and therefore, my DD process is supposed to take more time than if I'm "just" giving the entity a loan. Naturally, such a strategy ends up with more concentration and less diversification. Nonetheless, the company does investments in multiple companies, states and industries:

Click to enlarge
Bullish technical indicators. (1) Short interest close to the lowest levels of the past year. (2) The share price is only 7% above its 52-week low and 17% below its 52-week high. (3) Insiders only buy and never sell. (4) Breaking the $7-7.10 resistance may lead to a quick run to (at least) $7.5. (5) Average target price: $8.25. That's an over 20% upside to the current share price. (6) P/E 8.45. Super low attractive!
GAIN from a Trading Perspective
From various aspects, GAIN is a small reflection of ARI: Less known/covered, consistently growing dividend and mostly - less volatile than it seems. Of course, when we look at the drop from $8.25 (7/20/2015) to $6.40 (2/11/2016) it looks scary but: (1) This is 22.5%. Not pleasant at all, not terrible though. (2) It was in line with the BDC sector as a whole. Nothing special here. (3) With the exception of a few days during February 2012, those were the high and the low of the past 5.5 years, i.e. the last year data is a bit misleading. If anything, the last year data tells you that GAIN is trading at a bargain price, especially when you look at its price graph post the sub-prime crisis.
Unlike ARI, and in spite of GAIN's way more than sufficient 11% dividend yield, I buy GAIN for both the distributions as well as (what I expect) to be a solid price appreciation. As you may well understand, I expect the price appreciation to start pretty soon. I see no reason for GAIN's share price to remain sub $7 and I believe that following the next quarter results - I expect a positive ER - we may be closer to $8 than to $7. A bold prediction but I stand behind it.
GAIN Investment Recommendation
Share price
Rating
>9.5
Strong SELL
8.5 - 9.5
SELL
7.5 - 8.5
HOLD
6.5 - 7.5
BUY
<6.5
Strong BUY
As far as I'm concerned, GAIN is an easy BUY. If not for its relatively narrow trading range, it could have easily fallen into a STRONG BUY category. Nonetheless, since the share price did fall below $6.5 during September 2011, i.e. more than once, I'll define those (sub $6.5) rare opportunities as the appropriate STRONG BUY area for this name. Let's not forget that with all due respect, GAIN is a small cap, and therefore, should be traded with a wider margin of safety compared to the five Warriors that I've already covered in this series.
Epilogue
Thunder is sound caused by lightning. Depending on the distance and nature of the lightning, thunder can range from a sharp, loud crack to a long, low rumble.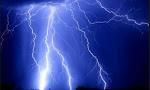 As my first "Thunder," I believe that Gladstone Investment Corporation is a relatively "friendly" thunder; not too noisy, not too volatile and not "disturbing," i.e. cracking down, for too long.
I see no reason for this well-managed, operating in a unique way, company to trade that low with both the fundamentals as well as with the potential that it presents. Obviously, anyone who is looking for a traditional BDC that solely/mostly lives out of its income stream and doesn't wish to take equity stakes - GAIN is probably not the right pick. As far as I'm concerned, the "extra mile" that GAIN is trying to walk through is a plus not a minus. It reduces the diversification on the micro (number of single positions) level but increase the diversification (and attractiveness) on the macro (type of activities) level.
I wouldn't go that far as saying that everything is colored with pink but GAIN definitely seems to be starting a new phase of growth. A new phase that may finally see its share price catching up with the pace that its dividend distribution has grown over the past five years.
Let's face it: With a ticker like GAIN, it's hard to lose...
Disclosure: I am/we are long ARCC, ARI, PSEC, HTGC, GAIN, MAIN, STWD, LADR, NEWT, NRZ, BX.
I wrote this article myself, and it expresses my own opinions. I am not receiving compensation for it (other than from Seeking Alpha). I have no business relationship with any company whose stock is mentioned in this article.