Switzerland, the centre of the independent gold refining industry, which is usually a key source of gold for China and India, has just published its latest figures for gold imports and exports for the month of April, and the figures are interesting to the extreme. Published below is the latest export figure chart from Nick Laird's Sharelynx service, as published by Ed Steer in his latest daily newsletter.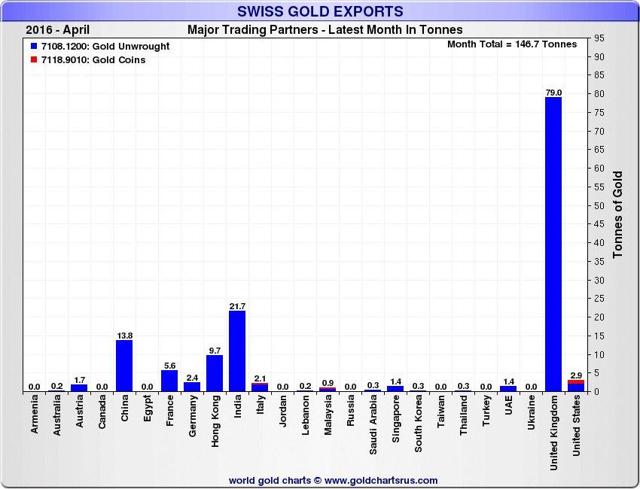 Click to enlarge
What is hugely interesting in the export figures is the huge volume exported to the U.K. Switzerland normally receives more of its imported gold from the U.K. for re-refining LBMA good delivery gold bars into the much smaller sizes in demand in the Asian markets, than it exports back. In April it only imported 3.6 tonnes from the U.K. while returning 79 tonnes - a net 75.4 tonnes of exported gold. This follows on from March when a net 41.8 tonnes were exported to the UK.
Now it's easy to understand why the U.K. may have needed this gold given the massive rise in the holdings of SPDR gold shares (NYSEARCA:GLD) so far this year - it has added over 220 tonnes year to date - given that although the GLD trading market is in North America, its actual gold is stored in London. But what it does not explain is why London needed to import the gold from Switzerland rather than sourcing it out of available vaulted gold in the U.K.'s capital.
There has been some very interesting data published recently by analyst Paul Mylchreest of the London brokerage arm of major U.S. conglomerate Archer Daniels Midland (NYSE:ADM). See: "The Death Of The Gold Market" - Why One Analyst Thinks A Run On London Gold Vaults Is Imminent. This calculated that the amount of unallocated gold in London's gold vaults could even be in deficit. The latest Swiss gold export figures suggest that this could indeed be the case and London has been struggling to source unallocated gold sufficient to meet physical demand!
The other take-away from the Swiss gold export figures is that it again exported more gold to the Chinese mainland (13.8 tonnes) than to Hong Kong (9.7 tonnes). Switzerland is a key source of Chinese gold imports, either direct or via Hong Kong and these figures confirm that Hong Kong's own export figures can no longer be seen as a proxy for mainland China imports. Import restrictions for gold into mainland China were substantially reduced two years ago and since then an increasing amount of gold has been exported directly to the mainland. However we have to rely on statistics from the exporting nations, like Switzerland, to estimate the overall totals, as the Chinese government does not report the statistics for direct imports.
The figures do corroborate also that the reports of weak Asian demand as represented by exports to China and India appear to be accurate with the tonnages at the lower end of the normal Swiss export data to these two main consumers of physical gold. Indeed if it had not been for the huge demand shown by the major gold ETFs, the total physical gold demand figures for the current year would be heavily down on a year ago when Asian demand was very high and the gold ETFs were liquidating physical metal.
Disclosure: I/we have no positions in any stocks mentioned, and no plans to initiate any positions within the next 72 hours.
I wrote this article myself, and it expresses my own opinions. I am not receiving compensation for it (other than from Seeking Alpha). I have no business relationship with any company whose stock is mentioned in this article.