Utility stocks have a lot to offer investors. They are commonly referred to as "widow-and-orphan" stocks, because they provide steady earnings, backed by extremely stable business models. After all, everyone needs to keep the lights on, even when the economy goes into a downturn. Electricity is a necessity of modern society, and as a result, utilities generate highly predictable earnings with modest growth each year. With their profits, they return a lot of cash to investors through high dividend yields. The utility sector is widely a source of above-average yields, which makes utility stocks attractive for income investors. This is particularly true for investors with a shorter investing time horizon who desire income from their portfolio holdings, such as retirees.
Because of this, I was bullish on utilities heading into 2016. On January 6, I wrote favorably about Consolidated Edison (NYSE:ED), which I called my favorite utility of 2016. Since that article, the stock has returned 12% in share price appreciation and dividends. More broadly, the utility sector has been a notable outperformer so far this year. The Utilities Select SPDR ETF (NYSEARCA:XLU) is up 12% year-to-date. Utilities have had a great run so far this year, but for investors who haven't yet bought, now is not the time. After a significant rally and a difficult period up ahead, wait for a better buying opportunity before jumping in.
Things Have Changed for Utilities
The bull case at the beginning of the year was based largely on two key factors. One, utilities were cheap, with price-to-earnings ratios in the low-to-mid teens. This was a significant discount to their historical averages as well as to the S&P 500. In addition, interest rates remained low. But recently, things have changed. After the rally, utility stocks are now fairly valued, with multiples that are on par with the S&P 500. This is important to note. It is critical for investors not to overpay for utility stocks. Utilities don't deserve a market multiple because their earnings growth is typically lower than the S&P 500. Investors should only expect utility stocks to grow earnings per share each year in the low single-digit range. Second, interest rates are poised to go higher. The Federal Reserve is likely to increase interest rates again this year, and perhaps twice by the time the year is over.
This matters for utilities because higher interest rates will raise their cost of capital. To finance their assets, utilities turn to the debt markets. When interest rates go up, it will be more difficult to raise debt at attractive rates. The historically low rate environment over the past few years was a great time for rate-sensitive companies such as REITs and utilities, but the opposite will be true as well. Higher interest expense will reduce earnings for companies like ConEd and Duke Energy (NYSE:DUK).
If their earnings slow down, it will be difficult to justify their current valuations, and earnings are already starting to decline. For example, ConEd's earnings per share declined 5% last quarter. Duke Energy's earnings per share fell 9% last quarter. A major driver of this was a 26% year over year increase in interest expense. This is problematic because utilities are now looking expensive. ConEd and Duke Energy shares trade for price-to-earnings ratios of 19 and 20, respectively. The S&P 500 itself trades for about 20 times earnings. Utility stocks such as these two are sporting lofty valuations when compared to their previous multiples over the past year.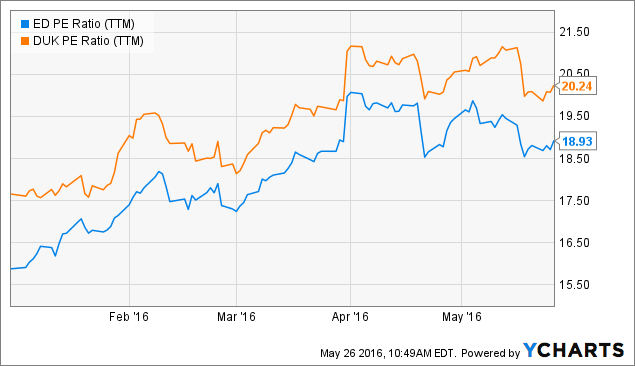 When valuation multiples and share prices increase, a side effect is that dividend yields go down. This is because stock prices and dividend yields are inversely related. After the rally to start 2016, utility dividend yields are low; ConEd and Duke Energy yield 3.7% and 4.3%, respectively. These are still attractive on the surface, but those dividend yields were much higher at the beginning of the year. ConEd was a 4.2% dividend yield when I recommended it back in January. Yields are far too low across the utility sector. XLU offers just a 3.3% yield today. It's not too hard to find 3.3% yields from a variety of stocks in other sectors that are not as highly exposed to rising interest rates, with more attractive valuations as well. Investors should demand at least a 4% yield, or 5% better yet, from utility stocks.
Not a Sell Call, But Wait to Buy
I am not advising investors to sell their utility stocks. As above-average dividend payers, utilities still have a valuable place in a retirees' portfolio. Well-run utilities like ConEd and Duke Energy help to lower a portfolio's volatility and increase its dividend income. However, what I am saying is that these stocks should not be bought right now. For investors with some cash on the sidelines looking to generate income, I would recommend staying away from utilities for the time being. Let the utility sector come down, which seems increasingly likely as we get closer to the Fed's next interest rate decision. If the central bank raises rates again, we will likely see rate-sensitive sectors like utilities sell off toward the back half of the year. Wait for a better buying opportunity and at least a 10% retracement before adding to utility holdings.
Disclaimer: This article represents the opinion of the author, who is not a licensed financial advisor. This article is intended for informational and educational purposes only, and should not be construed as investment advice to any particular individual. Readers should perform their own due diligence before making any investment decisions.
Disclosure: I/we have no positions in any stocks mentioned, and no plans to initiate any positions within the next 72 hours.
I wrote this article myself, and it expresses my own opinions. I am not receiving compensation for it (other than from Seeking Alpha). I have no business relationship with any company whose stock is mentioned in this article.