Even as Microsoft (NASDAQ:MSFT) sheds the last vestiges of its failed Nokia experiment, it prepares for a new mobile future. This is a future that leaves the commodity PC model behind and embraces what has already proven to work for Microsoft in its excellent Surface devices. Microsoft's smartphone future is the Surface Phone.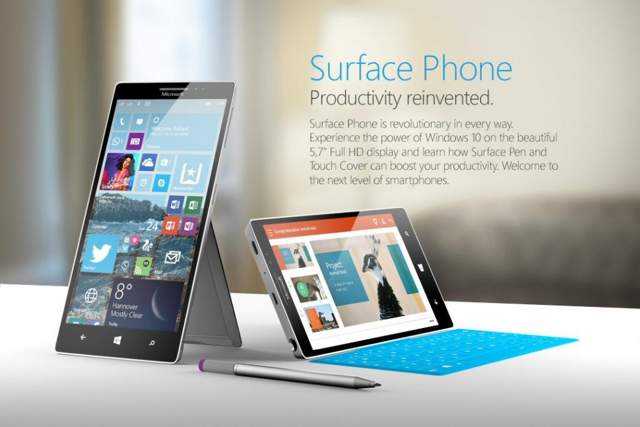 Click to enlarge
Source: PC Tablet
Intelligent Choices
Perhaps the most intelligent thing the very intelligent Satya Nadella has done as CEO has been to stop beating the dead Nokia horse. The first step was to acknowledge that it really was dead, which was done last July in Microsoft's $7.6 write-down of the Nokia assets. The announcement of the sale of the feature phone business to a subsidiary of Foxconn (OTC:FXCOF) is another nail in the coffin of the Nokia experiment.
A week after the sale was announced, Microsoft followed up with another round of layoffs, mostly at Microsoft Mobile Oy in Finland, also acquired as part of the Nokia deal. It's estimated that of the 25,000 Nokia employees the company gained from the deal, 21,650 will have been laid off by mid-2017.
Microsoft's smartphone effort was already looking pretty emaciated, and the latest round of "streamlining" smacks of the anorexic who has decided it would be best to stop eating altogether. And I've read plenty of comments to the effect that the company should just give up on smartphones.
I disagree. I don't think Microsoft can afford to give up on smartphones, but this needs to be understood in the larger context of where mobile computing is going. The boundary between the smartphone and other mobile computing devices is becoming increasingly fuzzy. Consumers are being presented with an almost continuous spectrum of screen sizes, from wearables to large tablets.
All of these form factors can offer cellular communication as well as Wifi, so the only thing that really distinguishes the smartphone is that it can offer traditional voice calling over older cellular infrastructure such as 3G. As voice and video calling apps such as Skype and Facetime become increasingly important, the purely voice calling function of the cell phone will become less important. Consumers will be able to choose the set of communications features and screen sizes that meet their needs, often as more than one device, including a wearable.
In this context, Microsoft has to bracket this spectrum and check the boxes for the principal form factors, including the wearable, the smartphone, the tablet, and the convertible. The company currently has products positioned in each of those categories.
R.I.P. Lumia
Of those products, the Lumia, is by far the weakest. A great example is the Lumia 950XL. Introduced late last year as a "flagship" device, it nevertheless offered only mediocre performance in an obsolete Qualcomm (NASDAQ:QCOM) SOC (the Snapdragon 810), with an uninspired, plastic-clad design.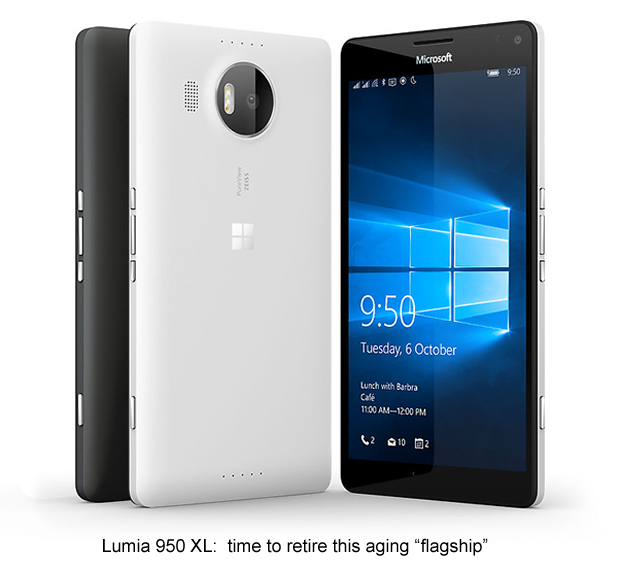 A reviewer for the Verge summed it up this way:
If you're someone that believes Windows Phone is dead, this is the casket you'd bury it in.
The failure of Lumia, and indeed of the whole Nokia experiment, involved the failure of Microsoft to apply the commodity PC model to smartphones. It's not that the commodity model hasn't worked for smartphones. It's simply that Alphabet's (GOOG GOOGL) Google has improved on it in Android. Google's advertising revenue gave it a way to support Android development without having to charge OEMs for the OS. Microsoft ended up having to give its principal OEM partner, Nokia (before the acquisition), Windows Phone for free.
That left device sales as the main revenue stream to support Windows Mobile after the Nokia acquisition, but the volume of device sales wasn't there, and the prices that Microsoft has tried to charge for Lumia devices weren't competitive. For instance, the initial price for the 950 XL was $650, and the Verge reviewer pointed out that the design simply couldn't support that price. The 950 XL simply wasn't in the same class as the Apple (NASDAQ:AAPL) iPhone 6s Plus or Samsung (OTC:SSNLF) Galaxy Note 5.
Difficult Transition
I've pointed out that Microsoft is in a sort of transition out of the PC commodity model, which has left it in an ambivalent relationship towards its OEMs. Theoretically, the company's relations with its PC OEM remains unchanged. But the advent of Microsoft's excellent Surface Pro and Surface Book devices must have strained the dynamic.
Microsoft is now competing with its OEMs, and it has the advantage of intimate knowledge of Windows that the OEMs do not. I have, on many occasions, tried to make the case that controlling the operating system design and hardware design is an advantage for Apple, especially in mobile devices.
The same case can be made for Microsoft with its Surface devices, and it's very much the reason why the devices have sold well. This isn't a commodity model, but it's a premium model that can lead to highly profitable device sales, even if unit volumes are lower.
I've argued that eventually, Microsoft may have to throw its OEMs "under the bus", or at least consign them to second-tier status. In smartphones, the problem is simpler. For all practical purposes, Microsoft doesn't have to worry about OEMs for Windows Mobile.
Intel Inside?
Surface provides the perfect model for how Microsoft should go about engineering a truly premium smartphone, which is perhaps why there are so many rumors about a "Surface Phone". Some of the visualizations of what a Surface Phone might look like are takes on the Surface Pro concept, as I show at the top of the article.
While I'm not convinced a keyboard the size of a phablet is such a good idea, a magnesium-bodied Surface phone would have the build quality that consumers expect in a premium smartphone.
The most pressing question for Surface Phone is what processor architecture to use. Microsoft's Continuum, which I think is a great feature, cries out for a powerful Intel (NASDAQ:INTC) processor. Currently, the ARM architecture of the Lumia's processor limits the utility of Continuum. The only apps that can run on the Lumia are Windows Store Universal Apps. That may not be such a disadvantage in the long run, but for now, it greatly limits what Continuum can offer.
Intel's discontinuance of its mobile Atom processors suggests it just doesn't have anything suitable for a Surface phone at the moment. Maybe in a couple more process generations, Intel will be able to shrink a Core M down to something that will fit into a smartphone, but in the meantime, Microsoft will be forced to stick with ARM architecture. I expect the next Microsoft "flagship" smartphone, whatever it's called, to sport a more worthy processor in the Qualcomm Snapdragon 820.
Investor Takeaway
I think a Surface Phone with a top-of-the-line processor, magnesium body, and Windows 10 Mobile can get Microsoft back in the game and start to grow market share for the brand. Most importantly, it can do so profitably.
It may take a while to move the revenue needle. This isn't going to be a high-volume device, but it will help bolster the company's overall efforts in mobile computing. Microsoft still faces headwinds in expanding its app ecosystem for the Windows Store, as well as competition from Apple and the host of Android devices.
Until we actually see a device, I hesitate to recommend Microsoft as a buy. Weighing against a buy recommendation is also the fact that it already has a fairly high valuation in terms of P/E (TTM), compared to its peers at 41.37. Microsoft remains a very confident hold, however.
Disclosure: I am/we are long AAPL.
I wrote this article myself, and it expresses my own opinions. I am not receiving compensation for it (other than from Seeking Alpha). I have no business relationship with any company whose stock is mentioned in this article.