So far this year, gold has turned out to be a great investment in the broader commodities space, so much so that it has got the attention of billionaire investor George Soros who has recently loaded up on Barrick Gold (NYSE:ABX), the world's leading bullion producer.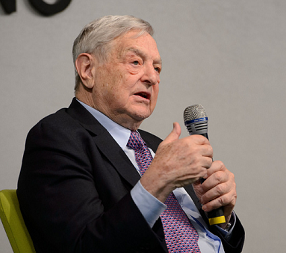 George Soros, Image courtesy of Heinrich-Böll-Stiftung on Flickr
Soros began dumping the yellow metal after calling it an "ultimate bubble" in 2010, but a recent filing from Soros Fund Management, a family office which is chaired by the legendary investor himself, shows that the former hedge fund bought 19.4 million shares of Barrick Gold in the first quarter which were valued at $263.7 million at the end of March. This made the Toronto-based gold miner the largest holding of Soros Fund. In addition to this, Soros also got 1.05 million shares of the SPDR Gold Trust ETF (NYSEARCA:GLD), the world's largest gold ETF with more than $35 billion of assets under management.
These purchases came at a time when gold prices have reported significant gains. The metal dropped to six-year lows of less than $1,050 an ounce in December, but since then, it has recovered 17% to $1,228. This has pushed a number of gold mining stocks higher, including Barrick Gold which has posted incredible gains of 134% on a year-to-date basis. The Canadian company's stock has done better than most of its peers who have reported gains of around 68% in the corresponding period, as measured by Market Vectors Gold Miners ETF (NYSEARCA:GDX).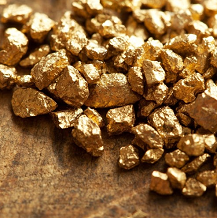 Stock image
I believe Barrick Gold is one of the best gold mining stocks to own in the current environment. The company, like other gold producers, has struggled with shrinking profits and cash flows in the downturn. Last year, the company's net profits plunged 56.6% to $344 million while its cash flows declined 5.2% to $2.18 billion, excluding the impact of one off items, thanks to 8.5% drop in realized gold prices and 2.1% decline in gold production. The weak commodity pricing environment also forced the company to reduce the value of its assets by $3.1 billion. The company continued to struggle in the first quarter in which swung to a net loss of $83 million from a profit of $57 million a year earlier. However, an improvement in gold pricing environment can quickly change Barrick Gold's fortunes.
But what's unique about Barrick Gold is that it is shaping up to be one of the best turnaround stories in gold space, driven largely by its self-help measures. The company's biggest problem was actually not weak gold prices, since it managed to remain profitable last year even with gold averaging less than $1,160 an ounce, but a weak balance sheet.
At the end of 2014, the company carried more than $13 billion in long-term debt. This would not have been a huge problem if the miner were generating strong levels of free cash flows which could be used to reduce debt, but Barrick Gold has been living outside its means for years. However, Barrick Gold is on track to pull-off a major turnaround.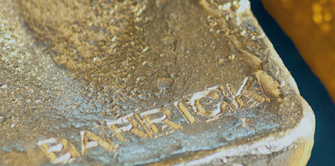 Image © Barrick Gold
Barrick Gold has managed to meaningfully reduce its debt, with support from asset sales. At the end of the last quarter, Barrick Gold had $9.1 billion of debt. Although the debt level is still elevated, considering it is just slightly smaller than shareholder's equity of $9.4 billion, the company is eyeing additional asset sales and is on track to reduce debt to $8 billion by the end of this year. The improvement in gold pricing environment will make asset sales a lot easier.
On top of this, Barrick Gold's management has done an impressive job of reducing the cash breakeven costs, which has put the company in a strong position to report positive free cash flows. In 2015, it posted $471 million of positive free cash flows for the first time in the last four years. The company has lowered its free cash flow breakeven price to $1,050 an ounce and aims to reduce it further to $1,000 an ounce. With gold prices hovering above $1,200 level, Barrick Gold is in a strong position to report positive free cash flows this year.
But the great thing about this is that even if the yellow metal were to come under pressure, with prices dropping to $1,000 to $1,100 window, then the miner will still likely end the year with excess cash flows. The company may be able to boost shareholder value by using the excess cash flows to cut down debt.
It is not surprising therefore that George Soros's fund has bought a large chunk of Barrick Gold stock. But this doesn't mean others should also start buying, particularly since the stock has already more than doubled in value on a year-to-date basis. Rather, investors should wait for a pull back. And I believe we may get an opportunity in the coming weeks.
Gold prices have lost some of its gains since touching 15-month high of more than $1,300 an ounce at the end of last month, thanks to the recently released minutes from Federal Reserve's April meeting. The central bank's tone has turned out to be more hawkish than Mr. Market expected. Those minutes, as well as comments from policymakers, seem to suggest that the Fed will likely increase interest rates in June or July. An interest rate hike will likely have a negative impact on gold prices and gold stocks. Remember, the last time the central bank increased rates, it pushed gold prices to six-year lows. This time, the interest rate hike will likely hit Barrick Gold stock. And that's when you should consider buying this stock.
Disclosure: I/we have no positions in any stocks mentioned, and no plans to initiate any positions within the next 72 hours.
I wrote this article myself, and it expresses my own opinions. I am not receiving compensation for it (other than from Seeking Alpha). I have no business relationship with any company whose stock is mentioned in this article.