A few months ago, investors in MBIA (NYSE:MBI) watched as their stock fell to the $6 range and traded around one-fourth of book value. The source of the collapse was a precipitous drop in equity markets, combined with negative headlines about a Puerto Rican default. Some investors saw this as a buying opportunity and were rewarded. The stock subsequently rose to over $9 per share.
Recent trading has brought this stock back to levels that are again near one-fourth of book value but still about 20% higher than those lows.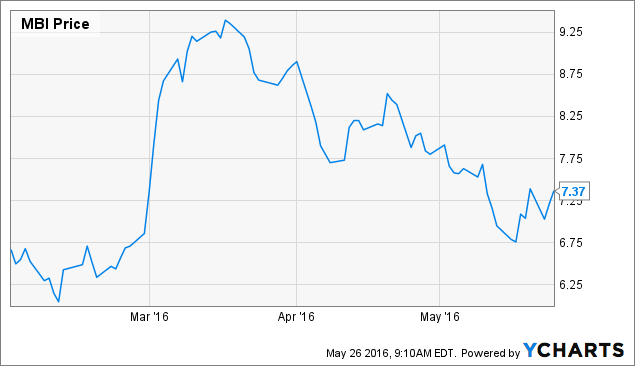 MBI data by YCharts
This stock is still a deep value and has a significant upside that would best be considered a cushion against unforeseen losses. This is a classic value stock.
Another Seeking Alpha author did a deep dive into the book value of the company and the exposure to the worst portions of their portfolio. Even if potential losses in Puerto Rico are $1 billion worse than expected, this is a $5 hit to book value beyond the existing reserves. The company currently has over $32 in adjusted book value (ABV). The author also pointed out that the company is taking advantage of the severely depressed stock price to buy back shares at a discount, which increased book value by $2.05 per share.
In another recent report, the firm BTIG provided a price target of $13 "based on 50% of our estimate of the company's pro forma ABV per share of $32.24 adjusted for estimated losses of $5.49 per share related to its insured exposure to Puerto Rico's debt." That's right - 50% of a revised estimate of adjusted book value.
The current discount to an adjusted book value represents something Benjamin Graham called a "margin of safety." He wrote about this in his famous book, The Intelligent Investor.
Graham also said, "Observation over many years has taught us that the chief losses to investors come from the purchase of low-quality securities at times of favorable business conditions." To be objective, let's not consider the possibility that MBIA is a low-quality security. This is something you see from a rear-view mirror.
So, the question here is whether MBIA is operating in a period of favorable business conditions. Because in a favorable economic environment, even the lowest quality stocks rise with the market. Only after the economy collapses do you see the weakness of a company's balance sheet and earnings potential.
From a macro perspective, one might be pressed into saying that the economy is strong. In fact, the Federal Reserve has stated that a June interest rate hike is definitely on the table due to this economic strength.
Over the past year, there has been a record streak of low initial unemployment claims below 300,000. In fact, the trend is so good you need to go back several decades to match it. And the unemployment rate is now close to 5%. That seems like good news.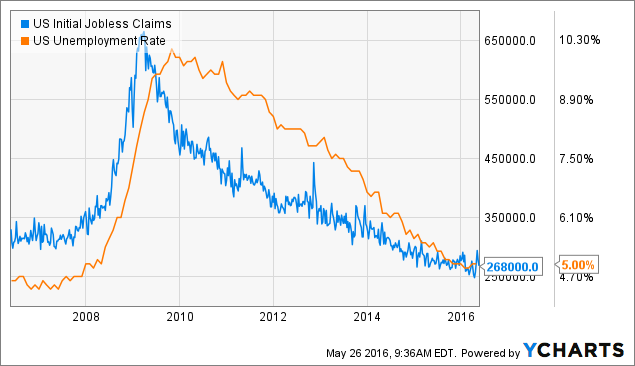 US Initial Jobless Claims data by YCharts
Going a little further though, a naysayer will point to the U-6 measure of unemployment. This measure shows that the economy has a little bit further to go before we really reach full employment. That's a positive for investors, especially in financial stocks.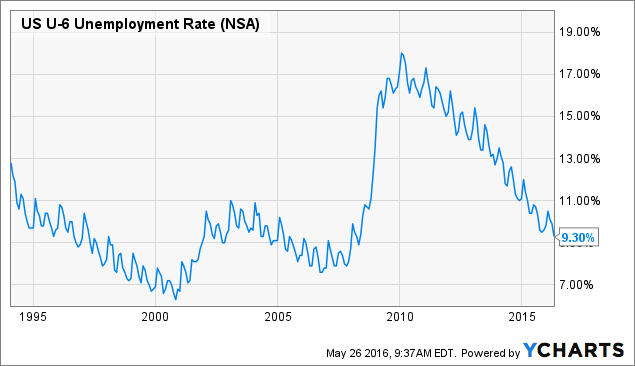 US U-6 Unemployment Rate data by YCharts
This is likely why interest rates remain near historic lows and the fact remains that Europe and Japan have negative interest rates. For a financial services company, and especially an insurance company, a negative rate environment is not favorable.
In the 10K filing, MBIA points out the impact of a low interest rate environment on the business.
For the issuer, the value of financial guarantee insurance is largely determined by the spread between the interest rate on insured versus uninsured debt. The current environment of low interest rates and narrow spreads between insured and uninsured debt reduces the value of insurance to a level which may be unattractive to the issuer (insufficient reduction in interest costs) as well as the guarantor (insufficient revenue relative to the risk assumed and capital deployed). Furthermore, investors may choose to purchase uninsured bonds to increase returns. An environment of higher interest rates and/or wider spreads would likely enhance the new business opportunities for National. We also believe the current stress in certain sectors of the municipal bond market reinforces the value of National's guarantee of timely payment of interest and principal.
So, it clearly states that higher interest rates may stimulate demand for their product. The spread between insured and uninsured bonds should widen as interest rates rise.
Elsewhere, in the 10K, it is stated a little differently.
Additionally, since prevailing interest rate levels can affect demand for financial guarantee insurance, lower interest rates are typically accompanied by narrower spreads between insured and uninsured obligations. The purchase of insurance during periods of relatively narrower interest rate spreads will generally provide lower cost savings to the issuer than during periods of relatively wider spreads. These lower cost savings could be accompanied by a corresponding decrease in demand for financial guarantee insurance.
Can it be much clearer? This interest rate environment is a challenging environment for this company. If you read the 10K, you will find other examples echoing the above statement.
Price Target
Using a margin of safety, along with an understanding of the business environment, the previous price target of $15 is reiterated. This company continues to buy back shares at a discount and remains poised to benefit from an improved interest rate environment.
Disclosure: I/we have no positions in any stocks mentioned, and no plans to initiate any positions within the next 72 hours.
I wrote this article myself, and it expresses my own opinions. I am not receiving compensation for it (other than from Seeking Alpha). I have no business relationship with any company whose stock is mentioned in this article.