American Capital Ltd (NASDAQ:ACAS) was one of the business development company, or BDC, industry leaders leading up to the deep 2007 to 2009 financially led recession. While it survived that downturn, it simply hasn't been the same company since. Which helps explain why BDC competitor Ares Capital (NASDAQ:ARCC) has just stepped in to buy the company. What should you do?
Suffering
American Capital shareholders who have stuck around since the recession have suffered mightily. The share price, even after the recent merger related bump, is still well below the around $45 price fetched prior to the start of the 2007 to 2009 recession. To be fair, there are some good reasons for all of this, not least of which are notable missteps leading into the recession that have left this BDC, an income focused investment class, without a dividend.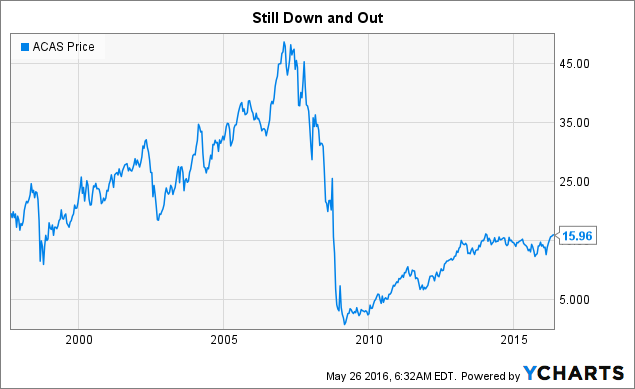 ACAS data by YCharts
Now, however, Ares Capital is stepping in to buy the company. The $3.4 billion deal calls for American Capital shareholders to receive $6.41 per share in cash, plus 0.483 Ares Capital shares, roughly valued at $14.95 a share. But that's not all that's going on. American Capital is also selling American Capital Mortgage Management, LLC to American Capital Agency Corp. (NASDAQ:AGNC) for $562 million, a sale that has to be completed for the Ares transaction to take place. That adds roughly $2.45 a share in cash to the deal. So this is a more complex acquisition than it appears.
With American Capital Ltd's shares trading at around $16 is it better to sit and wait for the dust to settle or just get out now?
Around the block
One of the first things to note is that Ares isn't new to the acquisition game here. The BDC previously bought Allied Capital, another of the leading BDC names prior to the 2007 to 2009 recession. So it has a pretty good idea of what it's getting into. And, as far as it goes, Ares has done well for itself and its shareholders, overall. The shares haven't racked up huge capital gains, but with a 10% yield you can forgive that.
That said, there's a lot of moving parts to this transaction. So there is a risk that something doesn't go as planned and the deal doesn't get done. While the company pegs the value of all of the transactions taking place at roughly $17.40 a share, still well above where the stock is trading today, I'm not sure the added upside is worth the risk.
Not worth the risk
I don't see any reason why this deal should fall apart, but you can never be certain of these things. And based on American Capital's past and the potential, even if it's small, of this complex deal falling through, I'd sell the shares if I owned them.
Am I being overly cautious? Yes. But I'd rather a bird in the hand than two in the bush in this case.
That said, it would be cheaper to wait around, do nothing, and get the cash and stock. But I'd expect long-term shareholders to have capital losses either way they play this. So you wouldn't be gaining all that much from waiting. And if you are lucky enough to have a capital gain, I'd see the tax bill as a worthwhile expense for locking in recent prices.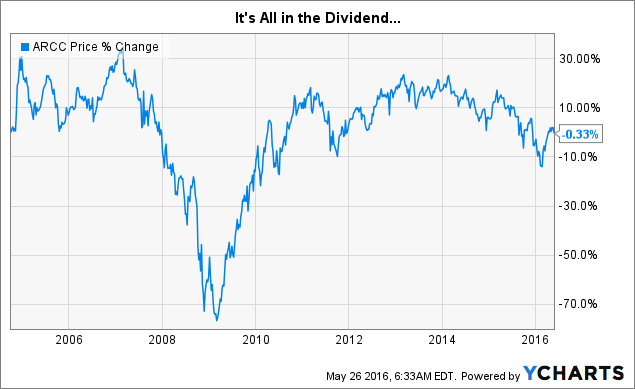 ARCC data by YCharts
What to do with the cash is another question. If you like Ares, then simply buying Ares is one option. However, I'd point out that Ares is a BDC, lending money to smaller, usually riskier, companies at a time when debt is relatively cheap and the stock market is near all-time highs. That's not to suggest that Ares is a bad company, only that if the economy or the market hit the skids, all BDCs are likely to feel some pain. And if you've held on to American Capital because you haven't been willing to take the loss, I'm not sure I'd be looking to get into another BDC at this point in time.
And since Ares Capital stock is all about the yield, with minimal price appreciation, you can always make the choice to invest in Ares at a later date when the market isn't trading at extreme levels. Sure you miss out on the dividends now, but a market correction would likely wipe out years of dividend payments anyway. So, for my two cents, I'd sell and sit in cash.
If you choose to stick around and wait, though, you'll still have a slug of cash to do "something" with. Once again, I'd sit in cash before augmenting the shares of Ares you get in the deal. That's a cautious stance, but one that seems prudent in today's market environment.
Disclosure: I/we have no positions in any stocks mentioned, and no plans to initiate any positions within the next 72 hours.
I wrote this article myself, and it expresses my own opinions. I am not receiving compensation for it (other than from Seeking Alpha). I have no business relationship with any company whose stock is mentioned in this article.