The Apple Watch (NASDAQ:AAPL) continues to be branded by many in the tech media and on Wall Street as a failure. The product's estimated first-year sales of up to 12M units is not enough to meet investors' lofty expectations of a post-iPhone product, while Fitbit's (NYSE:FIT) sales leadership in the wearables market makes some question Apple's smartwatch approach. Has Apple bet on the right market with the right product? The recent market data and industry developments provide some useful context and information, and are a positive sign for the prospects of the Apple Watch.
Early innings
Wearables represent a relatively small market in the early stages of its life cycle. According to IDC, total wearables shipments in 1Q 2016 were 20M units, which compares to 335M smartphone units sold in the same quarter. However, the wearables market is rapidly expanding, having recorded a 67% year-over-year unit growth in the first quarter of the year. It is still early innings, but the manufacturer, retail, and consumer interest shows the wearables market is on the right trajectory, with much potential to disrupt traditional watchmaking and expand the TAM for wrist-worn devices.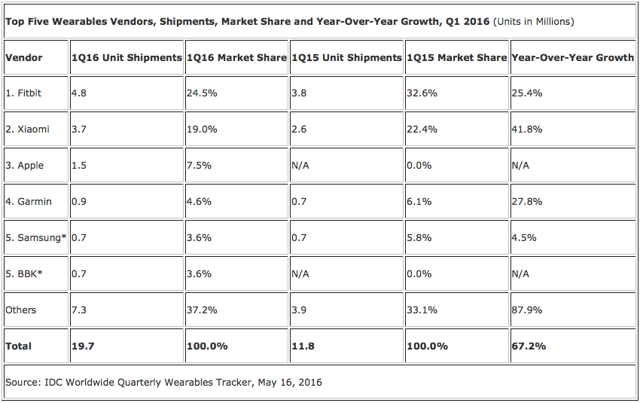 Click to enlarge
The watch industry is in turmoil
With more utility and new attractive use cases, wearables have much potential to turn the traditional watch market upside down. The monthly Swiss watch export data published by the Federation of the Swiss Watch Industry FH, a good proxy of traditional watchmaking, shows that this is already happening at a fast pace.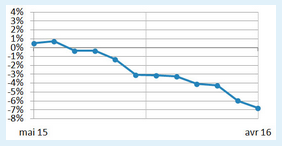 Swiss watch export value declines, 12-month moving average. Source: the Federation of the Swiss Watch Industry FH
The latest FSWI data for April shows that the value of Swiss watch exports decreased by ~10% over the first four months of the year, while March recorded particularly significant declines of -16% in value and -20% in units. The FSWI noted the unusual extent of the watch market weakness:
"The scale of the downturn is also unusual, since we must go back to the crisis of 2009 to find rates of variation of this order."
While FX and economic conditions in some of the key watch markets add headwinds, large declines are reported across the world. The Swiss data is further supported by the weak results and a rather dim outlook for the US watchmaker Fossil (NASDAQ:FOSL), which has lately seen its shares tumbling to 52-week lows. Look at the rapidly growing wearables market on one side and then the turmoil in traditional watches on the other, and it is clear that we are witnessing the watch industry being disrupted by technology.
Smartwatch segment is key
The latest IDC report does a good job of describing the current wearables market by dividing it into two distinct categories: basic wearables (health and fitness trackers, connected clothing, hearables) and smartwatches (watches with a digital display running third-party applications).

Click to enlarge
Each category has its clear leader. Fitbit dominates basic wearables (and overall wearables shipments) with its popular range of health and fitness trackers and watches, while Apple is the leader in the smartwatch segment. Although the latter market is currently much smaller in terms of unit shipments, about 20% of the size of basic wearables, I remain confident that this is the key market to watch for the long-term as it offers more consumer value and sustainability. Health and fitness trackers suffer from high attrition rates (41% for Fitbit, in line with the attrition trends seen in the fitness club business). Once a customer loses interest in exercise and/or data monitoring, the device loses most of its value and is no longer used. On the other hand, smartwatches can be more deeply integrated into consumers' lives, similar to the way a smartphone is, as they offer a wide variety of apps for different interests, activities, and needs. This adds value, limits attrition, and enables a long-term product attachment.
Fitbit validates Apple's approach
Apple's approach to wearables is being increasingly validated by Fitbit. Earlier this year, the company released a fitness-oriented smartwatch, the Blaze, and since then, has frequently talked about innovation and opportunities to integrate their products "with the cars or homes or buildings or payments or [identity] authentication". This was recently followed by Fitbit acquiring wearable payment assets of Coin, a Silicon Valley consumer electronics and financial technology company. Note what Fitbit CEO James Park had to say about the purchase:
"The inclusion of their payment technology into our offerings will further our strategy of making Fitbit products an indispensable part of people's lives."
At this point, there cannot be any doubt that Fitbit is embracing and validating Apple's concept of wearables by making them smarter, more valuable, and more integrated into customers' lives.
However, compared to Fitbit, Apple can already enjoy a large head start with its apps and mobile payments infrastructure. Furthermore, it has the benefit of a mass-market brand which is a better fit for a universal device like the smartwatch catering to various interests, activities, and needs.
Apple validating Fitbit?
On the other hand, it is very likely that Apple will double down on health and fitness in the next version of the Watch, both in terms of new features and marketing. While wrist-worn devices allow for self-expression and convenience features, monitoring health and fitness is their most unique aspect, differentiating them from other technology products. In fact, Apple CEO Tim Cook recently made the following comment on the future of the Watch:
"The holy grail of the watch is being able to monitor more and more of what's going on in your body."
The success of health and fitness trackers further shows that their value proposition can be easily communicated to and understood by consumers. The smartwatch category is likely to take a lesson and strengthen its health and fitness features and marketing.
Investor takeaway
I am seeing many investors who are placing their bets based on the wearables market of today. However, to use the famous Wayne Gretzky quote, I think this is skating to where the puck is, not where it is going to be. We are still in the early innings, and as the market is rapidly evolving, I am more interested in where the market is being headed and what companies are best positioned for long-term success and sustainability. While currently not shipping the most, I think Apple is perfectly suited for the wearables market, having the right brand and product, and participating in the right market segment. My thinking is rather simple - consumers are more likely to ask for more utility on the wrist, not less. It is the lack of utility which makes traditional watches increasingly irrelevant, and it is the limited utility of today's health and fitness trackers which causes their attrition problems. The expanding wearables market and Apple's positioning in the smartwatch segment gives the company and long-term investors a solid footing for the future.
Author's Note: If you have enjoyed reading my article and found its content valuable, please take 5 seconds to follow me by clicking the "Follow" button next to my name at the top of the page.
Disclosure: I/we have no positions in any stocks mentioned, and no plans to initiate any positions within the next 72 hours.
I wrote this article myself, and it expresses my own opinions. I am not receiving compensation for it (other than from Seeking Alpha). I have no business relationship with any company whose stock is mentioned in this article.
Additional disclosure: This is no recommendation to buy or sell securities as that carries with it very high risks. The information contained in this article is for informational purposes only and subject to change at any time. Do your own due diligence and consult with a licensed professional before making any investment decision.