Verisk Analytics' (NASDAQ:VRSK) near-monopoly in providing risk analysis to the U.S. property and casualty industry makes the company very intriguing. The company recently reported a solid quarter and reiterated its strong outlook for the rest of 2016. Driven by cross-selling opportunities and price increases, the company expects revenue growth to be robust to finish out the year. This low CapEx business model should allow the company's operating leverage to take advantage of the growth in 2016.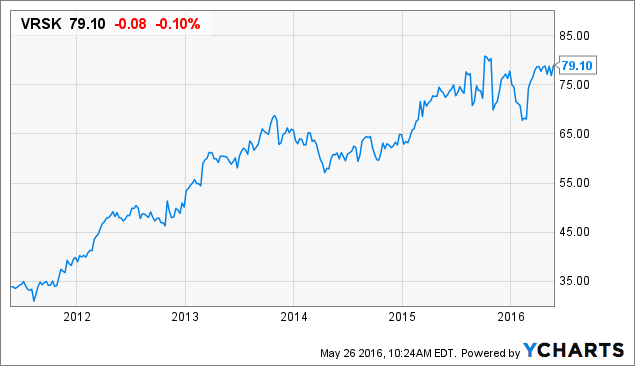 Given the growth trajectory of the business in recent years, shares look reasonably priced at a forward P/E of 23.53, P/FCF of 27.97 and EV/EBIT of 18.96. Shares are up 9% over the past 12-months and sit near 52-week highs, but shares look poised to go higher. This is a great business, so let's dive in and see if there is an opportunity in this risk analysis company.
Leader in data analytics for the property and casualty insurance industry
The company began in 1971 as a non-profit advisory and rating agency in the P&C market. Over the past few decades, the company has leveraged its long-standing relationships as they continue to innovate and provide mission critical products for their customers. They acquired Wood Mackenzie in 2015 to expand into the global energy market. The Wood Mackenzie deal is just one of many the company has made to deepen it data assets while integrating their products and services in new markets. Today, Verisk's clients include 29 of the top 30 credit card providers in North America, United Kingdom, and Australia, all of the top 100 property and casualty insurers, and many of the top health plan providers in the United States.
Various competitive advantages
The company has three main advantages versus their competition; proprietary data, domain expertise in the insurance industry, and high switching costs. The company provides proprietary data to the clients and industries that they serve and have expertise in domains to insurance companies. Because the company is deeply embedded in their client process and decision-making process, switching cost are high. These high switching costs make the business incredibly sticky makes the clients reluctant to switch services.
The company's first-mover advantage in this category gives Verisk a relationship and expertise with each client. Because Verisk provides mission critical services that are intertwined in the workflow of its clients, they have firmly established competitive advantages over the competition that should last years.
Through predictive analytics and decision solutions, Verisk has proprietary technology that collects and analyzes billions of data points and records. Companies use them analyzing risk in ratings, claims, weather, catastrophe, and underwriting. Also, Verisk helps with macro forecasting and natural resource intelligence. Essentially, Verisk is there to help their clients make the logical decision. The company's 98% renewal rate speaks to the importance of their products and services. Ultimately, the high switching costs give Verisk significant pricing power when the time comes to use it.
Management is shareholder friendly and incentivized
Management expects 8% organic growth in revenue, which they've accomplished in the past. Their strategy is aimed at adding clients, creating new products, moving into other markets and products, and penetration of current clients. Over the past few years, the company has executed this strategy through acquisitions. Although we're not typically huge fans of this strategy, we expect this to continue over the intermediate-term.
Management has been extremely shareholder friendly, having returned over $2 billion to shareholders in the form of share repurchases since 2010. The company still has a little under $500 million in its current share repurchase program. With that said, share repurchases has had a negligible effect on the shares outstanding during that period. Also, management has been able to generate returns on invested capital of over 14% the past five years, which shows its ability to allocate capital efficiently and effectively.
Going forward, a big part of management's capital allocation strategy, meanwhile, will be the return of capital to shareholders in the form of repurchases and purchasing companies to grow their client base. And that's not to mention a focus on additional cross-selling initiatives and developing new products. Management has proven its ability to accomplish this in the past. We believe it's likely to continue. In addition, management plans to decrease its debt-to-EBITDA to 2.5x by the end of 2016.
The fact that management and direstors own ~4.0% of the company makes us comfortable with the decisions that are made in the business.
Technicals
The stock appears destined to breakout above the $80 level. A clear break of the $80 level would set the stage for a potential run to $95-$100. Traders are likely to see support in the $74-$76 area. A break of that level to the downside would open up the possibility of a test in the $66-$67 area. The RSI indicator still looks like it has room to run, so we do not see any potential exhaustion here either. All signs point to a breakout in share prices. Time will tell.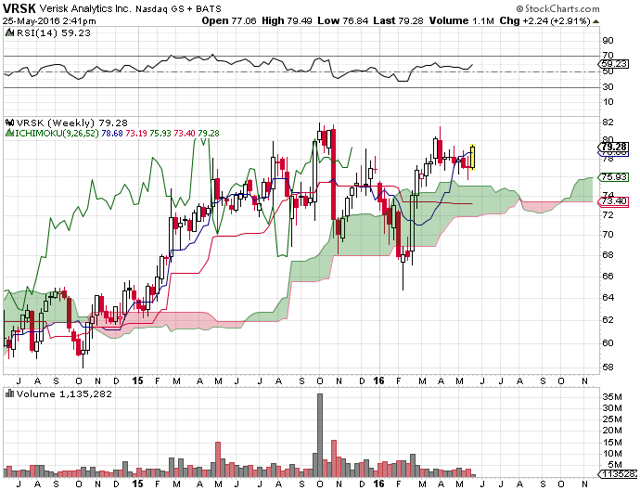 Click to enlarge
Investor takeaway
Verisk's strong competitive advantages are a positive for investors. These competitive advantages are a blessing and a curse to long-term investors. Because the company's competitive advantage are well known to investors, shares prices currently reflect the company's long-term prospects. We are not able to buy the company at a discount right now due to the market's optimism in the company. We'd wait for pullbacks in share prices before jumping on board this company. Remember, even a great business can be a horrible investment if you purchase the company at the wrong price. We need to see that all-important margin of safety and we don't see it right now. Be patient.
Based on recent free cash flow figures, Verisk generated FCF of $484 million over the last twelve months. This equates to a FCF yield of 3.57%. With shares trading at such a high valuation, it appears we may be paying too high a price for the future prospects of the business. It may not be the best time to invest in this company right now. However, you should keep it on your watchlist. You never know when an opportunity could present itself to invest in this high-quality company.
Notable shareholders: David Rolfe | Ron Baron | Chuck Akre | Tom Gaynor
Source of Figures and Stats Above: Investor Presentation, Annual Report (2015)
Disclosure: I/we have no positions in any stocks mentioned, and no plans to initiate any positions within the next 72 hours.
I wrote this article myself, and it expresses my own opinions. I am not receiving compensation for it (other than from Seeking Alpha). I have no business relationship with any company whose stock is mentioned in this article.