In another article I mentioned imminent reasons for the fed to take action and raise rates. Although that might provoke turbulence in the financial markets in the short term, one sector should profit from higher interest rates and outperform the market. That's why I would take a closer look at the SPDR Select Sector ETF (XLF) and evaluate its attractiveness as an investment.
Relative Value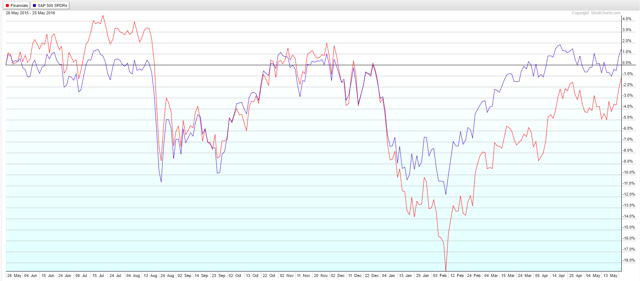 Click to enlarge
Financials moved pretty much in line with the S&P500 (SPY) from the turmoil in August last year (which brought an outperformance of financials to an end along with a decrease in rate hike expectations) till the beginning of this year. Financials took a hit in January and February as Fed rate hike probabilities decreased amidst the market volatility. Year-to-date, financials have made up some ground and returned 2.35%, but still less than the market which is up by 4.65%.
Valuations
Valuations are relatively cheap with a P/E ratio of 13.06 and below the long-term average of the sector. In contrast, the broader S&P500 trades close to its P/E ratio high at 18.16.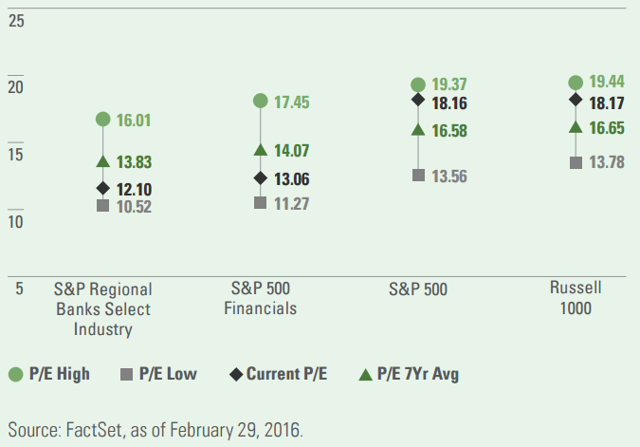 Click to enlarge
Stable growth
Delinquency rates have been constantly falling since 2010 and the loan growth remained stable in recent years. While higher interest rates could work against a continuation of that trend, strong balance sheet fundamentals should prevent liquidity problems or a deterioration of banks' financial health.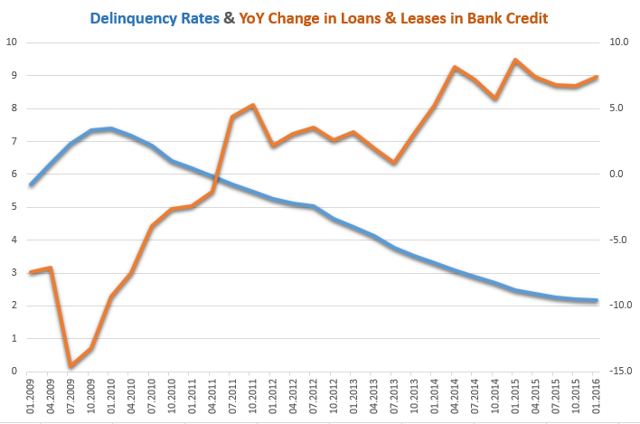 Click to enlarge
Tailwind from the Fed
Banks have managed to gain solid balance sheet fundamentals despite seven years of low interest rates. Even if the low interest rate environment continues to prevail, that shouldn't hurt banks a lot. On the other hand, increases in the Federal funds rate directly improves a bank's earnings. That is mainly due the higher yield a bank makes on its cash and a greater spread between the federal funds rate and the rate the bank charges its customers.
Banks with more commercial loans - which often have floating rates that rise with the Fed's rate - will profit most from higher interest rates. Rates on mortgages, however, are often fixed for many years.
Disclosure: I/we have no positions in any stocks mentioned, and no plans to initiate any positions within the next 72 hours.
I wrote this article myself, and it expresses my own opinions. I am not receiving compensation for it (other than from Seeking Alpha). I have no business relationship with any company whose stock is mentioned in this article.