Rationale for this Article
I have found self-directed investing to be a more difficult journey than I expected, but nonetheless have found it rewarding. Many have said that portfolios need to be outsourced to professionals. At this time in my life, I view it as my own responsibility for multiple reasons, which I won't elaborate on here.
The most significant problem I have encountered as a self-investor has been the managing of far too much information. I encountered related problems in my career within various fields of high technology. The problem at hand is how to keep an eye on important developments within multiple market sectors without having to be a full-time (or overtime) analyst.
In furtherance of these goals, this article summarizes my method of organizing the stock market sectors, samples a few news sources and trends within each sector (as a supplement to company 10-K reports or credit agency reports), and mentions a subset of SA authors who have been of assistance to me so far.
A Summation of the S&P 500
The categories in the diagram below are my own distillation of the types of businesses listed in the S&P 500. These provide for me a repeatable point of reference as I research various companies (large cap, small cap, or micro cap) across the immensity of the stock market. (The table composition is a memory aid only, i.e. I can't identify any periodicity as for our chemical elements.)
I have utilized this structure for my watch lists within my brokerage accounts, recognizing that some companies do not fit at all cleanly into a single category.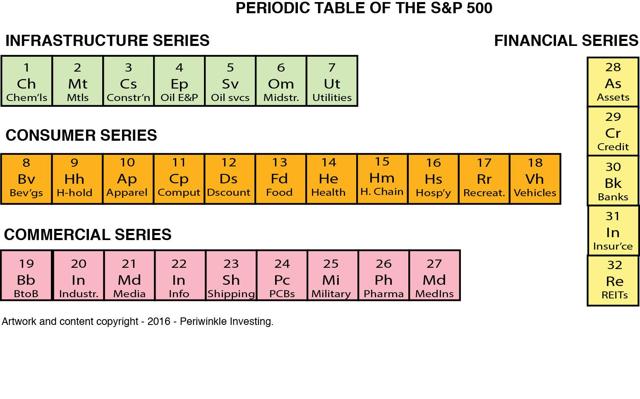 Notes on Contributors
There are far more contributors on SA than I will ever be able to digest, not to mention that I have spent less time with certain sectors, as some are not favorites of mine.
For the contributors I have tagged in the sectors listed below, some cover a wider variety of securities, and others are focused on small-cap stocks. Some I value because of the instructive approach for analyzing financials, and others because they attract useful comments, even if not concurrent with the viewpoint of that author.
All of these, however, have been of assistance to me in meeting my goals, which includes managing my perceived risks. Commenters are of course welcome to suggest their own go-to contributors.
Infrastructure Series
1. Chemicals and industrial fertilizers (Chris Damas) - industrial farm fertilizers are still in a state of oversupply. Low natural gas prices have been a catalyst for revitalization of the plastics industry, with some concerned re: overbuilding. (trends)
2. Materials (non-oil or gas) (Christopher De Sousa) - oversupply exists for many important mined materials, e.g. copper and iron ore. China steel (half the world's production) is seen as entering an "ice age." A legacy of difficulty is still attached to junior new project financing. Paper packaging is presented with an escalating need due to consumer online purchases. A profound and government backed sentiment has risen against harm to the environment. (trends)
Stock market research is not only about facts and figures, but is the story of the rise of this nation and others over the past 100 years or more. I still remember a family mule trip up a canyon side of Ouray in the early 1960s. Our aged guide had been a wagon driver in the 1920s when the street was filled with mud, men, and teams loaded for trails to high altitude mines. On this trip, he took us past a mine he had been working. During the stop, he cut out with his rock hammer and put in my hand a large wad of wet blue clay, and said, here. That is cobalt.
3. Construction (equipment and contractors) (Daniel Jones, Blue Pacific Partners) - contract builders for large scale petrochemical facilities correlate with crude oil and natural gas commodity prices, farm machinery correlates with grain commodities, and roads depend on government programs. (trends)
4. E&P - oil and gas (Hedge Fund Insights, BTU Analytics) - a new world-wide crude oil price war began in 2014, with many producer nations in great need for the income. Continuous forecasts fill the media with reasons for ongoing supply vs. demand ebb and flow. (trends)
5. Services - oil and gas (Fun Trading) - maintenance segments provide base support in an extremely difficult environment; deep sea remains at higher risk than land based services. (trends)
6. Midstream and retail - oil and gas (Michael Fitzsimmons, Ray Merola, BTU Analytics) - natural gas supply/demand is no longer limited to individual continents due to rapid increase in LNG trade. Refineries are in a buyers' market type position. Natural gas supply could be losing pace to demand due to hindered pipeline projects, drying up of well backlog, and continued low commodity price. (trends)
7. Utilities - regulated or wholesale (Roger Conrad) - investors seeking safety and an improvement over U.S. treasuries have steadily bid up many utilities since the 2008 meltdown. The war on coal is still not over. Solar and wholesale producers are finding a rougher time with earnings. (trends)
Consumer Series
8. Beverages (L&F Capital Management, Albert Alfonso) - demand for healthier products and company environment responsibility is rising. Expectations by consumers are becoming more sophisticated. (trends)
9. Household consumables (Economics-Based Investor) - green revolution expectations impact this sector as well. (trends)
10. Apparel (Collective Investment Co., Harm Elderman) - online sales are increasing at the expense of mall retailers. Low cost production has moved beyond China for several years now. (trends)
11. Computer equipment and software (Matt Margolis, Mark Hibben) - market share battle is underway for smartphones and tablets, with growth regions in the far east receiving much media attention. Desktops are still on a long decline, and still dominated by Windows. Cloud-based software and storage have driven earnings for multiple companies. (trends)
12. Discount retail (Brian Gilmartin) - online sales market share has increased with the assistance of innovative delivery methods. Chain and local retailers are making an effort to reply. (trends)
13. Food processing and retail (Joe Springer, Valuentum) - more Americans are demanding healthier, less processed and non-generic foods. Some support for this viewpoint is becoming visible from the U.S. government. (trends)
14. Health products and services (EP Vantage, The Value Investor) - the governments of Europe and the U.S. are heavily involved with regulation. (trends)(trends)
15. Homebuilder and supplier chain (L&F Capital Management) - a long-term trend toward renting over home ownership continues to be a contributor to this industry. (trends)
16. Hospitality (hotels, restaurants, airlines, gaming) (J. G. Collins, West Coast Growth Picks, Howard Jay Kline) - all of these subsectors benefit from lower fuel prices. Hotels face significant competition and are learning to employ more advanced sales techniques. (trends)
17. Recreational products (Lutz Miller) - physical stores have a tough time competing with digital downloads. Spinoff products from movies have a strong market presence. (trends)(trends)
18. Vehicles and components (Brent Miller) - vehicle manufacturers are outperforming in the last several years, with assistance from low interest rates for consumer financing. Low fuel prices versus regulation has to be managed by manufacturers. (trends)(trends)
Commercial Series
19. Business to business services (The Investing Dutchman) - the paperless office concept has only partially taken hold. Employee benefit outsourcing continues to evolve as a significant subsector. Intelligent document analysis is significant for attorneys. (trends)
20. Industrials (John Abbink) - many steel and agricultural equipment producers are constrained by oversupply. (trends)
21. Media and Advertising (Ray Merola) - a bitter price war has taken place over the past three years or so for customers of phone, TV, movies, etc. Advertising on mobile computers has become significant. Virtual reality is a significant frontier post smartphones. (trends)(trends)
22. Information providers (Mark Hibben) - cloud-based storage and development is becoming more accepted amidst security concerns. Net neutrality is not yet settled in the U.S., but has been in Europe. (trends)
23. Shipping (James Sands, The Value Investor) - uneven results exist across this sector. Railroads are carrying much less coal and crude. Trucking companies are benefiting from low fuel prices. Package carriers are benefiting from increased web based consumer purchases. (trends)(trends)(trends)
24. Printed Circuit Board Components (Robert Castellano, William Tidwell) - this is a very cyclical sector. Price war among commodity memory manufacturers continues. Capital equipment is seen as emerging from a long slow period. (trends)
25. Aerospace and Military Contractors (Aerospace Research) - a long standing largely protected U.S. industry status remains in place, with continued concerns over geopolitical developments. Travel demand continues to grow for airlines. (trends)(trends)
26. Pharmaceuticals (DoctoRx) - world governments seek lower drug prices. Heavy debt for acquisitions is under scrutiny. Pharma is an incredibly diverse sector with many high risk but high reward opportunities; trial results and FDA approvals have outsized impact on security pricing. (trends)
27. Medical Insurance and Outlets (Vijar Kohli) - U.S. government healthcare is undergoing many court challenges at the state level. The industry in this sector seeks information technology based improvements. (trends)(trends)
Financial Series
28. Asset Management (John Abbink, BDC Buzz) - pension funds, individual IRAs, sovereign wealth funds and company 401(k) plans will continue to participate in the markets. These seek yield and safety in an environment of unprecedented financial stimulus by world governments and central banks. (trends)
29. Credit Services (Collective Investment Co., Downtown Investment Advisory) - electronic theft or fraud is becoming a very significant concern, with many institutions having been compromised. Regulation is a real headwind for most mortgage servicers. Convenience in payment methods continues to be significant. (trends)
30. Insurance (Tim Travis) - long-term low interest rates makes earnings more difficult. The hope of increased rates keeps a fire under these securities. Many nations are still applying measures to keep their currencies weak. (trends)
31. Banks (IP Banking Research, Martin Lowy) - government still seeks deeper assurance of bank stability, seeks size reduction for large banks. Same comments as for insurance. (trends)
32. REITs (Brad Thomas, Dane Bowler) - REITs are to be divided from "Financials" as a new S&P category in August 2016. Various funds and ETFs are presently buying up these companies in anticipation of said event. Long-term low interest rates and other U.S. Federal Reserve incentives continue to be supportive, but talk of raising rates can spook this sector. (trends)
Sector Forecasts
Managing the perception of risk has to play a significant role in one's investments. Identifying and holding healthy businesses with growing dividends is in my mind a significant aspect of safe investing. I have the following investing thoughts at this time on the above sectors:
1. Some sectors have been bid up for many months or even years now. Many examples can be seen among individual companies within Utilities, Aerospace and Military, and some REITs. Such behavior may be a quest for safe improvements on the steadily rising chart for U.S. Treasuries (see for e.g. my article on NiSource). I would view this as a style of investing, but not my style.
2. Packaging (within Materials) and some Shipping subsectors have benefited from a tailwind due to online purchases, a long-term trend which is not likely to abate. Credit Services has benefited from a long-term trend toward electronic commerce. I would however view online security as an ongoing and increasing threat with an uncertain endgame.
3. Futures pricing for crude oil can have an outsized effect on multiple sectors (e.g. Construction and all oil and gas sectors). While not always warranted, that is the stock market. For an example of the thought process for crude oil futures activity, see for e.g. Michael Fitzsimmons' article here with the comment stream. While crude oil remains in significant oversupply, I view the natural gas commodity as building for a trend reversal, with an impact on related securities.
4. Futures pricing for interest rates also has a significant effect on multiple sectors. Much of the entire financial sector would benefit from normalized interest rates, but it can literally wear out an investor trying to follow the expectations of the market. Some special cases exist in these sectors which display an out-of-step behavior, and several of these have been identified in SA articles.
5. Despite the accomplishments of our Pharma and health product sectors, these seem to be laboring with concern about regulation going forward from effectively hostile governments. Health services and Medical Insurance are embroiled in an unraveling affordable healthcare act, perhaps with opportunity for speculators.
6. Some cyclical sectors seem to have already anticipated a downturn, e.g. Vehicles and Business to Business. This is a source of present opportunity in my view.
7. Many companies within Apparel, many chain retailers, and mall REITs have been effectively left for dead in light of more recent company reports about an increase in online market share. Investors have to consider what sectors can actually die versus re-invent themselves, and whether one is willing to stick with his position. While coal is not dead, it has been sentenced severely. In the same way, concerns for these sectors ought not be taken lightly.
8. For all sectors, I think small caps and foreign securities continue to hold promise as well as diversification. Investing in these should be backed with research (see for e.g. my article on Singapore Telecom).
Conclusion
So far, I have written focus articles on mid cap or foreign companies within three of the stated categories (i.e. Basic Materials, Utilities, and Media). My plan is to write further articles for some categories, for basic sector awareness and to define my investment strategy, which will appear in the conclusion of each article. I expect all of these to require a significant amount of research.
In due time, I expect to identify for myself a research maintenance mode, and thereafter, allow my process to carry me forward. My end goal is to make sound portfolio allocations as an individual investor, with a defensible case as my own analyst.
Disclosure: I/we have no positions in any stocks mentioned, and no plans to initiate any positions within the next 72 hours.
I wrote this article myself, and it expresses my own opinions. I am not receiving compensation for it (other than from Seeking Alpha). I have no business relationship with any company whose stock is mentioned in this article.