AT&T's (NYSE:T) subscriber base is slowly shifting from low-revenue users to higher-revenue smartphone and device users, which can only mean better growth prospects for their wireless segment. As an investment destination, AT&T not only offers strong forward numbers, but a diversified business that is at the cusp of explosive growth in internet data usage and connected devices.
The Shift in ARPU (Average Revenue Per User)
The first thing that caught our eye about AT&T's recent performance is the big dropoff they experienced in postpaid customers as of 1Q-2016.
According to Legere, T Mobile CEO, approximately 80 percent of postpaid port-ins come from rival carriers AT&T and Verizon, with the lion's share coming from AT&T.
Source: Wirelessweek
So, while it's obvious where their customers are going, what's not obvious is which of their customers are moving away. The answer to that comes from AT&T themselves:
The company added 344,000 postpaid tablet and computing devices in the quarter and lost 363,000 postpaid phone subscribers, primarily lower ARPU feature phones - 2016 Q1 Investor Briefing

AT&T's ARPU for smartphones is about twice that of non-smartphone subscribers. - 2015 Q3 Investor Briefing
Looking at it now, that dropoff in postpaid users was more than compensated for by a commensurate increase in net additions for smart devices. In fact, if you look at it from an ARPU perspective, they lost X number of customers that pay an average of $Y, while adding the same X number of customers who pay $Y times 2.
Why are we highlighting this? Because it is a significant indicator of how their numbers will look over the next few quarters. As you can see, that trend has already been established.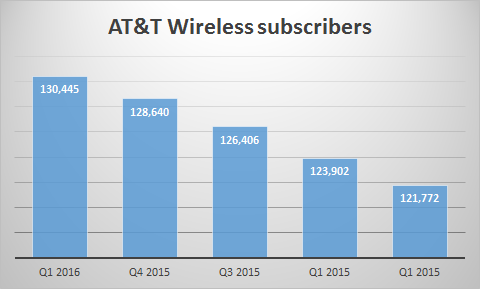 Source: AT&T Quarterly Reports
From 121.7 million to 130.4 million subscribers YoY during the past quarter is a growth of more than 7%. That may not look like a big number, but considering that they're operating in a mature market with cut-throat competition and tight margins, a consistent year-over-year growth rate is exactly what investors want to see happening.
A CAGR of 5-7% in their wireless subscriber base will give them a total subscriber base of between 158 million and 171 million by 1Q-2020, and this is what investors need to be using as the yardstick for this particular segment of AT&T's business.
Impressive Growth of Smartphone Postpaid Subscribers
The second thing we looked at were their postpaid subscribers. Under the assumption that they're losing feature phone subscribers to T Mobile, we wanted to see if there was an overall decline in the postpaid segment as a result of this.
However, this was not the case. In fact, the data validates the trend shown in the case of overall wireless numbers discussed above.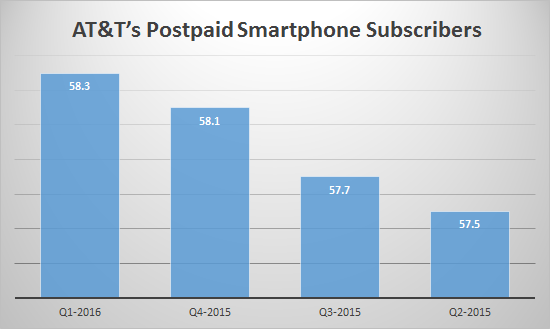 Source: AT&T Quarterly Reports
It's clear that there is consistent growth in postpaid smartphone subscribers, and that bears out the numbers from the global smartphone industry as well as data for North America.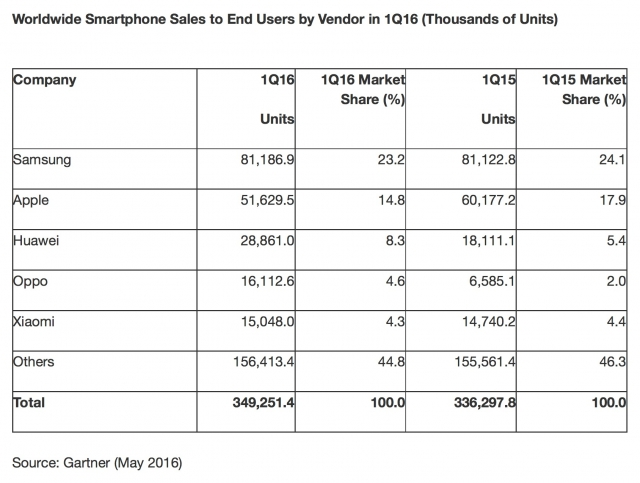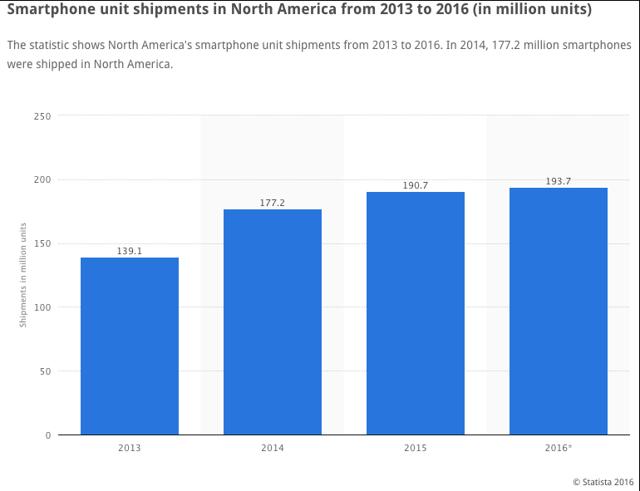 Click to enlarge
Though total smartphone sales themselves seem to be approaching a plateau in North America, the postpaid upgrade rate (the percentage of existing users that upgrade to a new model each year) remains at a healthy 4-7% (see below). Even though that is significantly lower than the top performer in that segment, T Mobile, it represents a stable organic revenue stream from within its user base.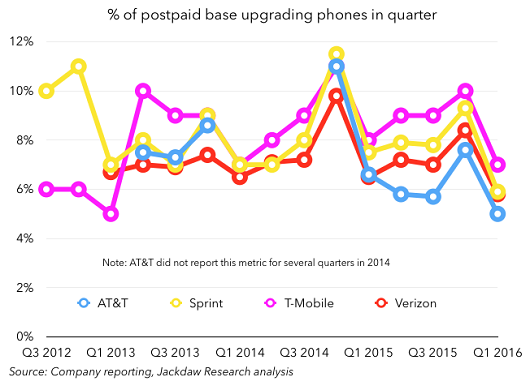 Why Invest in AT&T?
So why does a growth in wireless subscribers indicate a BUY for AT? Let us give you just two reasons, using some revealing statistics published by Cisco and Statista.
Average smartphone usage grew 43 percent in 2015. The average amount of traffic per smartphone in 2015 was 929 MB per month, up from 648 MB per month in 2014.
More usage means more revenue for wireless carriers, obviously, but more significant than the growth in usage is the why of it. And that brings us to mobile video streaming -- one of the fastest growing segments in the world of online content. In the U.S. alone, there were 107 million users who view video content on their mobile devices such as smartphones, tablets, netbooks and laptops as of 2015. Come 2019, that figure is expected to grow to more than 136 million - a growth of 27% in four years. The fact that AT&T already has a user base very close to that figure means they're at the forefront of that explosive growth in mobile video viewership.
Another growth driver is wearable technology, which is expected to hit $12.6 billion dollars in revenue by 2018. Ignoring the value factor, the sheer increase in data usage from regular users of wearable tech and fitness apps supports the assumption around smartphone usage growth.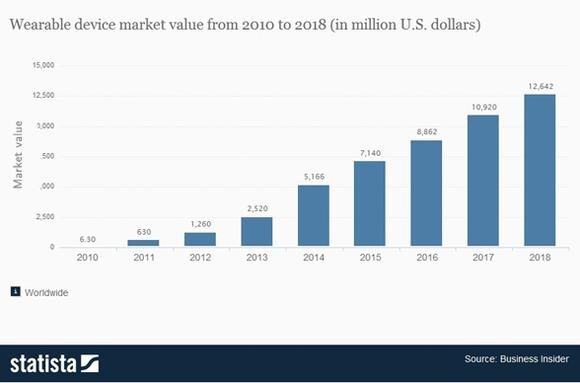 The average smartphone will generate 4.4 GB of traffic per month by 2020, nearly a fivefold increase over the 2015 average of 929 MB per month. By 2020, aggregate smartphone traffic will be 8.8 times greater than it is today, with a CAGR of 54 percent.
That's an astounding statistic if you think about it. Doubling every two years, smartphone traffic by 2020 is expected to be more than eightfold what it was last year. The majority of that additional revenue must necessarily run into the coffers of companies like AT&T, Verizon and T Mobile. Even if data costs are slashed by 50% during that time, a 4X increase in revenues from the data segment of AT&T's business is a handsome reward for being the second largest data carrier in the United States.
If you look at their numbers for the last three fiscals along with their current numbers for 1Q-2016, you'll see the trends that support our assumptions about future growth.

Click to enlarge
Source: AT&T 2015 Annual Report

Click to enlarge
Source: AT&T Q1 2016 Earnings Report
At a forward P/E ratio of 13.63, it might look a little expensive, but you've just seen the upside that AT&T Mobility brings to the table, so that kind of growth expectation is justified, in our opinion.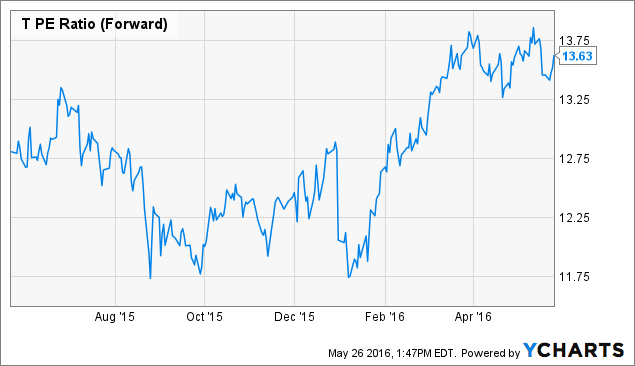 T P/E Ratio (Forward) data by YCharts
Disclosure: I/we have no positions in any stocks mentioned, and no plans to initiate any positions within the next 72 hours.
I wrote this article myself, and it expresses my own opinions. I am not receiving compensation for it (other than from Seeking Alpha). I have no business relationship with any company whose stock is mentioned in this article.