So far this week, I have written articles on the following Mall REITs: PREIT (NYSE:PEI), Taubman Centers (NYSE:TCO), and Tanger Factory Outlets (NYSE:SKT). I had planned to close out the week with an article on WP Glimcher (NYSE:WPG), but I decided to cover a more relevant breaking news story.
Timing is everything. Before I get into the news that was released this week, I believe it's important to revisit my opinion on CBL Properties (NYSE:CBL). Recall back in February, I opined:
I would not want to own Westgate Mall or a share in CBL at any price. I consider this security a value trap and the "common" shares appear to be perpetually weak. Given the overall weakness related to Sears and JC Penney, I would avoid investing in CBL.
Despite first-quarter results that showed a modest improvement in occupancy, my opinion of this mall owner has not changed, I do not consider this REIT to be a solid investment.
As I was saying, things got interesting in the mall sector this week.
The Wall Street Journal reported that the FBI and the Securities Exchange Commission are probing whether the firm falsified information on financial statements to banks when applying for financing.
The WSJ stated that law-enforcement officials have talked to former CBL employees who allege the company inflated rental income and occupancy rates for its properties when providing those figures to banks, the newspaper said, citing people familiar with the matter.
But wait, it gets better:
Federal investigators are separately asking about the relationship between the company and U.S. Sen. Bob Corker of Tennessee, the Journal reported. Corker, who has friendly ties to CBL's senior executives, has made millions of dollars in profits trading the company's stock in recent years, the newspaper reported.
The report said investigators haven't found evidence of wrongdoing by Corker, and a spokeswoman for the senator told the Journal that the allegations against him are "baseless." A voicemail left at the senator's Washington DC office before regular business hours wasn't immediately returned.
Then CBL issued its response:
CHATTANOOGA, Tenn.--(BUSINESS WIRE)-- CBL & Associates Properties, Inc. today issued the following statement in response to baseless allegations in media coverage.

"Tuesday night's story referencing our company in The Wall Street Journal included serious allegations from unnamed sources. We believe these allegations to be completely baseless and take very seriously any questions regarding our accounting and financial practices. We strongly deny and will seek to understand the origin of these allegations. As we told the reporter - who contacted our company for the first time on Tuesday regarding this matter - neither the company nor its executives have been contacted by the FBI, the SEC or any regulatory agency regarding our company's accounting or financial practices. At all times, our company operates with the utmost integrity and holds itself to the highest ethical standards. We have stringent policies and procedures in place to ensure all of our accounting and financial processes and reporting comply with applicable laws, rules and regulations."
The market then issued its response: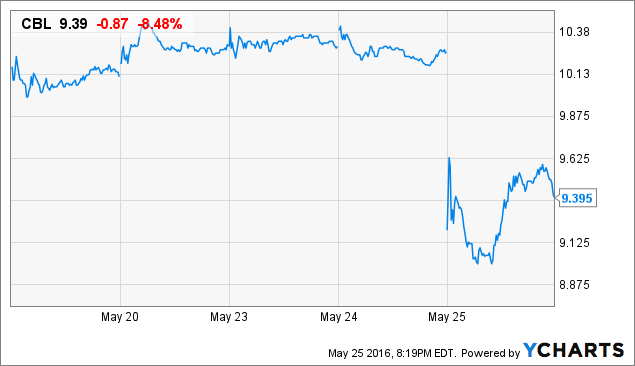 In response to the news and the market action, no fewer than seven cockroaches came out of the woodwork to try to scrounge up shareholder lawsuits (if this implies that I am not a fan of shareholder ambulance chasers, mission accomplished).
Fellow analyst, Michael Terry, and I pored over what little there was in the way of information regarding these allegations and came to the following conclusion:
We believe it is unlikely that CBL falsified information to its banks when obtaining financing. When you sit back and consider it, the majority of a property's revenues are contractual in nature, as are the expenses.
The revenue number then becomes difficult to inflate given the various disclosures made about these figures in public filings (think of the supplemental information given) as well as the required underwriting documents that are typically required during the underwriting process.
Occupancy numbers are also widely reported and there are a number of ways which it can be reported - total occupancy, economic occupancy, etc. As a result, we do not believe this will be a material event, but it could create an overhang/headwind for the shares.
As for the potential of Sen. Corker trading on tips or inside information over "recent years," we believe the timing is somewhat suspect, but cannot offer an opinion either way on this.
With all of this being said, we thought it could be a good time to look at the valuation of CBL, just to catch up with what the market is saying.

Click to enlarge
One of the first things that jumps out at us is the FFO multiple the shares trade at, a measly 4x (shown in the chart below).
While I still want no part of CBL as an investment, Mike was looking at it as a return play, with the belief that the multiple is too low even for CBL, and there should be a compression between CBL and PEI (which I just wrote about here).
It is important to note that Mike isn't saying invest in this company, but that it could be a decent trade - and we recognize the difference between the two as well as the risk difference.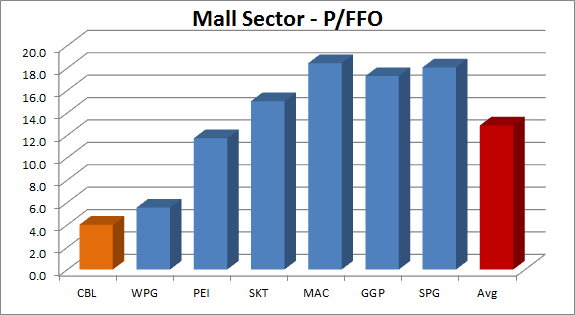 Mike explains it as follows:
The multiple at which CBL currently trades (4x FFO guidance) is well below peers and below that of its closest peers, WP Glimcher and PREIT. Once the initial reaction dissipates - and I am not sure it entirely has - we should see a compression between CBL and PEI.
In other words, the discount at which CBL is trading to PEI is too great and should narrow. While waiting for this to occur, the trade carries the benefit of a higher current yield, as the chart below shows.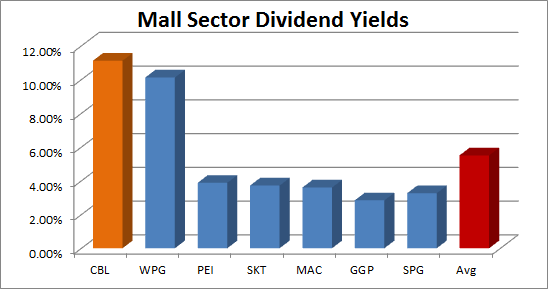 Again, this is a trading view (shorter term) rather than an investment view (longer term) and should be sized and traded accordingly.
For full disclosure, Mike tried to buy shares at $9.00 yesterday, but missed the lows. Should there be no further falling knives, it is likely his $9.00 limit will stay in place today.
The one thing which we both agree on is the preferred stock. We believe the better investment is the preferred shares (it has been an iREIT preferred holding for a while). The following are the characteristics of the preferred shares:

Click to enlarge
The preferred shares were down over $1.00 on the news, and at over 7% and below par, we think they represent value (best case is buy the Series D, hope it gets called and roll into the Series E). Importantly, CBL's AFFO = approx $471mm/yr (using trailing twelve months), pref dividends = approx $45mm, so coverage is strong at approximately 10x.
Graphically, the yield on mall sector preferreds is: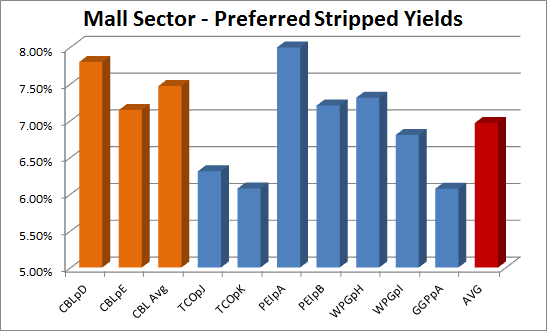 As the following chart shows, the preferred stock of CBL took a hit today (it has been here before on tenant concerns earlier in the year) and the stripped yield increased (first chart below) as the price got hit (second chart below):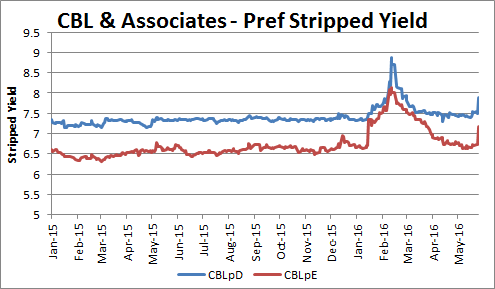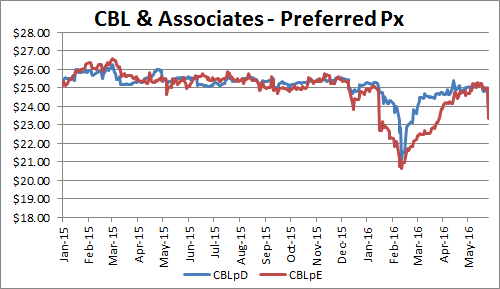 The Bottom Line: We believe the market overreacted to the news this week and the likelihood of shenanigans is somewhat low. While this may set up a trading opportunity, we believe the REIT should be avoided by longer-term investors given the B/C mall quality and tenant pressures that are still playing out. The preferred stock is worth a look as it is reasonably covered by FFO and is trading below par.
Author's Note: Brad Thomas and Michael Terry, CFA, are analysts at The Intelligent REIT Investor and both are Wall Street writers. That means that they are not always right with their predictions or recommendations. That also applies to grammar. Please excuse any typos.
Finally, this article is free, and the sole purpose for writing it is to assist with research (Brad is also the editor of a newsletter, Forbes Real Estate Investor), while also providing a forum for second-level thinking. If you have not followed us, please take five seconds and click Brad's name above (top of the page).
Sources: SNL Financial and The Intelligent REIT Investor.
Disclaimer: This article is intended to provide information to interested parties. As I have no knowledge of individual investor circumstances, goals, and/or portfolio concentration or diversification, readers are expected to complete their own due diligence before purchasing any stocks mentioned or recommended.
Disclosure: I am/we are long O, DLR, VTR, HTA , STAG, GPT, ROIC, HCN, OHI, LXP, KIM, WPC, DOC, EXR, MYCC, TCO, SKT, UBA, STWD, CONE, BRX, CLDT, HST, APTS, FPI, CORR, NHI, CCP, CTRE, WPG, KRG, SNR, LADR, HCP, PEB, BXMT.
I wrote this article myself, and it expresses my own opinions. I am not receiving compensation for it (other than from Seeking Alpha). I have no business relationship with any company whose stock is mentioned in this article.