In theory, oil at $50 should have ended the short trade in VanEck Vectors Russia ETF (NYSE: RSX). Oil's push to this important level was previously seen as a big buy signal for the Russian stocks. However, this is not the case now, as RSX failed to trade at new highs while oil traded around $50 per barrel.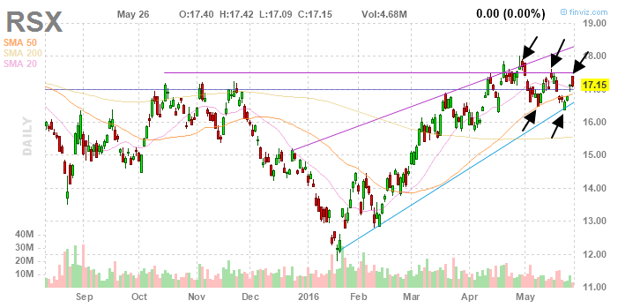 Click to enlarge

Click to enlarge
You can see that RSX and Brent have different trends now. RSX is in the downtrend, with lower highs and lower lows, while Brent remains in the uptrend, with higher highs and higher lows.
Normally, you can expect that such an oil-dependent ETF like RSX will have a high correlation with oil price performance. Of course, such a correlation still exists, and big days in oil translate into upside in RSX, but RSX performance lags the one of Brent oil. Here's what I think about it and how I see the trade might develop further.
1) Strength of the U.S. market takes money from emerging markets. Money migrates between countries and asset classes. As S&P 500 (NYSE: SPY) looks ready to finally storm new highs and the U.S. dollar (NYSE: UUP) enjoying support from the recent Fed comments, emerging markets lose some of the money flow. Russia is not the only one. For example, the Vanguard FTSE Emerging Markets ETF (NYSE: VWO) is way off recent highs. The continuous flow of funds into the U.S. market surely adds some pressure on RSX.
2) Other commodities are not looking as good as oil. Gold failed to stabilize around the $1300 level and now looks ready to test $1200. Iron ore fell from recent highs as China remains a source of worry. Potash is just trying to find a bottom. All these developments put pressure on Russian companies, economy and RSX.
3) Economy remains feeble and there is no concrete anti-crisis plan. The current strategy seems to be waiting for higher oil prices. It does not look like a particularly good strategy, and the market acknowledges this fact. Meanwhile, Russian industrial production fails to deliver any meaningful recovery despite the weakness of the ruble, which, in theory, should have made Russian firms more competitive. It is possible that continuous upside in oil finally translated into something tangible for economy in May, but we'll have to wait for May numbers to see if this really happened.
4) The ruble stopped appreciating. The Russian ruble did not follow oil in its latest moves, which is a big catalyst for the dollar-denominated RSX. Currently, it looks like any correction in the oil market will translate into significant weakness of the ruble, which will be bearish for RSX. Russia enters the dividend-paying season. Dividends are paid in rubles, so foreign holders will have to exchange them to dollars and euros. This typically creates some pressure on the ruble in summer months.
Will the trade hold if oil rallies to $55 per barrel? I don't think so. Oil's ability to stay above $50 per barrel will likely lead to a fresh flow of money into everything oil-related, pushing RSX up. In this light, the next few trading days might be crucial for the short trade in RSX. This May, RSX showed that it has intrinsic weakness, so if oil stops rising every day, RSX will drop significantly.
Disclosure: I am/we are short RSX.
I wrote this article myself, and it expresses my own opinions. I am not receiving compensation for it (other than from Seeking Alpha). I have no business relationship with any company whose stock is mentioned in this article.