Schlumberger (NYSE:SLB) is an interesting stock in that it correlates well with crude oil prices, yet needs much higher oil prices than E&Ps to be financially healthy. Fortunately, SLB is an FCF-generating success story and an overall quality stock that will see positive capital gains in the long-term oil recovery scenario. For now, investors should take a position in this company, but be patient with the investment.

Click to enlarge
Source: Schlumberger
Positioning
The current crude environment is grim for SLB; however, it's not a Ch.11 sentence by any means. Continued industry capex cuts and expenses are leaving O&G services companies like SLB fighting for market share, which can be seen below. Fortunately, this company posted positive net income on its Q1 earnings report, which allowed the company to generate another consecutive quarter of FCF. The fact that this stock - an oil-linked equity - has not had a negative quarter of FCF during this entire downturn is remarkable and says something about the resilience of the company.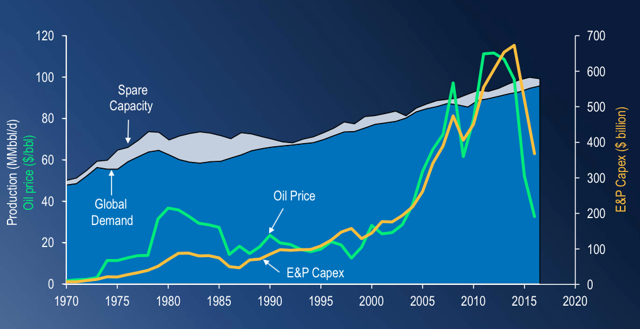 Click to enlarge
Source: Investor Relations
Thus, there is a strong argument for this company to be put in a portfolio because of its quality nature. Not even oil majors Exxon Mobil (NYSE:XOM) or Chevron (NYSE:CVX) accomplished this. Now, FCF last quarter was the lowest it has been in the LTM at $661 million. Seeing as this quarter was also the record low for crude in the last 15 years, this is the lowest level of FCF shareholders should expect moving forward unless the market retests February lows.
Below is SLB's FCF trend over the last five years, which while it has begun to slide, is not negative by any respect: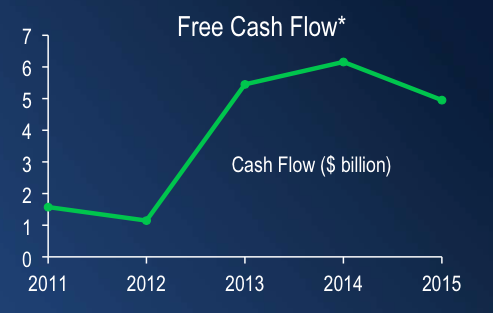 Source: Investor Relations
It is important to note that not only does SLB have strong FCF through this downturn, but that it is also outperforming peers on an FCF margin basis, seen below. Having a much higher FCF margin enables SLB to outperform on a dividend growth rate basis when the operational environment proves to be more favorable, as well as to accelerate authorized buybacks. This, in turn, creates a bullish momentum over the long term that will increase capital gains for present shareholders. This is a trait that I deem to be attractive.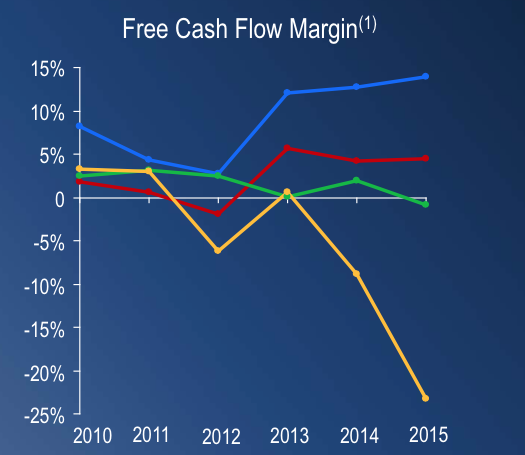 Source: Investor Relations
Investors need to focus on this company's offshore segment, particularly as it relates to North American revenue, as this will be one of the last portions of the core business to recover. Evident by offshore drillers like Transocean (NYSE:RIG) and Seadrill (NYSE:SDRL) seeing lower and lower dayrates, as well as contract terminations from some of their larger customers, the offshore drilling industry is in a position far worse than that of onshore E&Ps. Until onshore capex is restored towards mid-to-late 2014 levels, the offshore segment will not see strong profitability. SLB's North American offshore revenue is already down 18% this year, but should see a slightly better Q2 revenue than Q1 based upon a higher average realized price for crude for the offshore drillers. I don't expect it to be more than a few percentage points, however, so continue to expect this segment to lag behind.
Short-Term Oil Pullback
Crude oil prices are not at a meaningful level for Schlumberger, despite being recently positive for oil E&Ps. The bottom line is that this company needs higher prices before it can start generating consistent positive returns for shareholders. Thus, we turn to the current crude fundamental environment to see when SLB becomes a viable investment.
Investors need to keep in mind that there is a clear negative catalyst in Iran being able to hit its 4 mbopd target. Despite the lack of funding by banks for fear of renewed fines, Iran did reaffirm this week that they are able to scale their output, which partially offsets the progress being made by domestic supply decreases. The country is currently producing 3.6 mbopd and their exports are at 2 mbopd, with India and China being the primary sources of demand.
Additionally, one of the four core disruptions to crude supply is coming to an end: the Canadian wildfires. At one point, these wildfires were removing 1 mbopd, creating a bull run well past $45/barrel. Now that this upside catalyst is ending, expect the prices to retreat incrementally on upcoming production reports. Along with Nigeria's civil war, the aggregate effect is the largest global production outage in quite some time, seen below.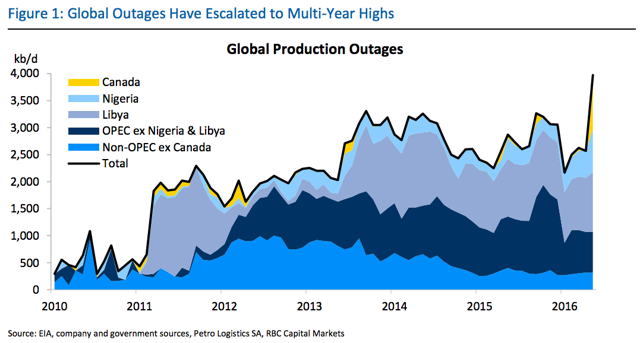 Click to enlarge
Source: Business Insider
However, the positivity in these negative catalysts is that shareholders can use any dip that occurs to either average down, if a position is already present, or take a position sub-$75 in SLB for the long term. Additionally, EIA-reported domestic production continues to fall incrementally and there was a strong decline in API and EIA-reported inventories this week, surpassing expectations. I've talked about this catalyst several times here on Seeking Alpha and while I'm still fearful that inventories are gluttonous, the decline this week was useful to create temporary support.
Conclusion
Naturally, when the crude market was experiencing significant weakness back in February, that was the time to take a multi-year long position in SLB, as well as many other crude-focused companies. It seems as though crude has a generally positive environment, at the current moment, but it's possible that there's a short-term dip if disruptions come to a halt. Diversifying one's energy holdings to include oil services companies like Schlumberger is an excellent move for the long term, in my opinion. Additionally, getting paid a 2.56% dividend while you wait for oil to see a sustained recovery is favorable.
Disclosure: I/we have no positions in any stocks mentioned, but may initiate a long position in SLB over the next 72 hours.
I wrote this article myself, and it expresses my own opinions. I am not receiving compensation for it (other than from Seeking Alpha). I have no business relationship with any company whose stock is mentioned in this article.