This retail earnings season has seen its share of both winners and losers. Overall, the April US Retail Sales figures came in ahead of expectations, rising 1.3% versus the 0.8% increase expected. The consumer is still spending, but it has become very selective, favoring value, selection, and convenience.
Internet Retail and Home Stores the Big Winners!
This earnings season's top winner was the Internet Retail sector. According to FactSet, Internet Retail earnings growth was up a whopping 143% Y/Y, helped by strong earnings results from companies such as Amazon (NASDAQ:AMZN) and online travel site Expedia (NASDAQ:EXPE). Both of these names are in the Amplify Online Retail ETF (NASDAQ:IBUY), an exchange traded product that tracks the EQM Online Retail Index.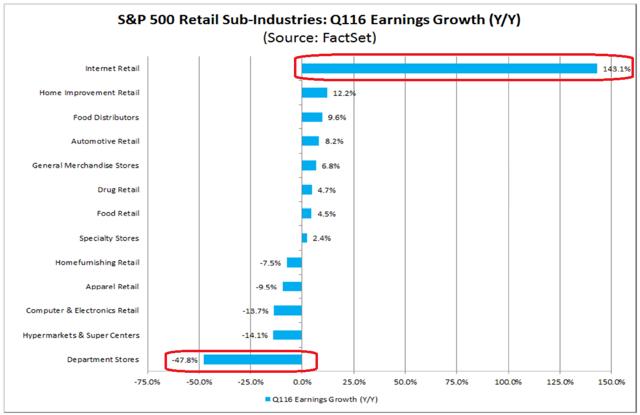 Other earnings winners in retail include home improvement retailers. Both Lowe's (NYSE:LOW) and Home Depot (NYSE:HD) beat expectations and posted strong results. During Q1, Lowe's recorded a comp sales increase of 7.3%, and Home Depot saw comp store gains of 6.5%. This strength makes sense in light of the recent strong housing numbers. Pending home sales for April posted a 5.1% increase, the biggest jump since October, 2010.
But more importantly, home improvement retailers are less challenged by the strength of internet retail. Homeowner's are less likely to buy items like mulch and lumber online. Sifting through April's retail sales figures, building material and garden retailers grew 8.2% Y/Y, trailing only nonstore retailers at 10.2% Y/Y.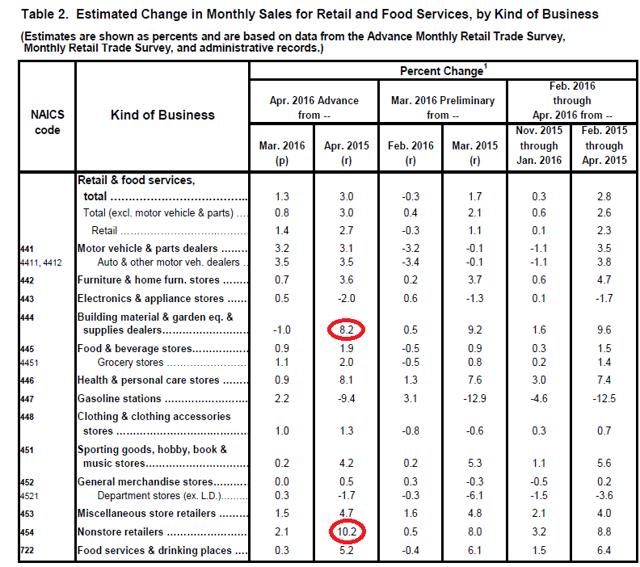 Source: U.S. Department of Commerce
Certain discounters (TJX, TGT), dollar stores (NASDAQ:DLTR), and niche fashion-apparel retailers (URBN, AEO) are getting it right and also executing well. And although they have not reported their results yet, Lululemon Athletica (NASDAQ:LULU) is probably still selling plenty of yoga pants, both in stores and online. So the consumer is alive and well after all!
Department Stores and Big-Box Retail are the Big Losers!
In this new era of retail disruption, who are the big losers? Department store earnings growth (M, JWN) declined almost 48% Y/Y, threatening their position as the coveted mall anchor.
Similarly, big box retailers and computer and electronics retailers experienced double digit earnings declines of 14.1% and 13.7% respectively. Online retail competition is literally "slaying" these retail formats. RIP Sports Authority.
Indeed, looking at Best Buy's (NYSE:BBY) earnings results, which beat but were marred by very weak future guidance, the biggest bright spot was online sales growth. Best Buy's online sales grew 24%. Unfortunately, online sales only account for 10.6% of the company's domestic revenues.
Some of the only growth among traditional brick and mortar retailers is coming from online sales growth. Traditional retailers are struggling to catch up in this area, but it requires a huge commitment in infrastructure spending and a disruptive change in their business models.
Adapt or Die
Wal-mart (NYSE:WMT) and Nordstrom (NYSE:JWN) are two retailers that have made huge recent investments in their online retail channels, with mixed results. Omnichannel or retail has been touted as the next big thing in retail, but running two different businesses (offline and online) is costly and difficult.
Nordstrom announced after missing its quarterly earnings it was rethinking its technology spending. Its move to offer free shipping to boost its online sales proved expensive, but it did drive 44% growth last quarter in its Nordstrom direct division. Profitable execution is going to become even more challenging, especially considering Amazon's announcement it is getting serious about selling designer apparel.
And Now There's M-Commerce!
As if e-commerce wasn't a big enough disruptor of retail, now there is the rise of m-commerce, seeing the increased use of mobile devices to shop and transact. M-Commerce sales are growing at a pace of 50-60%, driven by factors such as larger screens, smoother transaction experiences, better mobile search and context-driven discovery. Mobile is becoming an increasingly important channel for shoppers as they research and purchase products on their smartphones and tablets.
The Mall Has Moved Online
The disruption in retail is not a fad, but a permanent secular change. The mall isn't dead, it has just moved online. Faced with a multitude of fulfillment options, modern day shoppers in the digital age demand value, selection, and convenience.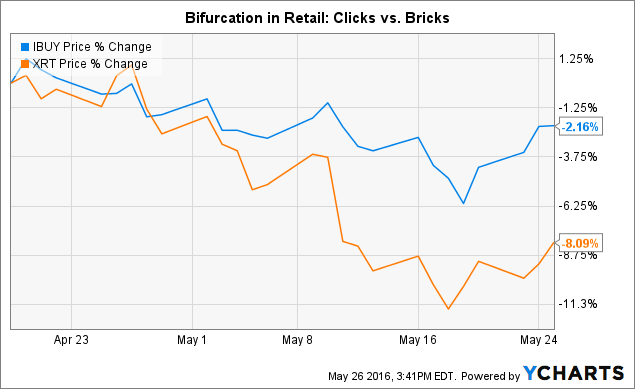 What does this mean from an investment standpoint? At least over the last month, there has been huge performance dispersion between the Amplify Online Retail ETF and the S&P Retail ETF (NYSEARCA:XRT). And it would seem, it may be long clicks and short bricks going forward.
Disclosure
EQM Indexes is the creator of the EQM Online Retail Index (IBUYXT) which has been licensed to Amplify Investments as an ETF. It is not possible to invest directly in an index. Exposure to an asset class represented by an index is available through investable instruments based on that index. EQM Indexes does not sponsor, endorse, sell, promote or manage any investment fund or other investment vehicle that is offered by third parties and that seeks to provide an investment return based on the performance of any index. EQM Indexes makes no assurance that investment products based on the Index will accurately track index performance or provide positive investment returns. EQM Indexes is not an investment advisor, and makes no representation regarding the advisability of investing in any such investment fund or other investment vehicle. A decision to invest in any such investment fund or other investment vehicle should not be made in reliance on any of the statements set forth on this website. Prospective investors are advised to make an investment in any such fund or other vehicle only after carefully considering the risks associated with investing in such funds, as detailed in an offering memorandum or similar document that is prepared by or on behalf of the issuer of the investment fund or other vehicle. Inclusion of a security within an index is not a recommendation by EQM Indexes to buy, sell, or hold such security, nor is it considered to be investment advice.
Disclosure: I am/we are long IBUY.
I wrote this article myself, and it expresses my own opinions. I am not receiving compensation for it (other than from Seeking Alpha). I have no business relationship with any company whose stock is mentioned in this article.