In a previous article we explored the "FX-mortgages story" and why it represents a systemic risk to the European banking sector. In this article, we will stress test the FX mortgage portfolio, looking at the key moving parts: the exchange rate (PLN/CHF), the Swiss franc interest rate, average wages and property prices in Poland. We then use them to estimate their combined impact on the consumer"s debt burden (monthly payment/monthly income) and LTV of the mortgage loan books, which we view as the key variables that affect loan quality.
We take the following simple approach to stress testing. We view the risk associated with FX mortgage lending as a function of two key indicators
1. The debt servicing burden - i.e. monthly mortgage payment as a proportion of the borrower's monthly income.
2. LTV (Loan-to-Value) of the mortgage book.
In turn, these depend on the movements of the following variables:
PLN/CHF rate;
CHF LIBOR - mortgage loans in Poland are predominantly floating rate, with the rate linked to 3M LIBOR;
Wages;
Residential property prices;
Exchange rate
The zloty has significantly depreciated vs the Swiss franc since the peak (mid-2008).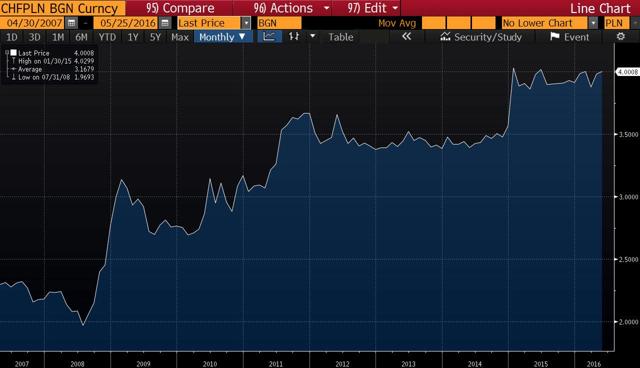 Click to enlarge
Source: Bloomberg
Interest rate
The adverse exchange rate movement was partly mitigated by the decline of the CHF LIBOR over the period: from around 3% in mid-2008 to -0.73% now. This is what crucially differentiates Poland from Hungary, where banks raised interest rates rather than passing on declines in Swiss lending rates.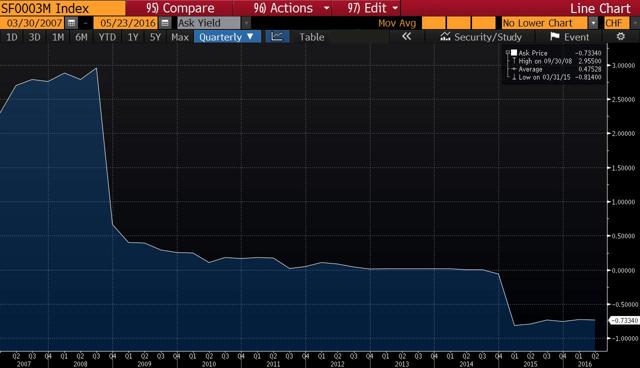 Click to enlarge
Source: Bloomberg
Monthly payment
The interplay of the above two counteracting factors has somewhat muted the movements in zloty-denominated monthly payments on a hypothetical FX mortgage loan (25-year, CHF100,000, average rate on the CHF-mortgages). Nevertheless, on our estimates it has now increased more than 30% since the trough of 2007.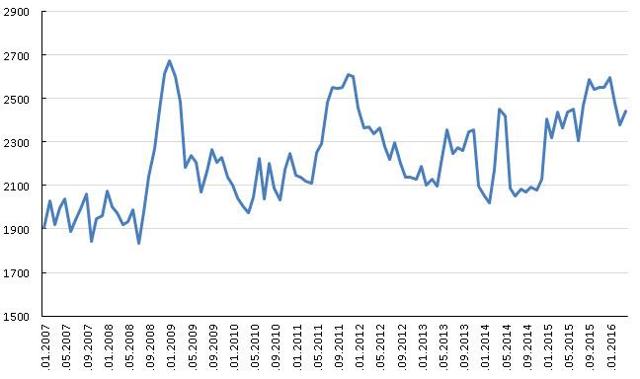 Click to enlarge
Source: Renaissance Research estimates
Wages
The average monthly wages (nominal, in zloty terms) increased 61% between Jan-2007 and Apr-2016.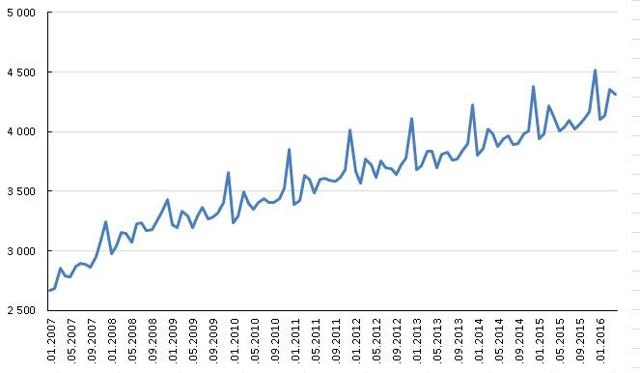 Click to enlarge
Source: Central Statistic Office of Poland
Debt burden
We run a simulation of the mortgage monthly payment as a percentage of monthly income. We make the following observations:
For loans granted in 2006-2007 (1 January of the respective years), wage growth has outpaced the growth in the monthly payment, so the debt burden has actually declined from a hypothetical 30% to 28%;
For loans granted in 2008-2010 (1 January of the respective years), the debt burden has increased by 2-7 ppts since origination, with the most recently granted loans affected the most. However it is worth noting that in 2009-2010 the share of Swiss francs in mortgage lending came down dramatically, so these loans are smaller relative to the portfolio and as such are less of an issue;
Put differently, in nominal terms zloty-denominated monthly mortgage payments have increased 20-35% (depending on the year of origination), but in wage-adjusted terms they actually fell for the oldest loans (granted on 1 January 2006 and 1 January 2007) and increased only 9% for loans granted on 1 January 2008. All in all, the degree of deterioration of debt servicing capacity does not appear too dramatic, especially for the older loans.
Residential property prices
Housing prices peaked in 2007-2008, have since come off circa 20% in the secondary market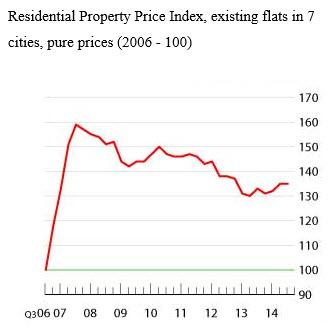 Source: NBP
LTV (Loan-to-Value)
This was clearly adversely affected by the recent currency movements, as well as housing prices decline. As a result, some generations of loans (granted in 2007-2008) are now running LTV ratios north of 100%, on our estimates. Our analysis suggests that loans granted in 2007-2008 now run LTVs of 85-108%, vs 65-75% at origination. Weighted average LTV across the loan generations has increased from 71% at origination to 85% as of today, on our estimates. We ran sensitivity analysis of LTV to further potential changes in the PLN/CHF exchange rate.

We conclude this article by running a simplified stress test on the need for provisioning at the sector level. The results are as follows:
At the current exchange rate (PLN4.0/CHF1), the sector's need for extra provisioning looks moderate, less than 0.5 % for the sector;
Under the adverse scenario of PLN4.8/CHF1, these provisioning charges would increase to 2.0% for the sector;
Although we attribute a low probability to such a scenario, for the argument"s sake we also present the results under PLN5.5/CHF1. This would result in a circa 4% extra provisioning charge for the sector.
In the next article, we will focus on specific implications for European Banks and Citigroup (NYSE:C).
Disclosure: I/we have no positions in any stocks mentioned, and no plans to initiate any positions within the next 72 hours.
I wrote this article myself, and it expresses my own opinions. I am not receiving compensation for it (other than from Seeking Alpha). I have no business relationship with any company whose stock is mentioned in this article.