This month, Janet Chambers takes a look at the '$1bn Club', a group of the world's largest hedge fund managers. In the 12 months since Preqin's last $1bn Club report, there have been significant changes to the makeup of the group, not least the 170 hedge fund managers entering the club.
Following an underwhelming 2015 and a slow start to 2016 in terms of performance, hedge fund managers have experienced two consecutive quarters of net outflows to Q1 2016. However, one group of managers that continues to dominate the assets of the hedge fund industry is the $1bn Club - hedge fund managers with at least $1bn in assets under management (AUM). Established members of the club draw attention from institutional investors, with $1bn Club managers experiencing strong success in raising capital. 2016 has seen new entrants to the $1bn Club, including newer hedge fund managers that have shown strong credentials at previous firms, as well as more established managers that have experienced a steady growth in AUM. This article looks at the current make-up of the $1bn Club and how it has changed over the past year.
Preqin's Hedge Fund Online currently details 668 managers with at least $1bn in AUM, with the club increasing by a net 98 members over the past year. The $1bn Club accounts for 12% of all hedge fund managers, yet represents 88% of hedge fund industry assets. However, despite the increasing number of managers joining the $1bn Club, the proportion of industry assets these firms represent has declined from 92% in 2015.
Inside the $1bn Club
Managers with $20bn or more in AUM have seen their assets decline by 15% since May 2015, implying that even the elite have not been immune to redemptions from institutional investors over the past 12 months. Bridgewater Associates maintains its position as the largest hedge fund manager in the world (Fig. 1); however, the AUM of Bridgewater Associates has fallen to $146bn as of February 2016 - a decline of $23bn from Q1 2015. Two systematic fi rms focused on statistical and mathematical modelling have entered the top 10 in 2016, Renaissance Technologies and Two Sigma Investments.

Click to enlarge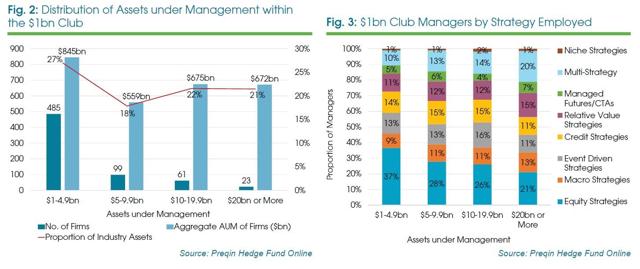 Click to enlarge
As seen in Fig. 2, the largest proportion (27%) of industry assets are attributed to managers with total AUM of $1-4.9bn. Over the past year, aggregate AUM of managers in the $10-19.9bn bracket has surpassed that of managers with $20bn or more in assets, standing at $675bn and $672bn respectively.
Structures and Strategies of $1bn Club Managers
CTAs started 2016 strongly with the Preqin All-Strategies CTA benchmark showing positive Q1 returns and outperforming the Preqin All-Strategies Hedge Fund benchmark in January and February. However, managed futures/CTAs account for only a small proportion (5%) of the strategies offered the by the $1bn Club, with these funds most prevalent among managers in the $20bn+ bracket (7%), as shown in Fig. 3.
Multi-strategy funds are most common among the largest managers in the $1bn Club, with 20% of managers with at least $20bn in AUM employing the strategy. As these funds trade in multiple markets they are able to accumulate greater AUM without compromising their overall strategy and returns potential. Other strategies often do not have the potential to scale to such large sizes. In contrast, we see a more focused investment approach from the smallest managers, with only 10% employing a core multi-strategy approach.
Larger AUM provides scope to launch more hedge funds; as shown in Fig. 4, 13% of the largest hedge fund managers offer 10 or more core hedge fund strategies to institutional investors. Conversely, managers with fewer resources in the $1bn Club typically offer lower numbers of hedge fund strategies, with just over half (51%) of hedge fund managers with $1-4.9bn in AUM offering just one hedge fund strategy.
Hedge funds offered by the $1bn Club most widely use a commingled fund structure; three-quarters of $1bn Club managers offer this type of fund. The $1bn Club are also increasingly using alternative structures to launch new funds: UCITS structures accounted for 21% of all funds launched in 2015 by current $1bn Club managers, compared with 15% in 2014. Nearly half (48%) of the UCITS funds launched by current $1bn Club managers in 2015 were by North America-based firms, compared with 26% in 2014, which shows that North America-based managers see the potential in the European UCITS wrapper (Fig. 5).
Location of $1bn Club
North America-based hedge fund managers dominate the $1bn Club: 72% of the largest hedge fund managers globally hail from the region, up five percentage points from 2015. Currently, North America is home to 479 $1bn Club managers, which hold just over $2tn in total AUM, followed by Europe with 129 $1bn Club managers managing $605bn. Asia-Pacific (51) and Rest of World (9) make-up the remainder of the $1bn Club, with managers located in these regions managing an aggregate $102bn and $21bn respectively.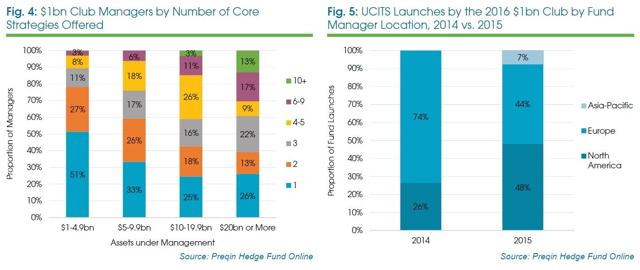 Click to enlarge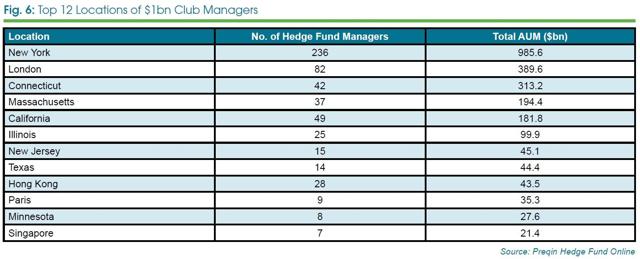 Click to enlarge
New York remains the headquarters of choice for the $1bn Club; 236 managers are currently based in the state (Fig. 6), an increase of 34 managers from 2015. However, the AUM of these managers has decreased to $986bn in 2016 from just over $1tn in 2015. As seen in Preqin's recent factsheet, Connecticut is home to some of the largest hedge fund managers in the world and is the second largest US state in terms of hedge fund AUM ($313bn). Furthermore, 98% of all Connecticut-based hedge fund AUM is managed by 42 $1bn Club managers. Representing Europe, London is the second most common headquarters of the $1bn Club; 82 managers are headquartered in London, managing $390bn in total assets. New entrants in this year's top 12 locations are Paris and Minnesota, with Sao Paulo and Florida dropping out from 2015.
New Entrants and Dropouts in the $14.9bn Bracket
All the $1bn Club members that appeared in Preqin's 2015 $1bn Club report but not in this current edition have dropped out of the $1-4.9bn bracket. Similarly, the vast majority of new entrants to the $1bn Club in 2016 manage $1-4.9bn in AUM. As shown in Fig. 7, North America represents 84% of all new entrants to the $1-4.9bn bracket, while Europe-(10%) and Asia-Pacific-based (6%) managers represent significantly smaller proportions. Forty-two percent of new entrants to the smallest bracket utilize equity strategies, compared to 46% of members that have dropped out of the club; event driven, credit and relative value strategies are employed more by new entrants than dropouts (Fig. 8).
Five firms established in 2015 have already amassed assets of $1bn or more. Three of the $1bn Club firms established in 2015 are spin-offs: Verde Asset Management, Systematica Investments and Garda Capital Partners. In early 2015, BlueCrest Capital decided to spin out its systematic hedge fund business to launch Systematica Investments with $8.5bn, pushing BlueCrest out of the $20bn or more AUM bracket, before its before its conversion to a family office. Verde Asset Management spun off Credit Suisse Hedging-Griffo and Garda Capital Partners is a spin-out of Black River Asset Management's relative value strategies hedge fund arm. The two remaining $1bn Club entrants established in 2015 are from two well-known hedge fund firms. Scott Bessent launched Key Square Group following his time as George Soros' right-hand man, and former Eton Park Capital Management partner Isaac Corre launched Governors Lane in Q2 2015.
Outlook
With the number of managers exceeding $1bn in AUM increasing, the $1bn Club continues to control a substantial portion of the hedge fund industry's assets. Some new managers with an existing attractive pedigree have been able to obtain large capital commitments from day one, while more established firms have entered the club through asset growth. The differences between the largest and smallest $1bn Club managers are still evident in 2016, with the largest managers able to offer more strategies to institutional investors, leading the $1bn Club in CTA, macro and multi-strategy offerings. North America continues to be the hub of the $1bn Club with New York as its beacon and London leading the way for those outside North America.
So far in 2016, we have seen some big-name hedge fund investors handing in redemption notices including NYCERS and MetLife; despite these large institutional investors withdrawing capital commitments from $1bn Club managers, the largest hedge funds have still seen net inflows over Q1 2016. Relying on their experience and ability to produce risk-adjusted returns under all market conditions to distinguish themselves from the rest of the industry, the $1bn Club will look to maintain and build on its leading position within the hedge fund industry.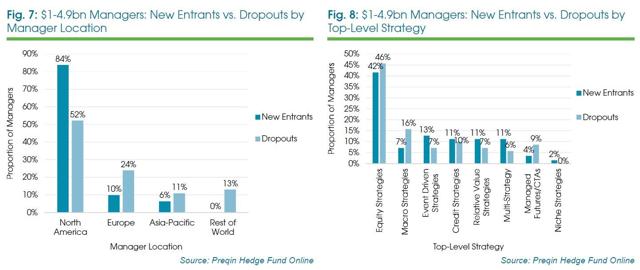 Click to enlarge
Disclosure: None