Company Overview
Biogen (NASDAQ:BIIB) is a large-cap biotechnology firm based in Massachusetts with over 30 years history. Its core business operates in the treatment of the neurodegenerative disease, multiple sclerosis.
Investment Thesis
My outlook on Biogen is that based on current fundamentals, it is a maturing company slowing in its growth capacities and the management's attempt towards significant growth are highly speculative and risky. Due to these reasons, I am pessimistic about the growth that Biogen will be able to deliver in the future.
Recent Developments
In early 2015, Biogen released news of a very promising large-scale Phase 1 study on an experimental drug called Aducanumab. However, after final results were released in July, the results were rather questionable. Both of these instances caused major price movements. On the surface level, there are headlines of exciting new drugs that have immeasurable potential to benefit the company. However, under all the glamour, the fundamental drivers of value seem to tell a different story.
Financial Health
What I want to highlight through the major price movements in 2015 is that Biogen's stock price had been highly volatile without much of a change in its fundamentals.
Currently, the bulk of the company's revenues come from four key blockbuster drugs, Tecfidera, Avonex, Plegridy, and Tysabri; all of which operate in the business of treating Multiple Sclerosis.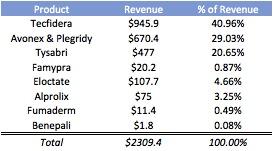 Click to enlarge
In the most recent quarter (March 2016), Biogen derived over 90% of its revenues from its MS business. This is a problem because it highlights the company's lack of diversification while reaching a mature state. Competition in this sector will be even stronger in the future due to reduced barriers to entry through the expiration of patents.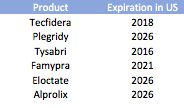 Tecfidera, Biogen's largest revenue driver, has been shaky in its growth in recent years and there are clear signs of slowing.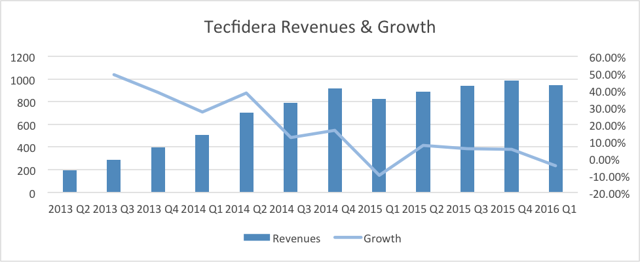 Click to enlarge
The fact that the company is highly concentrated in its core business is dangerous for future growth because there is a constant pressure for these drugs to perform well. Competition, patent expirations, and the natural aging of products are all slowing Biogen's revenue drivers, which may mean lower than expected cash flows in the future.
In the beginning of this month, Biogen announced its plan to spin-off their hemophilia operations, which include the drugs Eloctate and Alprolix. This will further concentrate the company and essentially leave Biogen with no diversification in its products. There are further implications for the future as the Hemophilia business was the only segment showing healthy growth.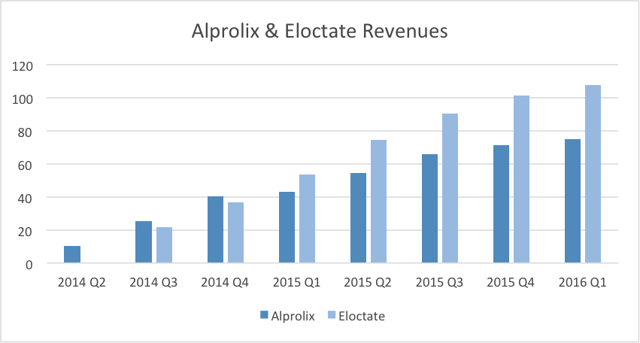 Click to enlarge
I believe that this spinoff will hurt the core business, as there will be less growth potential in the future.
Management's Attempts at Growth
In my view, the management of Biogen is focusing on creating value in the business through three main avenues: acquisitions, efficiency, and new product development.
Acquisitions
Historically, Biogen has made many acquisitions to stimulate growth. Its most profitable acquisition was Fumapharm in 2006, which resulted in Biogen's blockbuster MS drug Tecfidera (currently, the largest revenue driver). Other acquisitions have not produced such a significant return within the current time horizon.

Looking ahead, Biogen may acquire smaller companies that have an immediate benefit on its sales growth. An effective acquisition would allow Biogen to diversify its product base resulting in safer and more reliable growth. The company may eye Acadia Pharmaceuticals (NASDAQ:ACAD) as its next acquisition.
Efficiency
Management has been pushing to become more efficient. In October 2015, they cut 11% of their workforce and discontinued unpromising R&D projects. Management stated that they would use these savings to reinvest in more promising projects.
Looking into the company financials, I found that the reinvestment rate of Biogen is very low compared to industry averages. After capitalizing operating leases and R&D, I came up with a reinvestment rate of just over 20%. This suggests that management is not reinvesting very much in the business for long-term growth and value creation.
Historically, Biogen has kept very little debt on its balance sheet. This recently changed when the company raised $6 billion for a share repurchase program. This increase in leverage may benefit its capital structure by lowering the cost of capital. In this table, I analyze the different structures that could be employed and found that an increase in debt may be beneficial as the current debt ratio is just under 10%.

However, the use of the recently raised debt is a very short-term benefit and is a price driver rather than a value driver. Buying back shares does not do much to the fundamental value of the business and is a short-term strategy to increase the price of the security.
New Product Development
I believe that much of the value that the market ascribes to Biogen is based on future cash flows that originate from products currently being developed. In the case of Aducanumab, Biogen's value would increase immensely through the monopolized cash flows this could generate. However, there are several red flags that make it hard to justify placing a bet on this product. There are studies that suggest that amyloid plaque (the symptom that aducamunab targets) may not be the main cause of Alzheimer's. In addition, the disappointing Phase 1 results released after the initial news suggests that there is no dose-dependent effect.

(Source)
Biogen has several other developing pipelines that have potential for growth but I believe that Aducanumab is the most promising in terms of growth generation. I believe that the risks and uncertainty associated with the new product development makes the belief that it will come into fruition very questionable.
Valuation
Based on the company's current fundamentals, I believe that a fair value for the company is much below its current share price. I came to this value by assuming an expected growth rate in operating income based on the firm's current return on invested capital and reinvestment rate after capitalizing R&D and operating leases. I came to an expected growth of about 4% and tapering down through my projections to a long-term growth rate of the 30-year government t-bond rate (2.67%).
I removed reinvestments and discounted these cash flows by a cost of capital I estimated to be about 9%. I estimated the terminal value based on how I think the capital structure of the company would be once it has fully matured based on industry averages. Through my estimates, I came up with a fair value of $235.30.
Conclusion
My story for Biogen is not a positive one quite simply because I think that much of its growth potential is too speculative. Based on current fundamentals, I see it as a maturing company slowing in its growth capacities and I do not believe that the company will be able to deliver significant growth in the future.
(Note: All tables and graphs derived from company reports)
Disclosure: I/we have no positions in any stocks mentioned, and no plans to initiate any positions within the next 72 hours.
I wrote this article myself, and it expresses my own opinions. I am not receiving compensation for it (other than from Seeking Alpha). I have no business relationship with any company whose stock is mentioned in this article.