The Schwab U.S. Dividend Equity ETF (NYSEARCA:SCHD) offers investors a very interesting combination. As an ETF, it posts a fairly reasonable dividend yield, listed at 2.89%, yet many dividend growth investors may turn their nose up at the weaker yield as their own portfolios are likely to produce a higher dividend yield. It is understandable that investors buying into a dividend ETF would have a strong focus on generating a sufficient yield to support their retirement. As investors, the goal is to generate a source of income for ourselves or our dependents.
I Prefer SCHD to Supplement the Portfolio
Instead of viewing SCHD as the entire investment portfolio, I see it as a great way to supplement a portfolio. My portfolio consists of ETFs, mutual funds (in accounts restricted to mutual funds), and individual companies. Currently, it also involves a huge cash position since the market is trading at fairly high valuations.
When To Buy SCHD
Timing the market can be an exceptionally hard game, so I don't want to be constantly trying to predict small movements in the market. Rather than constantly buying and selling positions, I prefer emphasizing a buy and hold approach. I make an exception to that strategy when I am dealing with the areas where I feel my analysis is the strongest and I am comfortable believing that the market is wrong even if it disagrees with me about the valuation for several months.
SCHD is one of the investments I treat as a simple "buy and hold" investment. My strategy is simply to buy the ETF when it declines under $36. That has to be one of the simplest investment strategies for any investor to follow and it makes my choices much easier. I follow up that strategy by looking to buy more each time it dips another dollar lower. There were three opportunities to buy in the last 12 months and I was able to take advantage of two of them. The other time, I simply didn't have the cash on hand to do it.
The difference between trying to buy SCHD at low prices and trying to time the market is that I don't worry about when to sell SCHD. I simply have a price target for leaving open orders. In a nutshell, I don't care where the low prices occur and I don't care when the share prices peak. That eliminates two of the challenges from timing the market.
SCHD Allocations
The following chart breaks down the sector allocations for SCHD:

Click to enlarge
The position is very light on utilities, so investors using SCHD as a major piece of their portfolio may want to look into adding individual utility stocks or using a utility ETF like the Utilities Select Sector SPDR ETF (NYSEARCA:XLU).
Great Companies
The top 25 holdings include Wal-Mart (NYSE:WMT), Target (NYSE:TGT), and Altria Group (NYSE:MO). I've bought all 3 of those companies within the last 6 months and see them as simple "buy and hold" investments. Wal-Mart and Target each have incredible histories of raising dividends year after year and both are trading at fairly low multiples of earnings. I bought Wal-Mart before they announced earnings and popped higher and Target very shortly after their earnings release drove shares massively lower. In each company, I would view a significant decline in the share price as calling for me to double down on my investment because I am confident in the analysis.
Lower Volatility
One of the major reasons I emphasize SCHD is the lower volatility on the portfolio. I want my portfolio to demonstrate exceptionally low levels of volatility. In addition to a strong dividend yield, SCHD is simply less exposed to fierce declines. They also miss out on some of the more rapid climbs, but I'm willing to accept that drawback.
The following chart compares the volatility across several major ETFs: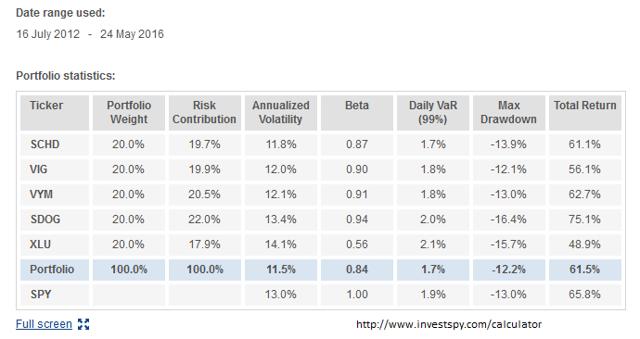 Click to enlarge
Joining SCHD is the Vanguard Dividend Appreciation ETF (NYSEARCA:VIG), the Vanguard High Dividend Yield ETF (NYSEARCA:VYM), and the ALPS Sector Dividend Dogs ETF (NYSEARCA:SDOG). Of course, XLU is in there as well for the utility exposure. Over the last few years, the utility sector has materially underperformed the rest of the options, but it offers a strong yield and the beta of .56 is fairly nice. You may notice immediately that SCHD also sports a beta of only .87 and an annualized volatility of 11.8%. Those factors combine with the stronger yield and emphasis on consumer staples to make me more comfortable in buying SCHD even if every news outlet is screaming that the bull market is coming to an end.
Conclusion
The Schwab U.S. Dividend Equity ETF is a great ETF for buying dividend yield. If an investor really wants to focus on dividend yield, they should be looking to use SCHD as a supplemental holding to diversify risk with a portfolio that holds more equity REITs and utilities.
For investors that want to read my most thorough research on the mortgage REITs, I just rolled out my new subscription service: The Mortgage REIT Forum
I've already got four pieces of research posted there and they all emphasize mortgage REITs or preferred shares. There is a free two-week trial so investors can access all my premium work for two weeks to see if I have lived up to your expectations.
Disclosure: I am/we are long SCHD, MO, WMT, TGT.
I wrote this article myself, and it expresses my own opinions. I am not receiving compensation for it (other than from Seeking Alpha). I have no business relationship with any company whose stock is mentioned in this article.
Additional disclosure: Information in this article represents the opinion of the analyst. All statements are represented as opinions, rather than facts, and should not be construed as advice to buy or sell a security. This article is prepared solely for publication on Seeking Alpha and any reproduction of it on other sites is unauthorized. Ratings of "outperform" and "underperform" reflect the analyst's estimation of a divergence between the market value for a security and the price that would be appropriate given the potential for risks and returns relative to other securities. The analyst does not know your particular objectives for returns or constraints upon investing. All investors are encouraged to do their own research before making any investment decision. Information is regularly obtained from Yahoo Finance, Google Finance, and SEC Database. If Yahoo, Google, or the SEC database contained faulty or old information it could be incorporated into my analysis.