Action: Position Initiated
The Lean Long-Term Growth Portfolio, LLGP, has focused on higher growth, higher risk companies within the consumer staples sector. This has included Sprouts Farmers Market (NASDAQ:SFM) and The WhiteWave Foods Company (NYSE:WWAV). The goal of late has been to consider adding a dividend paying stalwart to balance the higher risk holdings.
The companies in the consumer staples sector on the current watch list include Campbell Soup Company (NYSE:CPB), The Hershey Company (NYSE:HSY), The Kraft Heinz Company (NASDAQ:KHC) and McCormick & Company (NYSE:MKC). Clearly, the focus has been on food industry companies. Upon review, all of these companies were determined to be trading at prices higher than desired. The most lucrative opportunity the past couple of weeks was Kraft Heinz Company's approach to the $80/share level.
In the past, companies including McCormick & Company and other non-food consumer staples such as Procter & Gamble (NYSE:PG) have been owned. Fortunately, for me, our household is a Best Foods consumer when it comes to mayonnaise and this led me to review the company's website and discover that Unilever (NYSE:UL) was the owner of the brand.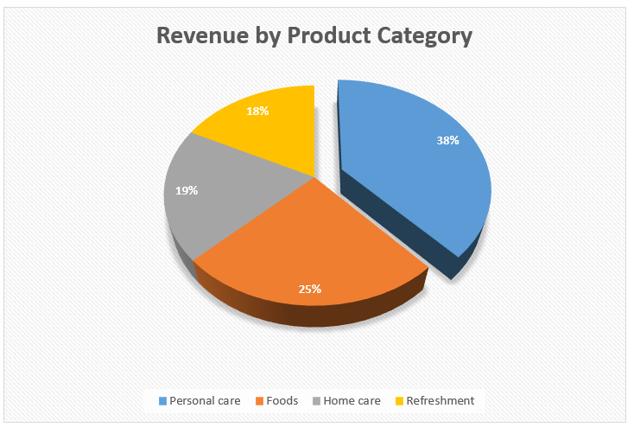 Click to enlarge
Source: Company financials and personal database, first quarter 2016
For the desired focus on the food industries, Unilever provides a fair representation of foods and refreshment product categories. Additionally, the company provides personal and home care products adding to a more diversified product portfolio.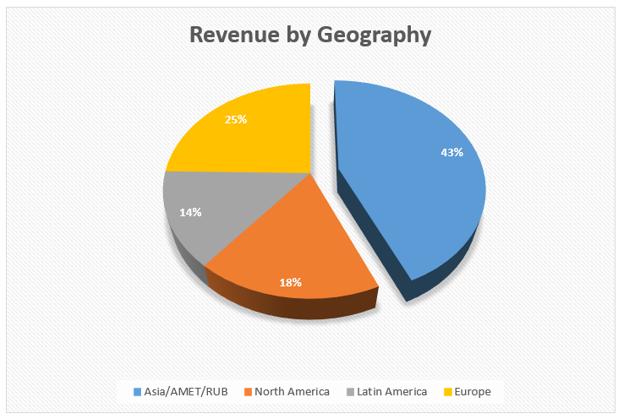 Click to enlarge
Source: Company financials and personal database, first quarter 2016
For investors looking for greater exposure outside of the U.S., Unilever offers strong diversification with substantial revenue from Asia, India and Russia as well as Europe and Latin America. Heavier exposure to some of these major geographies also provides for more robust growth opportunities that are emerging, something U.S.-based consumer staples are talking about and attempting to transition to.
For the first quarter, Unilever performed strongly by underlying sales growth, defined by price and volume, which grew across all product categories. Prices were up around 2 percent year over year, YOY for all product categories, while volumes were up 2 percent or greater for all product categories with the exception being foods, which was flat. The primary headwind for the company continued to be exchange rates. Unsurprisingly, emerging markets substantially outperformed developed markets.
But, the core decision to consider and take action on a position in Unilever was driven by the company's fundamentals and valuation. Many of the above-mentioned companies have forward P/E multiples above 20 times earnings and much higher valuations on a trailing twelve-month, TTM basis. Additional measures considered, included profit margin, EBITDA margin, debt/EBITDA, EV/EBITDA, free cash flow yield and dividend yield.
Compared amongst the short list provided above, Unilever was either in line or better positioned from a valuation perspective. Since dividend yield was a strong priority, Unilever was more compelling as it outperformed all but Procter & Gamble. With recent comparative dividend increases substantially in Unilever's favor, it was clear that combined with the company's growth prospects in emerging markets, a long-term investment opportunity was present.
The current price level is by no means a discounted bargain, but rather an initial long-term position. Unilever has 13 brands with over $1 billion in revenue so the company has scale combined with growth potential.
The initial Unilever position added to the LLGP included a total cost of $44.97/share. This price equates to a 3.2 percent dividend yield on cost. As many investors are already aware, investing in the UL shares are tax free versus investing in the UN shares. Stock price appreciation may be greater for UN shares so investors should think about these prospects.
Disclosure: I am/we are long SFM, WWAV, UL.
I wrote this article myself, and it expresses my own opinions. I am not receiving compensation for it (other than from Seeking Alpha). I have no business relationship with any company whose stock is mentioned in this article.