Overview:
On March 18th Seeking Alpha reported Sony (NYSE:SNY) was in the process of launching a new improved Playstation 4 (dubbed 4.5) that would allow 4K gaming. Then on May25th Seeking Alpha reported that Microsoft (NASDAQ:MSFT) was doing a similar release in 2017 utilizing a more powerful GPU to allow 4K gaming in conjunction with the Oculus Rift VR headset. Since AMD makes the SoC for both consoles now this means new, added sales and profits for AMD in 2017.
In this article I discuss the potential for semi-custom contracts to advance AMD's (NYSE:AMD) sales and profits
"I like live audiences, with real people - virtual reality is no substitute."
Hillary Clinton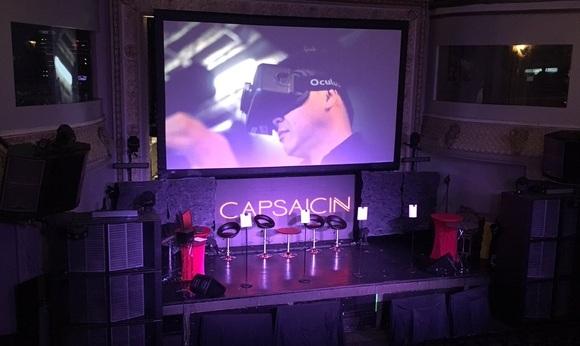 Source: pcworld.com
Semi-custom SoC contracts keep stacking up at AMD.
In the last AMD conference call on April 21st CEO Lisa Su talked about the $1.5 billion semi-custom contracts already signed plus current game consoles and now add potentially 2 more game console contracts.
"just to recap on what we've said about the Semi-Custom designs in the past. We have a total of three design wins that have a lifetime revenue of about, let's call it, $1.5 billion or greater. And that will come across over the next three years to four years.

In addition we have our current game console business as well. So when you look at the aggregate of that, we do expect to start ramping that new business in the second half of the year. But we also expect the seasonal uplift of our traditional game console business. So that's adding to what we expect will be a strong year for Semi-Custom overall."
I think "strong year" will end up being an understatement.
Well over 60 million game consoles sold since 2013.
As the following chart shows, sales of the big 3 consoles are at about 55 million total through 3Q 2015. Add in 2 more quarters of sales including the holiday season of 2015 and unit sales must be well over 60 million. Keep in mind that although AMD does not make the Wii U CPU (it's an IBM PowerPC chip) it does make the graphics chip - a Radeon Latte.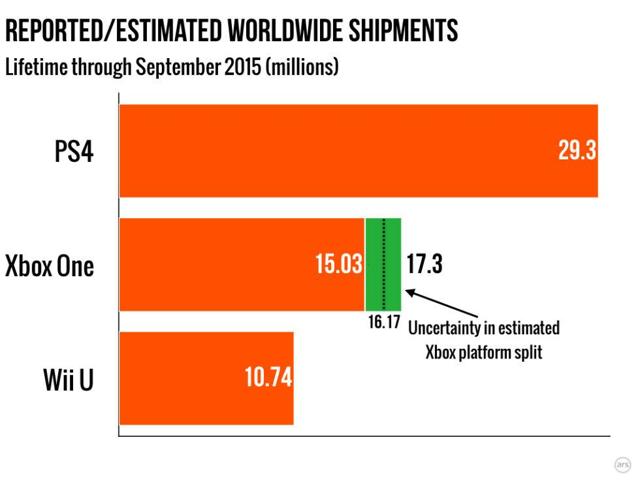 Click to enlarge
How many total PS4, Xbox One and Wii U consoles will be sold over their lifetime? Well game expert Michael Pachter estimates a total of about 250 million. That means there may be 200 million more chip sales coming from AMD for the Big 3. So if he's right and using a conservative price of $50 per chip that's $8 - 10 billion in future revenue over the next 5 to 8 years. That is a very nice annuity for a company that had less than $4 bill in revenues last year.
In the future semi-custom will be the rule not the exception.
Recently AMD signed a Joint Venture agreement with Chinese firm THATIC. The purpose was to allow THATIC to modify or reengineer AMD's CPU's to allow for enhanced security. I discuss the THATIC JV here "AMD: The Good News Continues". This is similar to IBM's Open Power Foundation which will take IBM Power chips and modify them (customize them) to meet the unique needs of the user. Prominent members of the Foundation include Google, Samsung, Micron and Hitachi plus many others. I talk about the Power chip's value to IBM here "Google, IBM, ARM And AMD Begin The Assault On Intel's Server Franchise".
The other factor effecting customization is the ever increasing purchasing power of just a few customers. In their latest 10K Intel admitted that just 3 customers accounted for 46% of their revenue - HP (NYSE:HPQ), Lenovo (LNGVY) and Dell. And that did not include the 20 million chips sold in Apple's (OTC:APPL) Macintosh line. It doesn't take too much imagination to visualize AMD combining Zen and Polaris in a semi-custom SoC that would steal Intel's Apple Mac business. Stay tuned.
Then there are the Super 7 : Facebook (NASDAQ:FB) , Google (NASDAQ:GOOG) , Microsoft , Amazon (NASDAQ:AMZN) , Baidu, (NASDAQ:BIDU) Alibaba, (NYSE:BABA) and Tencent. They buy so many server chips that they get special consideration. And there is another 50 or so customers that buy 1,000's of chips at a time such as Uber, Pinterest and Airnb.
Here is Intel Data Center Group manager Diane Bryant on the big server customers:
"When they start buying over 10,000 servers a year, they start optimizing their hardware and they no longer think about buying general purpose servers," Bryant says. "They start thinking about running their own data centers and buying specialized hardware to fit their unique workloads."
So big chip buyers are looking for an advantage no matter how small. Sounds a lot like semi-custom to me and AMD is an obvious expert in that marketplace.
Conclusion:
I have been a big fan of AMD for well over a year now. I have consistently predicted a price of at least $10 by the end of 2017 as written here "10 More Reasons Why AMD Will Be $10 In 2017" and here "
AMD: Zen's Release Will Be Taking Names And Kicking Bandwidth Sooner Rather Than Later" and here "
AMD: Multiple Catalysts Will Drive A Double In 2016 And Another Double In 2017". The most recent good news from Sony and Microsoft makes that prediction even more likely.
And if I am right then CEO Lisa Su should be 2017 CEO of the Year. You heard it here first.
AMD is a very strong buy.
If you found this article to be of value please scroll up and click the "Follow" button next to my name.
.
Disclosure: I am/we are long AMD.
I wrote this article myself, and it expresses my own opinions. I am not receiving compensation for it (other than from Seeking Alpha). I have no business relationship with any company whose stock is mentioned in this article.